GMA INVITES YOU TO ENGAGE AT GMA MUSIC WEEK 2009 TO BE HELD APRIL 2009
-First Speakers Announced Include Louie Giglio and authors Gabe Lyons and William P. Young-

-Early Lowest Discount Registration Rate Now Through Dec. 10-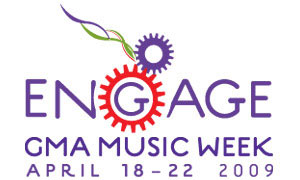 NEWS SOURCE: Spinhouse PR
December 3, 2008
NASHVILLE, MUSIC CITY– December 3, 2008 – 2009 will mark the 30th year that the Gospel Music Association will offer a week of networking, training, equipping, and non-stop music at its annual GMA Music Week conference, scheduled for April 18-22, 2009, in Nashville, announced John W. Styll, president and CEO of GMA.
Registration for GMA Music Week 2009 is now available online and GMA members are encouraged to take advantage of the lowest rates available by registering by Dec. 10. Information is available at http://www.gospelmusic.org/events/summaryDetail.aspx?aid=9&pid=33.
Thousands gather each April in Music City for GMA Music Week. Artists, radio, retail, managers, agents, promoters, record companies, publishers, media, marketing and public relations professionals and others join together for more than 100 artist performances, educational seminars, spiritual enrichment, and unparalleled networking opportunities. With all music genres represented including pop, rock, praise & worship, black gospel, R&B, hip hop, southern gospel, country, and more, GMA Music Week is the must-attend convention of the year for anyone doing business in or with the Gospel music community.
"The coming year will bring many challenges for our industry, just as it has for the overall economy. In light of the challenges, it has been more important to engage together so that, together, we might take stock of trends affecting our industry; explore better ways to do our jobs and to discover the new and rising artists," said Styll.
The first speakers announced for GMA Music Week include Louie Giglio and authors Gabe Lyons and William P. Young. Giglio is the visionary founder and director of Choice Ministries, Passion Conferences and sixsteps Records. Lyons is the founder of the Fermi Project and co-author of unChristian (Baker Books), and Young is the author of The New York Times best-selling novel The Shack (Windblown Media).
They along with The NPD Group's Russ Crupnick, author/speaker David Nasser, and many more to be announced soon, will be a part of many sessions and seminars during GMA Music Week. More information about track offerings, additional speakers, hotels and other convention details are available online at www.gospelmusic.org.
The 40th Annual GMA Dove Awards will take place April 23, 2009 at the Grand Ole Opry House in Nashville, Tenn. Tickets to the 40th Annual GMA Dove Awards went on sale to GMA members starting Monday, Dec. 1. Tickets will go on sale to the general public starting in January. Call 615-242-0303 for more information.
About GMA:
Founded in 1964, the Gospel Music Association serves as the face and voice for the gospel/Christian music community and is dedicated to exposing, promoting and celebrating the gospel through music of all styles including pop, rock, praise & worship, black gospel, R&B, hip hop, southern gospel, country, and more. The GMA community consists of 4,000 members including agents, artists, church leaders, managers, promoters, radio personnel, record company executives, retailers, songwriters and other industry visionaries. The GMA produces the GMA Dove Awards, GMA Music Week and the GMA Academy. For more information, please visit www.gospelmusic.org.
###

[2019]
Jan. | Feb. | March | April | May | June | July | Aug. | Sept. | Oct. | Nov. | Dec.
[2018]
Jan. | Feb. | March | April | May | June | July | Aug. | Sept. | Oct. | Nov. | Dec.
[2001 - 2017]
Visit our complete MUSIC NEWS ARCHIVE