- PROVIDENT'S FRIDAY BUZZ -
FOR THE WEEK ENDING DECEMBER 5, 2008
PROVIDENT LABEL GROUP ARTISTS GARNER MULTIPLE GRAMMY NOMINATIONS

LEELAND BAND MEMBERS, JACK AND LEELAND MOORING, INVITED TO PARTICIPATE IN WHITE HOUSE ROUNDTABLE

GRAMMY-NOMINATED CASTING CROWNS SELLS OUT HOUSTON, DALLAS AND TULSA OPENING WEEKEND OF CHRISTMAS TOUR

POP/ROCK BAND REVIVE SIGNS WITH ESSENTIAL RECORDS

BRANDON HEATH GIVES HOPE TO DESERVING CHILDREN IN DENVER THIS CHRISTMAS SEASON

WOW AND BELMONT UNIVERSITY BAND TOGETHER WITH "FEED MY STARVING CHILDREN" TO GIVE HOPE TO THE HUNGRY

RED DEBUTS AT NO. 23 THIS WEEK ON R&R'S CHR CHART AND PERFORMS ON WAY-FM
NEWS SOURCE: Provident Label Group
December 5, 2008
Provident Label Group Artists Garner Multiple GRAMMY Nominations: Nominations include the reigning "New Artist of the Year" Brandon Heath (Reunion Records) who picked up his first career GRAMMY nominations for his current No. 1 hit, "Give Me Your Eyes" in the Best Gospel Song category and What If We in the Best Pop/Contemporary Gospel Album category. "Give Me Your Eyes" has held the No. 1 spot on the Billboard Hot Christian Songs chart for 11 consecutive weeks. Progressive rock band, Leeland (Essential Records), received its second career nod for its acclaimed sophomore release Opposite Way in the Best Pop/Contemporary Album category. Leeland received its first nomination for its debut album Sound of Melodies in 2007. Casting Crowns (Beach Street/Reunion Records) picked up its 5th career nomination for its hit song "East to West" in the Best Gospel Performance category. Casting Crowns won a GRAMMY in 2006 for its sophomore album Lifesong in the Best Pop/Contemporary Album category. The 51st Annual GRAMMY Awards will be held on "GRAMMY Sunday," Feb. 8, 2009, at Staples Center in Los Angeles and once again will be broadcast live in high-definition TV and 5.1 surround sound on CBS from 8–11:30 p.m. (ET/PT). For more information about the Grammy Awards please visit: www.grammy.com.
Leeland Band Members, Jack and Leeland Mooring, Invited to Participate in White House Roundtable: As emerging leaders in philanthropic efforts, Jack and Leeland Mooring of GRAMMY-nominated, progressive rock band Leeland have been selected by the White House to participate in a Compassion in Action Roundtable titled "Next Generation of Social Entrepreneurship." They are in Washington, D.C., today, Friday, Dec. 5. As the final event in a two-year series of monthly Compassion in Action roundtables, this program will spotlight the innovative leadership of an emerging generation of social entrepreneurs in America. The event will bring together young people from across the Nation leading creative philanthropic efforts to address poverty, disease and a range of other critical needs at home and across the globe. For more information on Leeland please visit: www.leelandonline.com.
GRAMMY-nominated Casting Crowns Sells Out Houston, Dallas and Tulsa Opening Weekend of Christmas Tour: Recent GRAMMY-nominee Casting Crowns kicked off its highly anticipated Christmas Celebration Tour with three sold-out shows last weekend in Dallas, Houston and Tulsa. Nearly 20,000 fans attended opening weekend. This week the band headlines in Cincinnati, Birmingham and at the Philips Arena in its Atlanta hometown. Also appearing on the Christmas Tour are special guests Natalie Grant, Denver & The Mile High Orchestra, Avalon, Michael English and pureNRG. For more information on Casting Crowns, please visit: www.castingcrowns.com.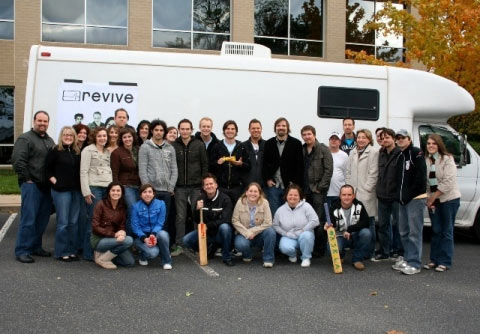 Pictured Above: Revive, Third Day and PLG staff
Pop/Rock Band Revive Signs with Essential Records: This week, Essential Records announces the signing of Australia's latest musical export, high-energy pop/rock band Revive. In partnership with GRAMMY-winning group Third Day's Consuming Fire Productions, the band of four from Sydney relocated to the U.S. in 2007 to pursue a career in Christian music. Championed and mentored over the last year by the members of Third Day, Revive will release its 12-song label debut titled Chorus of the Saints on March 10, 2009. Fore more information on Revive, please visit: www.reviveband.com.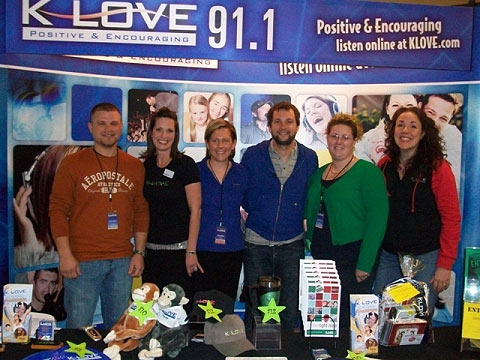 Pictured Above (L-R): Promotion winner Kenneth Short, K-Love's Crystal Wojteczko and Jennifer Lohman, Brandon Heath, promotion winner Sara Short and K-Love's Lisa Williams
Brandon Heath Gives Hope to Deserving Children in Denver This Christmas Season: Based off the title of his new, GRAMMY-nominated album, What If We, K-Love and Brandon Heath partnered to give K-Love listeners and Brandon Heath fans an opportunity to bring community together and work toward helping those in need. Brandon, K-Love and the Denver Rescue Mission hosted a toy drive and VIP free concert on Tuesday, December 2 to gather gifts for thousands of deserving children this Christmas. For more information on Brandon Heath, please visit: http://www.brandonheath.net/.
WOW and Belmont University Band Together with "Feed My Starving Children" to Give Hope to the Hungry: EMI Christian Music Group, Provident Music Group and Word Entertainment have long collaborated in the marketing and distribution of WOW compilation projects. This year the companies extend their alliance through a charitable event called "WOW Shares." On December 10 the collective staff of the three companies, together with students from Belmont University, will sponsor a "food packaging event" benefitting non-profit hunger-relief organization, Feed My Starving Children (FMSC). Minnesota-based FMSC delivers food around the world to malnourished children in schools, orphanages, refugee camps and hospitals. Each FMSC meal provides the key nutrients a child needs to survive and thrive. Over the Noon-1:00 p.m. lunch break, Brandon Heath (Reunion Records/Provident Music Group), Francesca Battistelli (Word Entertainment) and Josh Wilson (Sparrow/EMI CMG Label Group) will perform a concert for volunteers.
Red Debuts at No. 23 on R&R's CHR Chart This Week and Performs on WAY-FM: Rock band Red made an impressive first-ever appearance on R&R's CHR chart this week with it's new single "Never Be The Same" debuting at No. 23. The band also made a special guest appearance on WAY-FM's Total Axxess Thursday night. The show featured a live acoustic performance of "Already Over", the WAY-FM debut of "Never Be The Same" and a Red version of the Total Axxess staple "The Circle Bunny Song." For more information about Red, please visit: www.myspace.com/dropofred.
###

[2020]
Jan. | Feb. | March | April | May | June | July | Aug. | Sept. | Oct. | Nov. | Dec.
[2019]
Jan. | Feb. | March | April | May | June | July | Aug. | Sept. | Oct. | Nov. | Dec.
[2001 - 2018]
Visit our complete MUSIC NEWS ARCHIVE