SKILLET TO LAUNCH "COMATOSE" SPRING TOUR WITH DISCIPLE AND DECYFER DOWN
Spring Tour Follows Band's 2008 Pollstar's Concert Pulse Top 50 Tour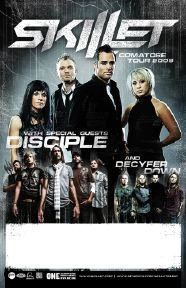 NEWS SOURCE: The M Collective
February 27, 2009
NASHVILLE.TN.....2/27/09.....On April 2nd, two time GRAMMY®-nominated band Skillet will launch the second leg of their "COMATOSE" tour in follow up to their 2008 run where 60% of the shows sold out, placing the tour in Pollstar's Concert Pulse Top 50 Tours. Completing the bill and joining Skillet in 32+ cities will be labelmates and fellow rockers Disciple and Decyfer Down (full tour listing below).
Skillet has spent the last few months in Los Angeles recording their next studio project with producer Howard Benson (Three Days Grace, Daughtry, Flyleaf, P.O.D.), and with the "Comatose" album approaching Gold status and having just received GMA Dove Award nominations for Group of the Year, Rock Album of the Year and Long Form Video of the Year (for the critically acclaimed live CD/DVD project, "Comatose Comes Alive") they are ready to hit the road. Following the spring tour Skillet will be headlining several summer festivals, including Creation, Agape, Red Letter Rock, Ictchus, Alive, Atlantafest, Summerfest, Sonshine, Hills Alive, Soulfest, Kingdombound, Newsong, and Disney's Night of Joy, all leading up to the new release.
"We're pumped up and ready for this tour to get started," remarked Skillet frontman John Cooper. "I personally have wanted a tour with Disciple for several years now and I think it's going to be an awesome tour package. We have been working incredibly hard on this new record, so we are also looking forward to playing some new material for everyone!"
SKILLET:
2008 GMA Artist of the Year nominee Skillet's explosive 2006 Grammy®-nominated release, "Comatose" followed 2004's "Collide," which launched the group into the public eye and garnered the band their first prestigious Grammy® nomination. A critical fave, "Comatose" has become their best-selling project to date, nearly GOLD certified with more than double the sales of "Collide" in half the time. In follow up to packed out headline club shows, a tour with FlyLeaf, and summer festivals, Skillet spent the fall of 2007 opening for mainstream rockers Breaking Benjamin and Three Days Grace.
In the process of becoming one of the hardest working, most rocking, and broadly appealing acts of its generation, radio welcomed "Comatose" with open arms, as the first single, "Rebirthing" spent seven-weeks at No.1 on Christian Rock, while their five follow up singles all rose to No. 1 as well. Their single for the title track received a 2008 GMA Dove Award for "Rock Song of the Year," as well, and at the end of 2007 the band was named the No. 2 top artist on both CHR and ROCK radio year –end lists, and in 2008 named R&R's Top CHR Artist of the Year for 2008. Since R&R began publishing Christian radio charts, Skillet has garnered more #1 songs from one recording (COMATOSE/Atlantic/Ardent/INO) than any other artist in the industry, with their 6 consecutive radio hits.
www.skillet.com
DISCIPLE: Disciple's first release on INO Records "Disciple" (2005) brought home three No. 1 hits, while their sophomore album "Scars Remain" (2006) became the highest selling record of their career, scanning over 100,000 units. The band's latest and greatest project "Southern Hospitality" released in Oct. of 2008. Disciple has been nominated for a whopping nine GMA Awards including a win for "Rock Album of the Year" in 2008, while their hit single "Game On" received massive placement in sports shows across the country including "Best Damn Sports Show," NFL's "Total Axxess," WWE's "Cyber Sunday" and Speed TV's "Speed Report," as well as in venues such as Wachovia Center in Philadelphia and even Madison Square Garden in New York City. The single was also used in promotion for CBS shows "Criminal Minds" and "CSI Miami." In 2008, the rockers were chosen to write a song for "WWE: The Music Vol. 8" and WWE superstar duo Hawkins and Ryder. Most recently, XBOX 360 selected Disciple to join the ranks of Fall Out Boy, P.O.D., Gym Class Heroes and others by choosing the band for "Game with Fame," a program granting fans the chance to play the band in Halo 3 on Sun. March 1.
www.disciplerocks.com
DECYFER DOWN:
Decipher means "to interpret," and the moniker Decyfer Down fit perfectly, as the band aims to interpret truth based on God's Word while stripping it down from religious traditions and terms. With four No.1 hits on R&R's Christian Rock Chart and CRW's Chart from their debut album End of Grey released in 2006, the band also had a top 10 song at WARQ in Columbia, SC, a mainstream Alternative Rock station. "Fight Like This" was also the band's fourth consecutive No.1 Christian Rock single, and was heard by millions in a special promo promoting an Ultimate Fighting Championship title fight. Also from their debut album, "Break Free" was played during some of the most watched sports games of the year and heard by over 9 million sports fanatics through website and television views. Now, after two years, Decyfer Down is ready to release their sophomore album amply titled CRASH on May 5. Produced by Paul Ebersold (3 Doors Down, Saliva, Sister Hazel, Skillet) the band's first single, "Crash" recently peaked at No. 1 on Christian Rock Radio, and their second single "Fading" is following the lead charting in the Top 20. The rock band has found itself playing with mainstream rockers like Cold, Puddle of Mudd, Breaking Benjamin, Theory of a Dead Man, Pillar, Skillet, Thousand Foot Krutch, Red and more.
www.decyferdown.com
COMATOSE SPRING 2009 TOUR DATES (for updated tour info go to http://www.skillet.com):
4/2 – Evansville, IN
4/3 – Windsor, ON
4/4 – Elida, OH
4/5 – Greensburg (Pittsburgh), PA
4/7 – Terre Haute, IN
4/9 – Jackson, TN
4/10 – Jackson, MS
4/11 – Arlington (Dallas), TX
4/14 – Alma (Ft. Smith), AR
4/16 – Knoxville, TN
4/17 – Indianapolis, IN
4/18 – Nashville, TN
4/24 – Harrison, AR
4/25 – Kansas City, MO
4/26 – Omaha, NE
4/30 – Oklahoma City, OK
5/1 – Greenville, IL
5/2 – Mequon (Milwaukee), WI
5/3 – Spencer, IA
5/5 – Wichita, KS
5/7 – Amarillo, TX
5/8 – Wichita Falls, TX
5/9 – Orange (Beaumont), TX
5/10 – Monroe, LA
5/12 – Hattiesburg, MS
5/14 – Montgomery, AL
5/15 – Longwood (Orlando), FL
5/16 – Fayetteville, NC
5/17 – Winston Salem, NC
5/20 – Vero Beach, FL
5/21 – Summerville (Charleston), SC
5/22 – Jacksonville, FL
5/23 – Myrtle Beach, SC
5/24 – Greenville, SC
*All dates subject to change
For more information on Skillet, visit the JFH Artists Database.
###

[2022]
Jan. | Feb. | March | April | May | June | July | Aug. | Sept. | Oct. | Nov. | Dec.
[2021]
Jan. | Feb. | March | April | May | June | July | Aug. | Sept. | Oct. | Nov. | Dec.
[2001 - 2022]
Visit our complete MUSIC NEWS ARCHIVE