OPERATION ETHAN LAUNCHES MAY 30TH TO BENEFIT BRAVE 8-YEAR-OLD BOY BATTLING CANCER
94FM THE FISH, BUILDING 429, 33MILES AND POCKET FULL OF ROCKS PARTNER FOR BENEFIT CONCERT TO AIDE FAMILY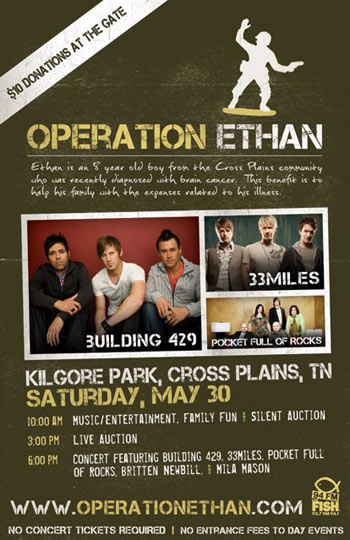 NEWS SOURCE: The M Collective
May 21, 2009
Nashville, Tenn. May 21, 2009… In an effort to financially aide Ethan Bibb, an 8-year-old boy who is battling Medulloblastoma, a cancer of the brain and spinal cord, Operation Ethan is born. This project will feature a live concert, auction and family fun including bounce houses, crafts, jewelry making, caricatures, and more! The event begins at 10AM on May 30 in Cross Plains, Tenn. at Kilgore Park.
INO Records' Building 429 and 33Miles as well as Word Record's Pocket Full of Rocks will join the concert bill along with Nashville's 94FM the Fish at Kilgore Park in Cross Plains for a benefit concert at 6PM. No tickets are required for the concert but there will be a $10 suggested donation at the gate. To view more information about the concert visit: http://www.mtcarmelofcrossplains.com/templates/System/details.asp?id=44688&PID=681067.
Ethan's diagnosis began in late March when he was taken to Vanderbilt hospital for an un-curable stomach virus. Doctors then learned that Ethan has a walnut sized tumor pushing on the base of his brain. Though they were able to remove the tumor, there are many spots on Ethan's brain that have proven to be inoperable. In late April, Ethan began an aggressive radiation and chemotherapy routine. He is currently in stage IV of Medulloblastoma.
Operation Ethan will benefit Ethan and his family with the financial hardships they are facing. In recent times, Ethan's father also lost his job in the down-turned economy while the family also lost their home as well.
In only three weeks, Ethan's Caring Bridge site has garnered 10,000 visitors. For updates on Ethan's condition, please visit: http://www.caringbridge.org/visit/bibb. To donate please visit: http://www.mtcarmelofcrossplains.com/templates/System/details.asp?id=44688&PID=681280. In addition, www.operationethan.com will go LIVE later this week, where everyone is invited to log on to find out more information on the project, Ethan and contributions can be given.
Building 429
Building 429 has had a history of success with the release of three albums and now the rock band has joined forces with INO Records for their fourth studio record which became available in stores last fall. In 2005 "Glory Defined" was named BMI's Christian Song of the Year, they were named the Gospel Music Association's 2005 New Artist of the Year and nominated that same year for Rock/Contemporary Album of the Year and Song of the Year. They have toured with artists such as TobyMac, Family Force 5, Casting Crowns and Thousand Foot Krutch. Jason, Michael and Jesse are excited for their fans to hear a record that reflects where they are as individuals and artists. For more information on the band please go to www.building429.com .
33 Miles
After logging in over 120,000 miles (not including air travel), performing at over 200 churches, garnering radio hits and a 2008 Dove nomination for "New Artist of the Year," 33Miles released their sophomore record One Life on Sept. 16 to much praise. Critically acclaimed One Life entered the Top Christian Soundscan Album Sales chart and the Christian Digital chart at No. 5, while debuting at No. 160 on the Billboard Top 200. Since their debut in 2007, 33Miles' Jason Barton (lead vocals), Chris Lockwood (guitar) and Collin Stoddard (keys) celebrated one of the highest-selling freshman albums of 2007 with their GMA Dove nominated project 33Miles. For more information, please visit www.33milesonline.com .
Pocket Full of Rocks
Dove Award-nominated worship group Pocket Full of Rocks first made a splash on the Christian music scene with their hit songs, "Let It Rain," and "Let the Worshippers Arise," found on Michael W. Smith's platinum-certified Worship album, and Phillips, Craig and Dean's recent release, respectively. The group later released their debut commercial project, Song to the King, in 2006 to critical acclaim, followed by their sophomore album, Manifesto, in 2007. The band is currently working on their third studio album and tours constantly. For more information, please visit www.PocketFullofRocks.com.
###


[2021]
Jan. | Feb. | March | April | May | June | July | Aug. | Sept. | Oct. | Nov. | Dec.
[2020]
Jan. | Feb. | March | April | May | June | July | Aug. | Sept. | Oct. | Nov. | Dec.
[2001 - 2020]
Visit our complete MUSIC NEWS ARCHIVE