KEVIN MAX ATTEMPTING TO REUNITE DC TALK?!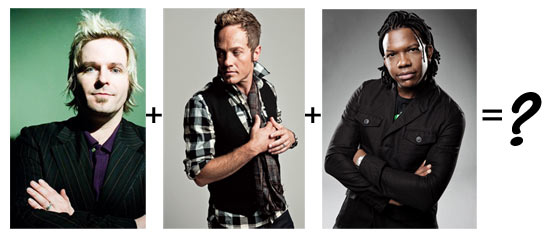 NEWS SOURCE: a Jesusfreakhideout.com report
June 2, 2010
As buzz continues to build for the first release of the new Michael Tait-fronted Newsboys on July 13th (Born Again), and TobyMac continues to celebrate his recent fourth solo project, Tonight, the third member of DC Talk has begun rallying fans in support of petitioning a reunion of the band for 2011. Last night, Kevin Max posted on his Twitter feed and Facebook page, "Trying to get a dct tour happening, perhaps next year, any of you down? ;)"
The response to Max's teaser post was overwhelming, and he soon responded "Oh and to answer all of your lovely enquiries, yes I am serious- I don't want to see the bands legacy go down like a Lost Titanic." Again, earlier this evening, Max posted again on his Facebook page, "Who wants to start a petition with me right here to bring dctalk back after the Intermission? - sign your name and I will forward to the appropriate people."
While it's clear Max is serious about it, and Heaven knows we would love this to come to pass, we have to wonder how likely it would be for Toby and Michael to pull away from their full-time duties with their respective ventures for a reunion. Would Toby have to put his solo career with the Diverse City Band on hold? Would Michael be able to leave Newsboys for such a reunion? Or would it have to be a tour that would include all the bands (and, realistically speaking, wouldn't it be rather exhausting to perform two major shows in one night for a tour?)?
It's probably much too early to tell whether anything will come of this, but the mere fact Max is being so adamant about the idea of a DC Talk reunion and their "Intermission" ending really has us curious. What DC Talk fan hasn't dreamed of a reunion tour or new music since they disbanded after their "DC Talk Solo Tour" in 2001? And after all, a tour next year would be the 10 year anniversary since their last one.
Coincidentally, JFH announced the results of their 7th Annual Reader's Choice Awards earlier this week and DC Talk won the category of "Artist You Would Like To See Return" by a landslide.
You can be sure that we'll keep you posted as this unfolds (if it continues to, that is). In the meantime, I suppose it's fun to dream, but not get our hopes up too much.
For more info on DC Talk, visit the JFH Artists Database.


[2023]
Jan. | Feb. | March | April | May | June | July | Aug. | Sept. | Oct. | Nov. | Dec.
[2022]
Jan. | Feb. | March | April | May | June | July | Aug. | Sept. | Oct. | Nov. | Dec.
[2001 - 2022]
Visit our complete MUSIC NEWS ARCHIVE