iShine Announces the Release of Jonnie & Brookie's 'Love is Calling'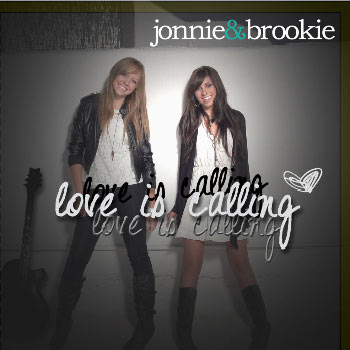 NEWS SOURCE: Nashville Publicity
November 1, 2010
(NASHVILLE, Tennessee) -- iShine has announced the release of Love is Calling – the iShine Records debut from teen artists JONNIE & BROOKIE, stars of the TBN series iShine KNECT and the first winners of Radio Disney's Next Big Thing. Love is Calling is available exclusively on iTunes - a first for iShine - but a DVD featuring the duo's songs, music videos and additional bonus content will be coming to retail stores early next year.
Though still in their teens, Love is Calling is the sisters' eighth album. The full-length pop/rock album features original Christian music that talks directly to the hearts of today's youth.
"We wanted to have music that would give God the Glory and that would impact the youth of today," say JONNIE & BROOKIE.
JONNIE & BROOKIE have been performing across the U.S. since they were young kids. They've performed with groups like Jonas Brothers and Everlife, and they've been featured in concert at churches, malls, festivals and even out on the open ocean as part of Disney Channel's Summer at Sea concerts.
iShine impacts tweens through music (iShine Records), the web (iShineLive.com), concert tours (iShine Live), television (iShine KNECT reaches an estimated 1 million viewers each week on TBN) and additional resources for parents and tweens.
For more information on iShine products, visit the official website at http://www.ishinelive.com.
# # #


[2020]
Jan. | Feb. | March | April | May | June | July | Aug. | Sept. | Oct. | Nov. | Dec.
[2019]
Jan. | Feb. | March | April | May | June | July | Aug. | Sept. | Oct. | Nov. | Dec.
[2001 - 2018]
Visit our complete MUSIC NEWS ARCHIVE