Integrity Artist Ken Reynolds Tapped to Compose Theme Song for New Movie
NEWS SOURCE: Adams PR
November 4, 2010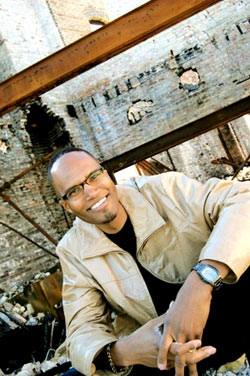 FOR IMMEDIATE RELEASE (Nashville TN) --Integrity Music recording artist Ken Reynolds is writing the theme song for the new movie "All You Can Dream," set to release in spring 2011. The movie will star international recording artist, Anastacia, who has sold more than 17 million albums in Europe and Australia. The song entitled, "If I Could Dream" will be featured prominently in the film along with some other compositions from Reynolds who is serving as the Creative Music Consultant/Composer for the movie.
"It's a whole new genre for me for sure,"says Reynolds, "but I appreciate the opportunity and I pray that my songs– even in a secular venue – are an inspiration to many and ultimately impact the Kingdom."
Reynolds has long been renowned for his songwriting achievements in Christian music. He is a three-time SongSeeker Winner at the Saddleback Purpose Driven Worship Conference, and several of his songs have been featured on Worship Leader magazine's "Song Discovery." Reynolds' songs have also made a global impact and are being sung by churches and choirs all over the world, including England, Korea, Trinidad, Switzerland, and Africa. Ken's song "Does Anybody Here" became a top 10 radio hit in South Korea and four other Reynolds-penned songs have been translated into the Korean language. His song "Hallelujah" was featured on the Grammy and Dove-nominated project "Alabanza Y Adoracion: Del Corazon" by Lucia Parker.
"All You Can Dream" is being described as a "family comedy" that also tackles the very serious issues of obesity and eating disorders. The film is directed by Italy's Valerio Zanoli who received the 2010 International Social Commitment Awards as Best Director for the film "Hopeful Notes." Reynolds serves as worship pastor at the 8000-member Resurrection Life Church in Grandville, Michigan. He was recently named the recipient of the 2010 Cultural Music Award from the Destiny Music Awards. His latest CD, 1W1G (One World One God), was nominated for "Gospel Worship Project of the Year" and named "Best of the Best" by Worship Leader magazine. 1W1G is Reynolds' 2nd solo project in addition to his church project release, all released by Integrity Music. The For You I Live church project was nominated for "Worship Project of the Year" by Christianity Today. The NRB Network will be airing a prime time television special of the 1W1G recording on November 12. Cornerstone Television Network will also be airing the special at a date to be announced.
For more information, visit www.KenReynolds.com
###


[2020]
Jan. | Feb. | March | April | May | June | July | Aug. | Sept. | Oct. | Nov. | Dec.
[2019]
Jan. | Feb. | March | April | May | June | July | Aug. | Sept. | Oct. | Nov. | Dec.
[2001 - 2018]
Visit our complete MUSIC NEWS ARCHIVE