31st Christmas Rock Night Returns To Germany December 3
Kutless, Disciple, Fireflight, Decyfer Down, Children 18:3 heading back to popular German fest.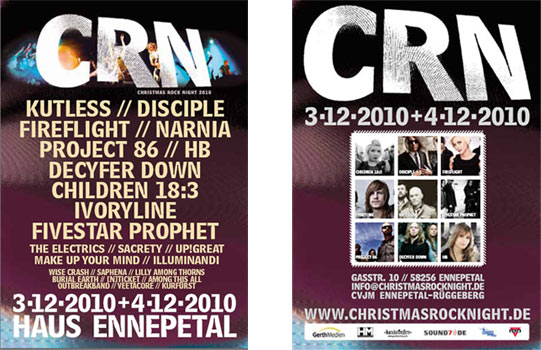 NEWS SOURCE: Christmas Rock Night
November 15, 2010
For yet another year the popular Christmas Rock Night festival will attract Christian rock fans form all over Europe to this well-know German fest established more than 3 decades ago. The ultimate Christian rock and roll weekend to be held in Ennepetal near Düsseldorf kicks off December 3 at 5 pm and runs through till Sunday morning 1 am.
24 international and national bands will be performing 33 concerts on 2 stages. CRN 2010 will be headlined by Kutless and Disciple, both bands playing 2 sets over the weekend. The line-up of this year includes US artists Fireflight, Project 86, Decyfer Down and Children 18:3 returning to CRN, plus Ivoryline performing their first ever European show. Swedish band Narnia, featuring acknowledged guitar player Carl Johan Grimmark (also known from Saviour Machine, Rob Rock, Divinefire and about 10 more bands) will close their highly successful band career, which started back in 1997, covering 8 albums. Their farewell show is scheduled for Friday night. Other popular bands from Europe include popular female fronted Gothic rock band HB and critically acclaimed new band Fivestar Prophet (featuring members of the now disbanded group L60°) both from Finland, The Electrics from Scotland, Veetacore from England, Illuminandi from Poland, Make Up Your Mind from Holland, Up!Great from Czech Republic as well as Sacrety and Lilly Among Thorns from Germany.
Rounding out the festival will be a Service on Saturday midday, including a contribution by Disciple frontman Kevin Young.
For more information please see the festival website www.christmasrocknight.de


[2019]
Jan. | Feb. | March | April | May | June | July | Aug. | Sept. | Oct. | Nov. | Dec.
[2018]
Jan. | Feb. | March | April | May | June | July | Aug. | Sept. | Oct. | Nov. | Dec.
[2001 - 2017]
Visit our complete MUSIC NEWS ARCHIVE