pureNRG GIVES THANKS FOR THEIR MANY BLESSINGS
iThis Talented Young Trio Raised Over 60K For The James Fund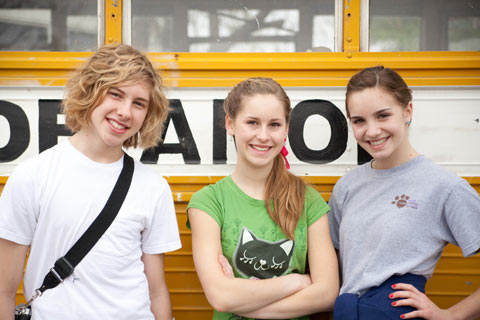 NEWS SOURCE: Warner Music Nashville
November 23, 2010
Nashville, TN / November 23, 2010 – With Thanksgiving just around the corner, Fervent Records young trio sensation pureNRG (comprised of Caroline, Carolyne, and Jordan) are giving thanks for their many blessings as they celebrate the release of the group's last album together Graduation: The Best of pureNRG, available now on their website www.purenrgonline.com and at all Christian retailers. In just a few years pureNRG has accomplished more than most artists twice their age and are excited to move on to the next chapter in their lives. One blessing that they are particularly thankful for has been their work with Family Christian Stores' Foundation The James Fund, a non-profit organization dedicated to meeting the needs of orphans and widows around the world. To date, this talented group has raised over 60K to aid orphans in Mexico and The Dominican Republic.
Committed to spreading their ministry, pureNRG has taken two trips to Monterrey, Mexico to visit the area's orphanage. While there, they played with the children, cleaned, cooked and performed.
"On our first trip to Monterrey, we sat all of the children down, washed their feet and then gave them all brand new socks and shoes," remembers Caroline. "Their eyes just lit up and from that moment on, we knew that's what we were called to do." The group donated the proceeds from the pre-sales of their third album The Real Thing to The James Fund, which provided the funds to purchase hundreds of socks and shoes for orphans in Mexico and The Dominican Republic.
"On this trip, we also learned that there was one poorly running van that should only fit eight people and was being used to transport over 50 children at once," says Jordan. "We made a promise to the children that we would come back with a bus. And, we did!" The trio returned to Mexico in the fall of 2009 with a 48-passenger bus in tow and presented it to the entire orphanage.
Most recently, proceeds from Family Christian's pre-sale of pureNRG's last release Graduation: The Best of pureNRG has raised the funds to help keep the doors open on an orphanage that was about to close down.
pureNRG first burst on the scene with their 2007 self-titled Fervent Records debut and became a hit with both mainstream and Christian music audiences. Buoyed by exposure on Radio Disney, the group immediately developed a loyal fan base, who embraced pureNRG's upbeat pop anthems, fused with soul nourishing spiritual truths. Since then the trio has followed with their 2008 sophomore set "Here We Go Again," "A pureNRG Christmas" and a remix collection "reNRGized," released early in 2009. They've also released three DVDs including, "Sing and Dance" and "Live and More." They've also maintained a hectic tour schedule including such plum performances as Disney's Night of Joy, the Winter Jam tours in 2008 and 2009 and opening for Casting Crowns on their Christmas tour.
For more information about pureNRG, visit www.purenrgonline.com or www.wordlabelgroup.com.
About Word Entertainment
A leader in the music industry for 59 years, Word Entertainment, a Warner/Curb company, is a unique, comprehensive entertainment company comprised of multi-faceted artist service departments including publishing, merchandising, booking, and online initiatives. Word Entertainment represents some of the top names and brands in music, including Point Of Grace, BarlowGirl, Francesca Battistelli, Group 1 Crew, Sidewalk Prophets, Chris August, Mark Schultz and Big Daddy Weave and is home to Word Distribution, Word Print, The Breen Agency, Word Music Publishing and Word Label Group's Word Records, Fervent Records and Myrrh Records.
###
For more info on pureNRG, visit the JFH Artists Database.


[2019]
Jan. | Feb. | March | April | May | June | July | Aug. | Sept. | Oct. | Nov. | Dec.
[2018]
Jan. | Feb. | March | April | May | June | July | Aug. | Sept. | Oct. | Nov. | Dec.
[2001 - 2017]
Visit our complete MUSIC NEWS ARCHIVE