KINGSWAY'S THE CITY HARMONIC SEES EP SALES JUMP 600%
AS RADIO HIT "MANIFESTO" SINGLE SALES SOAR 6,000%
Newly Signed Management/Booking Teams Take Advantage of Momentum,
Booking Numerous Tour Dates Across North America

RELEVANT, CCM Current Issues Feature Band
As Introducing The City Harmonic EP Continues To Gather Acclaim

Band Commissioned By TrueCity Cross-Denominational Partnership Of Churches
NEWS SOURCE: Hoganson Media
April 5, 2011
The City Harmonic released its debut EP Nov. 22, 2010 from Kingsway amidst wide critical acclaim and momentum that is now beginning to grow exponentially thanks in part to its groundbreaking debut radio single, "Manifesto." With Air1 and K-Love Radio Networks adding the song early and subsequently seeing it climb to No. 1 on their playlists due to listener's support of the song, other stations across the country that initially passed on the song have similarly begun to air it amidst significant listener acclaim. The rapidly expanding radio airplay across the country since the beginning of this year has sparked a 6,000 percent weekly increase in sales of the single and a 600 percent weekly increase in sales of the band's Introducing The City Harmonic EP.
The single has also enabled newly signed management and booking teams, The Fuel Music Management and Elite Talent Agency, to bring The City Harmonic's engaging and worshipful live concert experience to venues across North America, booking numerous concerts this year already as demand from radio listeners is driving concert promoters to request additional tour dates every week. (See itinerary below.)
Hitting the Billboard National Audience radio Top 25 and the iTunes overall Christian sales Top 5, "Manifesto" has held remarkably steady on the charts for more than two months. Radio promoters are predicting the song to continue its ascent on the charts, however, as "new believers" in the song at radio are just now beginning to add "Manifesto" to rotation, including WAKW-FM (Cincinnati), WJTL-FM (Lancaster, PA), WXHL-FM (Wilmington, DE) and WBHY-FM (Mobile, AL).
"I can't really understand it. I don't completely get it. But I am smart enough to realize after the response we've gotten, we shouldn't pass on it. We're adding 'Manifesto,'" says Kenny Fowler, WBHY Power 88 music director.

"I haven't had a song in years that generated this many calls! Every time we play 'Manifesto,' we get calls. Our listeners are really passionate about this song," says SOS Network's Scott Herrold.

"We've been spinning 'Manifesto' for several months now, and it is still generating listener calls daily," says Chris Behmlander, KXGM-FM/The Spirit (Cedar Rapids, IA) general manager. "It is filling a void with people in some way that only God Himself knows. I certainly can't explain it."

"'Manifesto' tested off the charts for us right away. It's been an instant hit not only with our audience, but with our staff too!" says Paul Goldsmith, Air-1 Network PD.

As the song continues to ascend the charts, over 336,000 people to date have viewed the "Manifesto" video at www.youtube.com/thecityharmonic.
Heralding from Hamilton, Ontario, Canada, The City Harmonic has also captured a significant and growing crowd of newly inspired music critics who have widely-praised this new band. Music Remedy, Worship Leader, Colossal Pop, Examiner.com, NewReleaseTuesday.com, Hollywood Jesus, United Methodist Reporter, Amazon.com, IndieVisionMusic.com, Soul-Audio and more have weighed in and found The City Harmonic EP compelling on multiple levels, with many giving the band five star rankings and naming them "Ones To Watch" in 2011. Featured in the current issue of RELEVANT Magazine, front man Elias Dummer says in the issue, "The best expression of loving God is loving your neighbor…" as the writer lauds, "The City Harmonic's music begs for participation…" CCM Magazine's April issue feature adds, "What do you get when you stir together harmony, integrity, love, fellowship and music? Answer - The City Harmonic."
The City Harmonic is about "getting people in on the act—hearts pounding and feet moving." The band, consisting of front man Elias Dummer, bassist Eric Fusilier, guitarist Aaron Powell and drummer Josh Vanderlaan, isn't as interested in finding fans as they are looking for participants in the journey.
With the band's name partly derived from the sense that in communal worship we catch a fleeting glimpse of the world that we pine for, Introducing The City Harmonic is just a taste of what's to come from this creative Canadian foursome. The release of the band's full-length album will be announced soon, and it will continue the journey—songs and stories that tell of hope, unity and seeking a greater kingdom.
Promoters interested in booking The City Harmonic should contact Elite Talent Agency at www.eta-live.com, booking@eta-live.com, 615-983-6600, or Fax: 615-983-6601. With dates adding every week, The City Harmonic current tour includes:
3-Apr Celebration Center Belpre, OH
8-Apr Sin City Ministries Lubbock, TX
9-Apr Wolfpen Creek Amphitheatre, Texas A&M College Station, TX
10-Apr Emmanuel Fellowship Sweetwater, TX
27-Apr Canyon Ridge Christian Church Las Vegas, NV
29-Apr The Refuge Youth Centre Phoenix, AZ
30-Apr The Grove Church Chandler, AZ
1-May Mountain Valley Church Scottsdale, AZ
3-Jun GenXaret Columbia, MD
4-Jun Reign Fest Dolgeville, NY
11-Jun Murray Hill Theatre Jacksonville, FL
Jun 15-18 Ichthus Festival, Main stage Wilmore, KY
22-Jun Alive Festival Mineral City, OH
Jul 14-16 Sonshine Festival Willmar, MN
Jul 15-18 SonFest, Main stage Mount Vernon, OH
29-Jul Ignite Festival 2011 Zion, IL
1-Aug Kingdom Bound (Darien Lake) Corfu, NY
Aug 3-6 Soulfest Gilford, NH
11-Aug JESUS U Snohomish, WA
4-Sept Joshuafest Plymouth, CA
16-Sep Project-X Leamington, ON
Nov 4-6 Willoughby Hills Friends Church Willoughby Hills, OH
* Tour dates subject to change.
More information on The City Harmonic can be found at:
About Kingsway:
Tracing its music heritage to 1969, Kingsway today is known as a leader in Worship Music. As the creator of Thank You Music, and later in partnership with EMI, its catalogue includes songs such as "Here I Am to Worship," "In Christ Alone," "Everlasting God" and "Blessed Be Your Name" to name a few.
Kingsway's songs are sung in more than 300,000 churches worldwide accounting for over 30% of CCLI's (Church Copyright Licensing International) bestseller list. With writers and artists like Tim Hughes, Matt Redman, Delirious?, Graham Kendrick and Stuart Townend, Kingsway is dedicated to feeding the Church with songs that will change the world. As the music arm of David C Cook, a non-profit organization located in Colorado Springs, CO, a significant portion of the profits that Kingsway and David C Cook generate are used to provide discipleship and music materials free of charge to church leaders in developing parts of the world who wouldn't be able to get them any other way.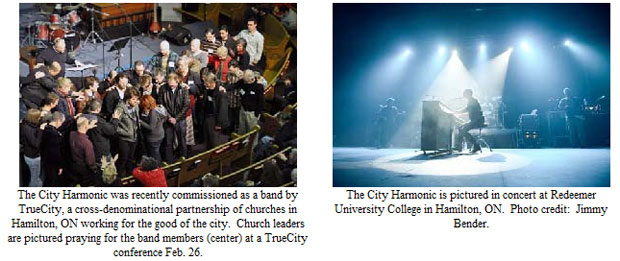 # # #
For more info on The City Harmonic, visit the JFH Artists Database.


[2019]
Jan. | Feb. | March | April | May | June | July | Aug. | Sept. | Oct. | Nov. | Dec.
[2018]
Jan. | Feb. | March | April | May | June | July | Aug. | Sept. | Oct. | Nov. | Dec.
[2001 - 2017]
Visit our complete MUSIC NEWS ARCHIVE