SOUL SURFER
The $41.5MM Box Office Hit Stars AnnaSophia Robb and Helen Hunt,
with Carrie Underwood in her film debut, and Dennis Quaid

Loaded with Bonus Material, Including Deleted Scenes,
Two Behind-the-Scenes Featurettes and the Documentary "Heart of a Soul Surfer"

Debuting on Blu-ray™/DVD Combo Pack and DVD August 2nd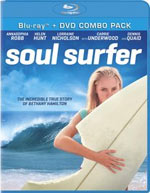 NEWS SOURCE: Sony
June 6, 2011
CULVER CITY, CALIF. (June 6, 2011) – Soul Surfer, based on the remarkable true story of pro surfer Bethany Hamilton's journey from tragedy to triumph, debuts on Blu-ray™/DVD Combo Pack and DVD August 2nd from Sony Pictures Home Entertainment. The inspiring story of a girl's comeback after a shark attack stars AnnaSophia Robb (Race to Witch Mountain), Academy Award® winner Helen Hunt (Best Actress, As Good As It Gets, 1997), Dennis Quaid (The Rookie, G.I. Joe: The Rise of the Cobra), Grammy Award® winner Carrie Underwood, Kevin Sorbo (TV's "Hercules: The Legendary Journeys") and Lorraine Nicholson (Click). Bonus features include deleted scenes, the documentary "Heart of a Soul Surfer" and three behind-the-scenes featurettes, "The Making of Soul Surfer," which explores the making of the film from the filmmaker's perspective; "Becoming Bethany," which shows how AnnaSophia Robb brought her character to life with the help of Bethany Hamilton; and "Surfing for the Screen: Inside the Action." Soul Surfer will be available in the Blu-ray/DVD Combo Pack for $38.99 SRP and on DVD for $30.99 SRP.
SYNOPSIS:
Soul Surfer is the incredible true story of teen surfer Bethany Hamilton, who lost her arm in a shark attack and courageously overcame all odds to become a champion again, through her sheer determination and unwavering faith. In the wake of this life-changing event that took her arm and nearly her life, Bethany's feisty determination and steadfast beliefs spur her toward an adventurous comeback that gives her the grit to turn her loss into a gift for others.
Directed by Sean McNamara, the screenplay was by McNamara, Deborah Schwartz, Douglas Schwartz and Michael Berk. Soul Surfer is based on the book by Bethany Hamilton, Sheryl Berk and Rick Bundschuh. The screen story is by Sean McNamara, Deborah Schwartz, Douglas Schwartz, Michael Berk, Matt R. Allen, Caleb Wilson and Brad Gann.
DVD and Blu-ray Bonus Features Include:

Deleted Scenes
"The Making of Soul Surfer" Featurette
"Surfing for the Screen: Inside the Action" Featurette
"Becoming Bethany" Featurette
"Heart of a Soul Surfer" Documentary

Soul Surfer has a runtime of approximately 106 minutes and is rated PG for an intense accident sequence and some thematic material.

Visit Sony Home Entertainment on the Web at www.SonyPictures.com.

"Academy Award®" is the registered trademark and service mark of the Academy of Motion Picture Arts and Sciences.

About Sony Pictures Home Entertainment
Sony Pictures Home Entertainment is a Sony Pictures Entertainment (SPE) company. SPE is a subsidiary of Sony Corporation of America, a subsidiary of Tokyo-based Sony Corporation. SPE's global operations encompass motion picture production and distribution; television production and distribution; home entertainment acquisition and distribution; a global channel network; digital content creation and distribution; operation of studio facilities; development of new entertainment products, services and technologies; and distribution of entertainment in more than 140 countries. Sony Pictures Entertainment can be found on the World Wide Web at http://www.sonypictures.com.