CCM ARTIST LAURA KACZOR IS TOP 20 ON BILLBOARD CHART FOR TWO WEEKS IN A ROW WITH NEW SINGLE "ALIVE IN YOU"
Video For Single Will Release In Early July And Will Be Featured At The International Christian Retail Convention in Atlanta Next Month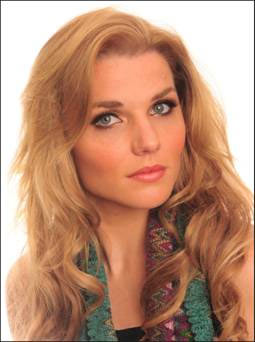 NEWS SOURCE: Bozeman Media
June 9, 2011
Nashville, TN (June 9, 2011) ----- CCM artist Laura Kaczor (kuh-ZURE) continues to generate buzz, while building a loyal fan base, as she is rapidly becoming the breakout artist of the year. Kaczor's current single, Alive In You debuted on Billboard's Soft AC/Inspirational chart at #19, which made the song the highest debut of last week, and the tune remains in the Top 20 this week. The single was co-written by Kaczor, her producer 6-time Dove Award winner Don Koch (Phllips, Craig & Dean, NewSong) and Dove award winning writer, Chad Cates. A video for the single was produced by Stephen Yake (newsboys, Michael W. Smith) and will be released July 5. The video will be featured at the International Christian Retail Convention in Atlanta next month, along with a showcase of Kaczor performing her new music.
"Thank you so much to all of my radio friends and the faithful listeners," exclaims Kaczor. "I'm so excited about the success of Alive in You, as it's more than I ever dreamed. I've started this journey because I wanted to become a part of people's lives and to encourage them through every stage with the amazing hope we have in Jesus. I'm humbled by the privilege to be able to do that, and so much more. God is good!"
"Laura Kaczor is one of the strongest up and coming artists on Christian radio today," says Wendell Gafford, President, Creative Promotions. "Programmers have quickly embraced her music, as well as her heart and passion for the Lord, and are excited about partnering with her in ministry. In my 17 years as a radio promoter, I have had few artists embraced by Christian radio programmers as quickly as Laura Kaczor!"
Kaczor's previous single Invisible also garnered tremendous success by achieving a Top 25 on the Billboard chart, #7 on Christian Music Weekly's Worship chart and #14 on CMW's Soft AC/Inspirational chart, with over 100 radio stations playing the song. "Invisible" and "Alive In You" are from Kaczor's debut album, Love Enough that was released through Universal MCG/Fontana distribution on LifeThirst Records/IE. Kaczor co-wrote 9 of the 10 songs on the CD and collaborated with such high-profile writers such as Brian White who has written 12 #1 singles and Carl Cartee, a staff writer at Brentwood-Benson Music Publishing and founder of "Inspire" Worship Conferences.
Besides being a talented singer/songwriter, Kaczor is the founder, worship leader and speaker for LifeThirst Ministries, which is based on John 4:13-14: Everyone who drinks this water will be thirsty again, but whoever drinks the water I give him will never thirst again. At the same time, Kaczor has also founded and serves as worship leader and speaker for Lift Up U-niversity that is a girl's/women's conference that deals with self-esteem, purity and other emotional bondage issues. For more information on LifeThirst please visit online at www.laurakaczor.com/lifethirst and for Lift Up U-niveristy, www.laurakaczor.com/liftupu.
About Laura Kaczor
Kaczor was born and raised in Pennsylvania and at 8-years-old she first sang at a neighbor's tap recital, at 10 she wrote her first song, and soon became active in theater and music programs at church and school. Being raised in a Christian home, Kaczor has had a personal relationship with Christ throughout her life but her faith was deepened at Creation Festival when she was 17 and first experienced contemporary worship. Worship became her heart and passion, and it was at that moment she knew she wanted to pursue a music ministry. Kaczor remained active with music and Campus Crusade during her college years at the University of Pennsylvania and seriously started writing songs while serving as worship leader for 7 years at Jesus Fest. It was during this time Kaczor recorded her first CD Wake Me Up with the Grammy-nominated producer, Anthony Newett. In 2006, after graduating from college, Kaczor moved to Nashville and recorded an EP Wildflowers in 2007 with John Carter Cash (Johnny and June Carter Cash's son) at the Cash Cabin Studios. Three years later, Kaczor began work on Love Enough that was released in Fall 2010. Kaczor is married and still lives in the Nashville area.
For more info on Kaczor and updates on her tour dates visit online at www.laurakaczor.com and www.facebook.com/laurakaczormusic.
####