NEW LICENSED EMI SONGS OF WORSHIP JEWELRY
BY BOB SIEMON DESIGNS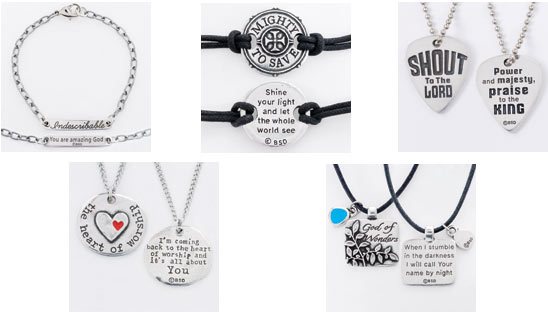 NEWS SOURCE: Bob Siemon Designs
June 13, 2011
(June 7, 2011, Santa Ana, Calif.) - Bob Siemon Designs, the leading designer and creator of Inspirational jewelry, is launching a new collection of licensed EMI Songs of Worship Jewelry, which will be available July 1, 2011. This is a follow-up to last year's best-selling Songs of Worship collection and consists of 6 new designs featuring some of today's most popular worship songs.
The designs, 3 women's necklaces, 1 men's necklace, 1 women's bracelet, and 1 men's bracelet, feature the titles and/or lyrics from "God of Wonders," "The Heart of Worship," "I Could Sing of Your Love Forever," "Shout to the Lord," "Indescribable," and "Mighty To Save." Each design is handmade out of 100% lead-free pewter at the Bob Siemon Design's facility in Santa Ana, California.
"This jewelry collection is a great way for believers to have a reminder of their favorite praise song; whether you are a worship leader or a music lover," explains Bob Siemon.
The first collection, which launched July 2010, also consists of 6 designs that feature titles and/or lyrics from "In Christ Alone," "You Are My King," "You Never Let Go," "Here I am to Worship," "Everlasting God," and "Blessed be Your Name." Each of the 12 designs has a unique style and look, making it easy to wear one with every outfit. In addition, with prices from $7.99 to $13.99, they are affordable for everyone.
The new collection will be available at Christian retailers nationwide beginning July 1st and at www.bobsiemon.com.
Bob Siemon Designs is the nation's leading designer, manufacturer, and distributor of inspirational jewelry. Since 1970, the company has been producing quality designs that are made in Santa Ana, California, USA from .925 sterling silver, 14k gold, lead-free pewter, and top grain leathers. Today, Bob Siemon Designs' collections are sold in over 2500 retailers worldwide. For more information, visit www.bobsiemon.com.
# # #