GRAMMY AWARD-WINNING CASTING CROWNS
ANNOUNCES 40-CITY 'COME TO THE WELL' TOUR
Fall 2011 Tour Kicks Off September 22nd
Featuring Sanctus Real, The Afters and Introducing Lindsay McCaul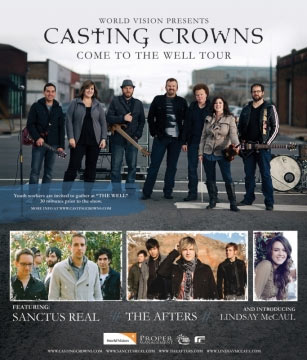 NEWS SOURCE: Provident Music Group
June 15, 2011
(Nashville, Tenn.) June 15, 2011 – GRAMMY®, AMA and 2010 Dove Award-winning Artist of the Year Casting Crowns is announcing plans for a massive 40-city fall concert tour, titled the "Come To The Well" Tour, taking its name from the bands highly-anticipated new studio project, Come To The Well, releasing Oct. 18. The tour kicks off Sept. 22, in El Paso, Texas, featuring premier modern rock bands Sanctus Real and The Afters, and introducing Christian music newcomer Lindsay McCaul.
The tour will coincide with the release of Come To The Well (the band's first new studio album in two years), featuring the hit single "Courageous," which will also be showcased in the upcoming Sherwood Pictures film by the same title, in theaters on Sept. 30. The "Come To The Well" Tour also follows the band's recent Dove Award win in the Long Form Music Video category for the hugely successful Until The Whole World Hears Live DVD/CD release, which captured the unforgettable 2009/2010 "Until The Whole World Hears" national concert tour, which saw more than 350,000 fans in 82 cities.
The "Come To The Well" Tour is partnering with Christian humanitarian organization World Vision ( www.worldvision.org). World Vision provides assistance to approximately 100 million people in nearly 100 countries by tackling the causes of poverty and injustice. Casting Crowns has helped to generate a total of 52,000 child sponsorships for World Vision to date.
About Casting Crowns
All of Atlanta-based Casting Crowns' projects are RIAA certified, with a tally of three RIAA Platinum Albums, two RIAA Platinum DVDs, two RIAA Gold Albums and a Gold DVD, holding position as Billboard's top-selling act in Christian music since 2007. Despite an unprecedented six-year career with Casting Crowns, the seven band members remain active in student ministry in the Atlanta area and tour part-time around their local church duties. Serving his 18th year in youth ministry, lead singer/songwriter Mark Hall is the student pastor at Eagle's Landing First Baptist Church in Atlanta. As a testament to the band's impact, Casting Crowns performed for a second time in North Korea in April 2009, in partnership with Global Resource Services, as the band continues to forge invaluable relationships with the people in the D.P.R.K.
For more information, visit www.castingcrowns.com or follow the band on Mark Hall's Twitter at http://twitter.com/markhallCC.
About Sanctus Real
Sanctus Real's fastest-selling GRAMMY and Dove-nominated, fifth studio album Pieces Of A Real Heart continues to sell over 130% ahead of the band's last GRAMMY-nominated album. The album has also sparked two No. 1 songs, "Forgiven" and "Lead Me," the latter having been heard by well over 100,000,000 people at radio and receiving the first-ever song endorsements from Focus on the Family and FamilyLife, as well as gathering two "Song of the Year" Dove nominations. The success of the singles helped pave the way for the band to become Billboard's No. 4 most played Christian band of 2010 at radio. In all, Sanctus Real has gathered 14 No. 1 and Top 5 radio hits so far. For more information, visit www.sanctusreal.com.
About The Afters
Texas-based band The Afters were propelled into the national spotlight with their INO/Sony Music Label Group debut I Wish We All Could Win. The project spawned the swirling, melodic hit "Beautiful Love," earning the band an enthusiastic following when the song was selected as the theme track for MTV's "8th and Ocean." "Beautiful Love" was also the most downloaded track of 2006 on the iTunes® Inspirational charts and garnered the band an mtvU award as well. The Afters' sophomore release Never Going Back To OK (INO/Columbia Records) debuted in the Top 50 on the Billboard Top 200, and proved to be sensation on the silver screen with "Grey's Anatomy" (ABC), "Dr. Phil," "Army Wives" (Lifetime) and "Rachael Ray." The band's third record Light Up the Sky bolstered the No. 1 hit "Light Up the Sky." A slew of media including Rolling Stone, Seventeen.com, E! News Live, TV Guide, Premiere Radio and more also picked up on covering The Afters. For more information, visit www.theafters.com.
About Lindsay McCaul
There's a phrase often heard in music industry circles: "It all begins with a song." That motto carries extra weight in Christian music where a great lyric transcends entertainment and becomes a vehicle to share the gospel. Lindsay McCaul is an artist keenly aware of words and their value. From her teen years pouring over the lyrics of her favorite music to her college days majoring in linguistics at Moody Bible Institute, McCaul's gifts manifest themselves in vibrant, insightful songs crafted with thoughtful precision reflecting a compassionate heart and deep intellect. McCaul's 11-track debut If It Leads Me Back (Aug. 23), produced by Jason Ingram (Tenth Avenue North, Meredith Andrews), reveals considerable depth and pathos; keen songwriting paired with her shimmering voice only compels the listener deeper into the album's overall experience. If It Leads Me Back is an auspicious beginning from a talented newcomer whose music will leave a lasting impression. Audiences nationwide will get to experience Lindsay at radio this summer, and live on the fall leg of the Casting Crowns tour. For more information on Lindsay McCaul, please visit www.lindsaymccaul.com.
CASTING CROWNS "COME TO THE WELL" FALL TOUR 2011
*Dates, markets and venues subject to change without notice
SEPTEMBER
9/22 (Thursday) - El Paso, TX - Abundant Living Faith Center
9/23 (Friday) - Phoenix, AZ - Grand Canyon University
9/24 (Saturday) - Corona, CA - Crossroads Christian Church
9/25 (Sunday) - Henderson, NV - Henderson Pavilion
9/27 (Tuesday) - Universal City, CA - Gibson Amphitheatre
9/29 (Thursday) - Roseville, CA - Adventure Christian Church
9/30 (Friday) - Salem, OR - OSF Pavilion
OCTOBER
10/1 (Saturday) - Redmond, WA - Overlake Christian Church
10/2 (Sunday) - Langley, BC - Langley Events Centre
10/4 (Tuesday) - Kennewick, WA - Toyota Center
10/6 (Thursday) - Salt Lake City, UT - Abravanel Hall
10/7 (Friday) - Rio Rancho, NM - Santa Ana Star Center
10/8 (Saturday) - Amarillo, TX - Amarillo Civic Center
10/13 (Thursday) - Cordova, TN - Bellevue Baptist Church
10/14 (Friday) - Nashville, TN - Bridgestone Arena
10/15 (Saturday) - Savannah, GA - Savannah Civic Center Arena
10/20 (Thursday) - Auburn, AL - Auburn University Arena
10/21 (Friday) - Lexington, KY - Rupp Arena
10/22 (Saturday) - Greensboro, NC - Greensboro Coliseum
10/23 (Sunday) - Macon, GA - Macon Coliseum
10/27 (Thursday) - Madison, WI - Alliant Energy Center
10/28 (Friday) - Hoffman Estates, IL - Life Changers International Church
10/29 (Saturday) - Peoria, IL - Peoria Civic Center
NOVEMBER
11/3 (Thursday) - Grove City, OH - Grove City Church of the Nazarene
11/4 (Friday) - Akron, OH - Akron Baptist Temple
11/5 (Saturday) - Highland Heights, KY - Bank of Kentucky Center
11/10 (Thursday) - Murray, KY - CFSB @ Murray State University
11/11 (Friday) - Tupelo, MS - BancorpSouth Arena
11/12 (Saturday) - Dothan, AL - Dothan Civic Center
11/15 (Tuesday) - Asheville, NC - Kimmel Center
11/17 (Thursday) - Jacksonville, FL - First Baptist Church
11/18 (Friday) - TBA - TBA
11/19 (Saturday) - West Palm Beach, FL - Cruzan Amphitheatre
11/20 (Sunday) - Estero, FL - Germain Arena
11/25 (Friday) - Aiken, SC - USC Aiken Convocation Center
11/26 (Saturday) - Knoxville, TN - Knoxville Coliseum
DECEMBER
12/1 (Thursday) - San Antonio, TX - Freeman Coliseum
12/2 (Friday) - Belton, TX - Bell County Expo
12/3 (Saturday) - Bossier City, LA - CenturyTel Center Arena
12/4 (Sunday) - Jackson, MS - Mississippi Coliseum
# # #
For more info on Casting Crowns, visit the JFH Artists Database.