Tooth & Nail Label Family Release Three FREE Summer Samplers!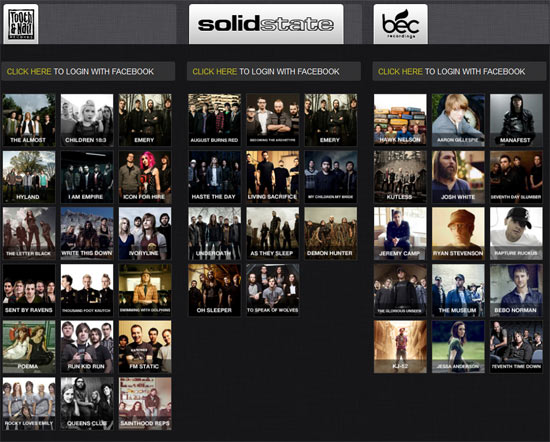 NEWS SOURCE: Tooth & Nail Records
June 21, 2011
Tooth & Nail Records and their sister labels Solid State and BEC have each released a brand new summer sampler featuring free songs from each of the acts currently on their roster. Head on over to FreeToothandNail.com to "Like" each label on Facebook and then download the respective samplers! That's over 30 free songs from three distinct record labels! Here are the track listings for each sampler. Grab them each for FREE here!
Tooth & Nail Records Summer Sampler 2011:

The Cheval Glass (3:21) - Emery
Paper Lung (4:15) - Underoath
Monoculture (3:19) - Sainthood Reps
Brain Damage (2:45) - I Am Empire
Alarm The Alarm (3:34) - Write This Down
Monster Monster (3:25) - The Almost
Sleep To Dream (3:32) - Swimming With Dolphins
Clueless (2:54) - Rocky Loves Emily
Jumping The Gun (3:31) - Hyland
Instincts (3:28) - Ivoryline
My Brain Says Stop, But My Heart Says Go (3:06) - FM Static
Make A Move (3:08) - Icon for Hire
Fire It Up (Live) (3:38) - Thousand Foot Krutch
Solid State Records Summer Sampler 2011:

Internal Cannon (3:48) - August Burns Red
The Magnetic Sky (4:28) - Becoming The Archetype
Paper Lung (4:13) - Underoath
The Cheval Glass (3:19) - Emery
King Of The Hopeless (3:35) - MYCHILDREN MYBRIDE
Bedlam Of The Nile (4:09) - As They Sleep
Trust But Verify (3:12) - To Speak Of Wolves
Overkill Exposure (2:51) - Living Sacrifice
Wake Up The Sun (3:25) - Haste The Day
The Man Named Hell (4:19) - The Showdown
Ad Mortem (3:24) - The Famine
BEC Recordings Summer Sampler 2011:

Alive In You (3:28) - 7eventh Time Down
Everything I Hoped You'd Be (3:45) - Bebo Norman
Not What I Thought (3:35) - Jessa Anderson
No Plan B (3:23) - Manafest
You Are Love (3:00) - The Museum
Let The Praises Rise (3:52) - Ryan Stevenson
All Things New (3:53) - Rapture Ruckus
We Were Made For You (3:32) - Aaron Gillespie
Skeleton (2:53) - Hawk Nelson
He Did That (3:48) - KJ-52
Take Everything (4:33) - Seventh Day Slumber
He Is Able (3:37) - Josh White
You Save Me (3:08) - Kutless
The Way (Acoustic) (4:05) - Jeremy Camp