MOSAIC ARTISTRY GROUP Formed to Create Collective Network for Artists
Unique Alliance Forms to Help Artists Share Success in Management, Publishing, Sales and Marketing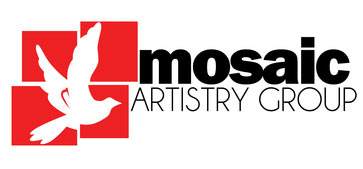 NEWS SOURCE: Biscuit PR
June 23, 2011
Nashville, TN – In an era where the music industry is changing daily, many artists are choosing to avoid typical label expectations and are successfully releasing music on their own terms. To meet the growing needs of these musicians, MOSAIC ARTISTRY GROUP has been formed.
The brainchild of TJ Rogers and Pete Eekhoff, Mosaic is more of a networking community than a traditional record label. Artists who gravitate to this company consistently have established fan-bases, a solid understanding of the music industry and a drive to have more control in their own careers.
Mosaic is uniquely poised to meet the individual needs of each artist in the network. Projects are matched with focused investors who are seeking to fund specific styles of projects. Distribution is direct to the major stores and digital outlets. With the team's extensive knowledge in all areas of the industry, Artists get the advantages of a label, marketing team, publishing company, management and artist development, all under one roof.
TJ Rogers has been in the music business for over ten years and worked with some of the largest musical acts and top industry executives in Christian music today. TJ began his career working as a booking agent for the Jeff Roberts Agency, where Pete's band, Jonah 33, was one of his artists. For the past 5 years, TJ has worked in conjunction with humanitarian organization Mission of Mercy bringing several acts to the organization that he personally managed through his company, Bridge Street Artist Agency. He has always had a heart for impoverished communities and the children that are impacted by need. TJ has three children of his own and has been married eleven years.
Pete Eekhoff has also spent the past decade working in the music business. Pete began his career as a radio personality for a small Christian station in Northwest Iowa, and then graduated with honors from Visible Music College - a Christian music business and performance school in Memphis, TN - during its inaugural year. As the founding bass player and touring member of the Christian Rock band Jonah 33, Pete got to experience the artist side of the business. After leaving the band, he founded a booking and management company that provided services to several touring artists within the Christian music industry. Most recently, Pete has been a businessman and session bass player, sitting in with artists from all over the country. Pete has been married for 10 years with 2 children. He and his wife have a heart for children and are actively involved as foster parents in their local community.
"I've always strived to help artists establish a bigger platform, while helping them focus on partnerships with non-profits," explains TJ. "Pete and I were talking one day, and it turns out that he has had a similar vision, and actually already had a business plan for a similar model ready to go. Over the past year, this vision and concept turned into Mosaic, and has grown into something bigger and better than we ever dreamed possible."
Mosaic Artistry Group is preparing to release their debut artist, Dana Jorgensen and his latest project Everything to Beautiful. Dana's first single from the project, "Let Me Be the One," is hitting radio this week; Everything to Beautiful will release to retail stores and digital outlets August 16. Other artists currently signed to the collective include Aaron Crider and Neely along with representation of producer/guitarist Brian Oaks.