WARR ACRES To Launch New Self-Titled Album on DREAM RECORDS / UNIVERSAL
The Oklahoma, City, OK based worship band, WARR ACRES will release their debut self-titled album on Dream Records / Universal on August 23rd, 2011 with their singles going to radio, "Heaven Bound & Maker Of Miracles" out now!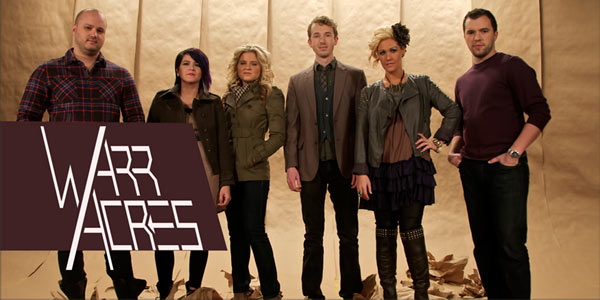 NEWS SOURCE: The M Collective
July 12, 2011
Los Angeles, CA (July 2011) – Victory Church's (lead by Pastor Mark Crow) very own WARR ACRES, known for their powerful message of truth and creative music style, will launch their debut album on Dream Records / Universal on Tuesday, August 23rd, 2011. Lead by Dove Award Nominated Kristy Starling, the groups self-titled album will be the groups seventh full length album adding to a deep catalog of beautifully crafted music.
In addition to their new album, the group will release it's first two singles, "Heaven Bound (CHR) & Maker Of Miracles (AC)" to radio in July 2011 to kick off their cycle for their fans to listen/view and to request in connection with several other awareness online and offline campaigns leading up to the release.
"I am beyond excited for people to get this album! From the relevant, pop-infused sound, to the uplifting and encouraging lyrics, these songs are enjoyable to listen to both in the car AND at church!" - Lael Louthan
"We are so excited about our upcoming release! We're really hoping this adds a new facet to the way people perceive worship music. This isn't your normal worship sound, but yet God is so glorified throughout it that you can't help but enter in to His presence! I can't wait for people to hear this album and to be able to use it to inspire church, family and friends to reach their community with the love of Jesus." - Chris Crow
For more information visit: www.WarAcres.tv and www.DreamMusicGroup.com
About Dream Music Group: Dream Records
Dream Music Group (www.DreamMusicGroup.com), the umbrella company for Dream Records, Upstream Artist Agency, Dream Merchandise and One Moment Management is quickly making a name for itself providing it's artists with a genuine approach to how real artist development should be done. By providing a a partnership as a business model it's seeing it's artists empower themselves to develop and carry out a real vision for their lives as they affect other people's lives with their music and message. Incorporating social media, press, radio and touring it's allowing artist to help each by helping themselves grow together as a family.
For more info on Warr Acres, visit the JFH Artists Database.