INTRODUCING THE HELLOSOMEBODY TOUR FEATURING HEADLINERS
AARON GILLESPIE AND THE CITY HARMONIC
FEATURING JAKE HAMILTON, AJ CHEEK AND BEN PIRTLE, FOUNDER OF HELLOSOMEBODY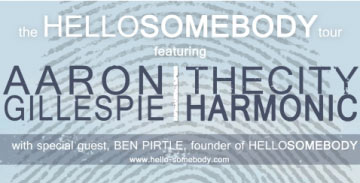 NEWS SOURCE: Merge PR
July 25, 2011
Seattle, Wa – July 25, 2011 – Announcing the HELLOSOMEBODY tour featuring the next generation of worship leaders Aaron Gillespie and The City Harmonic along with special guests Jake Hamilton (Jesus Culture), AJ Cheek and HELLOSOMEBODY founder Ben Pirtle. The tour begins on September 21 and will continue through October. Tour dates listed below.
"This is a different night, it isn't a concert, it isn't a popularity contest. This night is about Jesus and worshipping Him out loud and for real," shares Aaron Gillespie. "Bring everyone you know, we are being sponsored by HELLOSOMEBODY, and we are gonna be feeding needy kids through their incredible merchandise. Come hang!"
The tour's namesake and sponsor, HELLOSOMEBODY's mission will be the foundation for this evening of worship. This non-profit brand exists to impact and change the world through love, passion and creativity. Their purpose is simple: feed the hungry around the globe, which is what this tour will do – a global outreach through these creative and passionate artists.
"We want this tour to help people see their stories lining up with God's story for them and the world. Worship ought to feel like that – some unveiling of something bigger than ourselves," says The City Harmonic's frontman Elias Dummer. "If we can somehow spark in people a dream, something they just can't shake, then that will inspire them to sing like every word matters, to live like every day matters, and having tasted heaven they'll get on with helping this world feel more like home. This tour promises to be a creative night of worship, and all for a great cause."
For more information on the HELLOSOMEBODY tour, click here for the official Facebook page. Also follow each of the artists and their online community to learn more.
- ### -
ABOUT AARON GILLESPIE: In 2011, Aaron Gillespie released his solo venture, Anthem Song, on BEC Recordings to what he hoped will be a new generation of worshippers. On release day, Anthem Song, immediately charted on iTunes debuting at No. 17 on overall iTunes Albums chart, No. 2 on the Christian iTunes Albums chart and No. 1 on Canada's iTunes Christian Chart. This album has also has garnered rave reviews from the press with Alternative Press' 4-star review calling Anthem Song's "greatest quality is its unapologetic fearlessness," Christianity Today saying "Anthem Song is devoid of any preoccupation with 'self,' consistently pointing to God's goodness and glory," and AbsolutePunk calling it "a true worship record at its finest."
Anthem Song was sparked by a trip in 2010 to Uganda with Compassion International. Following this trip, Gillespie retired his role as drummer for the popular metalcore band Underoath and began writing and recording for Anthem Song. He remains the frontman of the indie-rock band he founded, The Almost. For more information on Aaron Gillespie visit: http://aarongillespie.com/
ABOUT THE CITY HARMONIC: Introducing The City Harmonic released Nov. 22, 2010 from Kingsway amidst a growing crowd of newly inspired music critics who have widely-praised this new band heralding from Hamilton, Ontario, Canada. Named "One not to miss" by CCM Magazine in its year-end issue. The City Harmonic is about "getting people in on the act—hearts pounding and feet moving." Garnering comparisons to Coldplay, Aqualung, Arcade Fire, the band's self-produced, six-song EP, Introducing The City Harmonic, is a nostalgic Brit-pop meets campfire sing-along mix that features raucous, gang vocals along with agile, soaring anthems crafted to include the listener.
The band, consisting of front man Elias Dummer, bassist Eric Fusilier, guitarist Aaron Powell and drummer Josh Vanderlaan, isn't as interested in finding fans as they are looking for participants in the journey. For much of the past decade the band members have worked with TrueCity, a movement of local churches in their hometown striving for the good of the city. For more information on The City Harmonic visit: http://thecityharmonic.com/.
For more information on the special guests please visit their sites: http://hello-somebody.com/
Appearing September: Jake Hamilton from Jesus Culture:
http://www.jesusculture.com/music/jake-hamilton
Appearing October: AJ Cheek:
http://www.ajcheekmusic.com/
HELLOSOMEBODY tour
(All dates subject to change; more dates to be added)

9/21/11 Chandler, AZ
9/22/11 Glendale, AZ
9/23/11 Las Vegas, NV
9/24/11 Ontario, CA
9/25/11 Monterey, CA
9/28/11 Klamath Falls, OR
9/29/11 Lake Stevens, WA
10/5/11 Casper, WY
10/6/11 Littleton, CO
10/8/11 Omaha, NE
10/9/11 Shawnee Mission, KS
10/11/11 Amarillo, TX
10/13/11 Bedford, TX
10/15/11 Bolivar, MO
10/16/11 Rockford, IL
###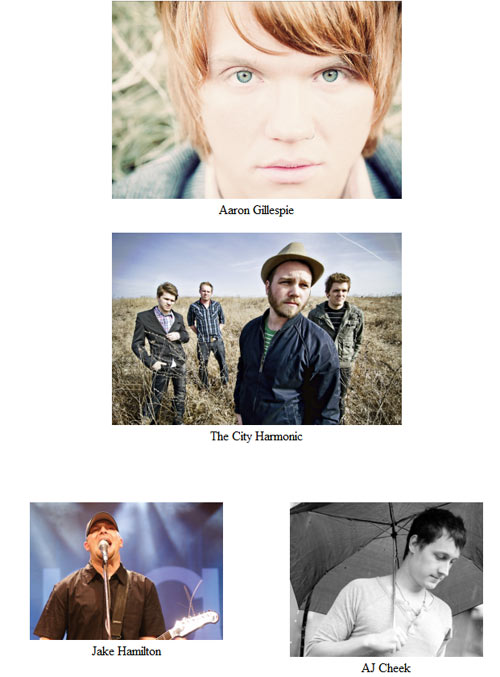 For more info on Aaron Gillespie, visit the JFH Artists Database.
For more info on The City Harmonic, visit the JFH Artists Database.