B Haley and Not of this World (NOTW)/C28
Launch Second Phase of "B IT" Clothing Line
Top Selling Shirt Line Encourages All to B IT!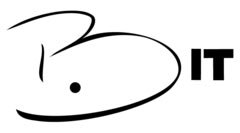 NEWS SOURCE: Biscuit PR
August 15, 2011
August 15, 2011, Orange County, CA - In less than one year since the debut of B Haley's "B IT" clothing line, the shirts have inspired thousands to live their beliefs. With bold designs of simple truths such as hope, peace and love, B IT immediately struck a chord with buyers, as the entire line debuted in the Top 20 of sales for Not Of This World (NOTW) and C28 Stores, and that demand has continued to grow.
Now, the second generation of B IT shirts are appearing in stores and online, just in time for back to school. Continuing with B IT's themes, this new line of designs boasts the message to B Pure, B Strong and Courageous, B Love Now, B-lieve, B-it Shine and the simple statement of I Am Love.
B Haley is best known for spending the last 9 years as the vivacious drummer behind TobyMac and DiverseCity, as well as leading his own band SUPERHEROSE. Each day, before and after the shows, B spends hours in the audience, talking with fans and sharing the hope that only comes from God. Early on, B realized that often people go outside themselves looking for what God has already placed in their souls. B IT Clothing was born from these conversations.
"I wanted to create a clothing line that combines simple truth with Godly principles and actions," explains B with his trademark huge smile. "Jesus has already given us a hope. With the B IT line, we strive to change the world, one shirt at a time through the simple calls to actions – B Love, B Hope, B Peace, B Pure, B Strong and Courageous. These little reminders can make a huge difference in a world in need of love. With our own lives we can B IT!"
B is also the national spokesperson for Wear iT Wednesday, (www.wearitwednesday.com) a grassroots group that encourages young adults to wear a Christian themed t-shirt each Wednesday. Over 500,000 people have agreed that this simple act could make an impact on their schools and communities. "This is just another way we can change lives…one shirt at a time."
As with the debut styles, each shirt comes with the verse Joshua 1:9 inscribed on the tag. B explains, "This verse is the foundation which the whole line is built. Be Strong and Courageous. God created us to great things, and since He is always with us, we have the option to trust him and believe in his promises. We can B all he calls us to B!"
The B IT Clothing Line is available online at www.c28.com/bhaley as well as at C28 Stores and select clothing retailers nationwide.
About C28 C28 is a Christian retail store chain, celebrating its 10-year anniversary in 2011 and is the home of Not Of This World and Truth Soul Armor clothing. C28 offers an alternative to the mainstream mall stores as well as being one of the largest Christian retailers being found at C28.com. The edgy Christian clothing, music, jewelry and accessories reflect a clean and positive Christian lifestyle. C28 stands for Colossians 2:8, Not Of This World (NOTW), and all about Jesus! Through God's Holy Spirit, your support, and the work of C28, over 16,842 have come to faith in Jesus while at C28 stores, C28 speaking events, and C28 Outreach Concerts. All glory goes to our God!
Web - www.c28.com/bhaley
Facebook - http://www.facebook.com/bhaleyclothing
Twitter - @therealBHaley