Critically Acclaimed Singer/Songwriter Sara Groves
Embarks on "Reason to Gather" Tour This Fall
Joined by GMA Dove Award Nominated Artist Audrey Assad
and Up-and-Coming Duo Jenny & Tyler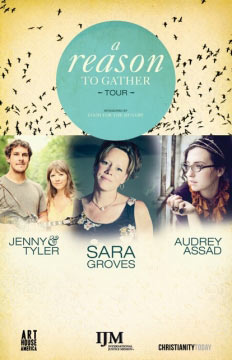 NEWS SOURCE: The M Collective
August 18, 2011
(Nashville, Tenn) August 18, 2011—On October 13, critically acclaimed singer/songwriter Sara Groves will embark on the "Reason to Gather" tour in conjunction with the release of her upcoming album slated to release this fall. Sponsored by multiple organizations including Food for the Hungry, International Justice mission, Christianity Today Magazine and Art House America, the Fair Trade Services artist will be accompanied by this year's GMA Dove Award "Female Vocalist" and "Best New Artist" Nominee Audrey Assad and indie singer/songwriter duo Jenny & Tyler.
"I am really looking forward to hitting the road this fall with our new friends Audrey, Jenny and Tyler," says Groves. "It will be a thoughtful night of stories, music and conversation about the important things in life. All the things needed to provide a good reason to gather...except food...hmmm."
Groves will perform brand new songs featured on the soon to be announced project, in addition to memorable fan favorites. The "Reason to Gather" tour will travel throughout the east visiting landmarks including Raleigh, NC and Chattanooga, TN through October 23. Leading into the Thanksgiving holiday, the tour will gather crowds out west spending time in California and Washington and several other cities. See a list of current tour dates below. (More dates to be added).
"I am looking forward to the 'Reason to Gather' tour this fall with much anticipation," Assad exclaims. "It's an honor to get invited out on the road by an artist like Sara, who balances family, art and business so well and so intentionally. I can't wait to experience each night along with the audience."
For more information about the "Reason to Gather" tour and a full list of tour dates, please go to http://saragroves.com/.
###
Confirmed "Reason to Gather" Tour dates (*cities to be added and dates subject to change):
October 14 Pittstown, NJ
October 15 Accident, MD
October 19 Greensboro, NC
October 20 Raleigh, NC
October 21 Chattanooga, TN
October 22 Gainesville, FL
November 10 Foster City, CA
November 13 Pasco, WA
November 14 Spokane, WA
About Sara Groves:
Since her debut release in 2001, Conversations, Sara Groves has become one of the most critically-acclaimed artists in the Christian music industry, receiving rave reviews across the board for each recording by Billboard Magazine and others. Groves consistently tops year-end reader's polls and album of the year nods from the likes of CCM magazine, Christianity Today and more. On her upcoming release, Invisible Empires, the follow-up to Fireflies and Songs, Christianity Today's 2009 Album of the Year, the singer/songwriter describes the record content as a process of sorting through the layers of this frenetic life, gaining a new perspective and finding the long-standing truth. Since her 2005 release, Add to the Beauty, Groves has been immersed in a series of global conversations and experiences, from the flood-ravaged gulf of Louisiana, the genocide memorials of Rwanda and the testimonies of Southeast Asia sex trade survivors. These experiences have shaped Groves music as she brings to light the difficult and meaningful work of social justice and engaging in the suffering of the afflicted. www.saragroves.com
Audrey Assad:
27 year-old, Arizona-based singer/songwriter Audrey Assad propelled to the forefront of Christian music with her debut album on Sparrow Records titled The House You're Building. Produced by Marshall Altman (Brooke Fraser, Natasha Bedingfield, William Fitzsimmons, Marc Broussard), the record released in the summer of 2010 to much acclaim. An avid reader, poems from Gerard Manley Hopkins and books were amongst Assad's inspirations in her songwriting. Her collaborations with everyone from Chris Tomlin to Jars of Clay have marked her songwriting and vocal talent. Assad's fresh sound was named among the best of 2010 from Relevant Magazine, Rhapsody.com, Gospel Music Channel online and more and was even profiled on CNN Online. In addition, The House You're Building was named Amazon.com's "Best Christian Music of 2010" and iTunes ® Christian & Gospel "Breakthrough Album of the Year." At the close of 2010, Assad collected the title of top selling new artist of the year in the Christian genre according to SoundsScan.
# # #
For more info on Sara Groves, visit the JFH Artists Database.