SAVE THE CITY RECORDS SIGNS KIMBER RISING
TO ARTIST ROSTER
New Radio Single "Forever Reign" Set To Hit Radio In September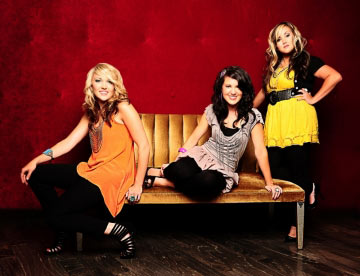 NEWS SOURCE: Merge PR
August 29, 2011
Nashville, TN - 29 August 2011 - Save The City Records is proud to announce the signing of Pop/R&B trio Kimber Rising to their roster. Kimber Rising is comprised of sisters Amanda and Brianna Wilcox and Danielle Cruz.
Kimber Rising has developed a unique blend of soulful pop music since they started singing together just three years ago, and since then, the trio has been working extensively earning their dues every step of the way. They have performed over 300 concerts and toured with the likes of such artists as Building 429, Todd Agnew and 33Miles as well as Mandisa, Natalie Grant, LeCrae and David Crowder Band, to name a few.
They have also visited numerous radio stations across the country promoting their music and they are ready to visit even more. Kimber Rising is slated to hit the radio airwaves with their upcoming single, "Forever Reign," in September after the trio makes a stop at the upcoming Momentum Radio Conference in Orlando. The single, penned by award-winning songwriter and producer Jason Ingram and Hillsong's Reuben Morgan, was produced by Kimber Rising's labelmate Brandon Bee. "Forever Reign" will be available to the public as a digital single in October.
Descriptives such as "crazy," "faith-building," "tear-filled," "mind-blowing" and "joyous" are words the girls have used to describe their journey so far. They feel God is using their musical talents to not only bind broken hearts but to strengthen their own, which is the constant reminder of why they do what they do.
"Kimber Rising is an excellent example of the type of Christian artist we like to support," states Derek Hoiem, President, Save The City Records. "They are excellent in their craft, they've paid a fair amount of indie dues, and they just flat out love God. The girls have complementary talents that makes Kimber Rising a compelling choice for fans who love music and love to hear the Word of God and, they show their passion for sharing the gospel not only with their voices but with their lives."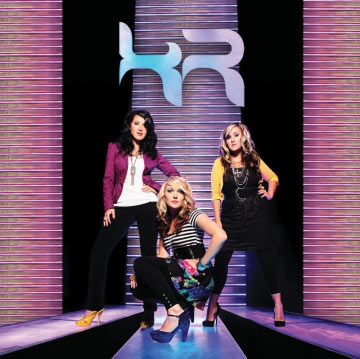 Being able to tour all across the country has brought Kimber Rising the ability to meet and work with a lot of great people who have been impacted by their music. So what do these folks have to say about Kimber Rising? Read on:
"Kimber Rising is a talented group of vocalists with a strong, focused ministry. Their message especially touches girls in a powerful way, while their music reaches all types of people. We were honored to have them on tour with us."
- Todd Agnew, artist/singer/songwriter

"The ladies of Kimber Rising have a truly anointed ministry. They're unique sound had our daughters AND moms on their feet praising the Lord. There are not many people who are able to appeal to all ages, races, and lovers of different genres of music. However, Kimber Rising pulls this off with ease. New Creation Girls Ministry at New Hope Baptist feel blessed to have been lead in worship by these amazing women."
- Jonee Blair, Student/Women's Ministry
New Hope Baptist Church - Fayetteville, GA

"The music of Kimber Rising proclaims an inspirational message with songs of praise and thanksgiving...it kindles emotions deep within. A live performance reveals that their hearts are as pure as their voices. Kimber Rising has a magnetic spirit guaranteed to captivate any audience."
- Erin Borcherding, Owner of EB Artist & Event Management
___________________
For more information about Kimber Rising, please visit:
SaveTheCityRecords.com
KimberRising.com