JEREMY CAMP "WE CRY OUT FOR TICKETS" TOUR CONTEST BEGINS SEPT. 2ND
FANS HAVE FOUR CHANCES TO WIN TOUR TICKETS
VIA THE MONTH-LONG TRIVIA CONTEST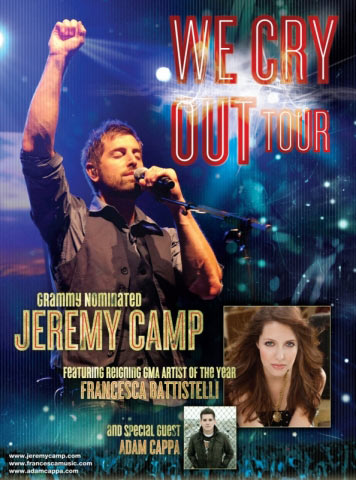 NEWS SOURCE: Merge PR
September 1, 2011
NASHVILLE, Tenn – September 01, 2011 – Starting tomorrow Friday, September 2nd, Jeremy Camp will be giving away tickets to his upcoming tour to those fans that know him along with his tour mates Francesca Battistelli and Adam Cappa the best. For the next four Fridays, there will be a link to a 10-question, multiple-choice quiz on Jeremy's site with questions on all three artists. For those that answer at least 8 of the 10 questions correctly will be automatically entered for a chance to win tickets.
Each week, five winners will be randomly chosen for the prizes: Grand Prize winner will get 10 tickets to a "We Cry Out Tour" date of their choice; the remaining four winners will each win a pair of tickets. All winners will also receive a copy of Jeremy's new book, I Still Believe.
ABOUT THE "WE CRY OUT TOUR":
After releasing his acclaimed worship album, We Cry Out: The Worship Project, GRAMMY®-nominated artist Jeremy Camp will be headlining his fall tour "We Cry Out Tour" beginning this month September 29th in Georgia and concluding on November 20th in Texas. The 29-city tour will feature reigning GMA Artist of the Year Francesca Battistelli as well as special guest Adam Cappa. Tour dates and ticket information can be found online at http://jeremycamp.com/tour.
The "We Cry Out Tour" will also feature a limited number of VIP tickets at select dates. The VIP package includes a Q&A with the artists, a signed tour poster and early entry into the show. Information on all tickets is available at JeremyCamp.com
JEREMY CAMP: GRAMMY® and two-time American Music Award nominated artist Jeremy Camp marks his inspirational return to worship with the release of his sixth studio project on BEC Recordings, We Cry Out: The Worship Project. Over his stellar 9 year career, Camp has established himself with these landmark accolades: Four RIAA Gold-selling studio albums including his debut album; One RIAA Multi-Platinum long-form video; 24 No. 1 Radio Hits across all formats; GRAMMY® nominated project for his last studio album Speaking Louder Than Before; Billboard's No. 3 Christian Artist of the Decade including five songs in the Top 50 Billboard Christian Songs of the Decade; Four ASCAP Songwriter of the Year awards; ASCAP Song of the Year award; Five Dove awards including two-time Male Vocalist of the Year. Jeremy is a Compassion International artist. Additional information available at http://www.jeremycamp.com.
- ### -
We Cry Out Tour Dates:
09/29/11 Dalton, GA
09/30/11 Nashville, TN
10/01/11 Meridian, MS
10/02/11 Niceville, FL
10/06/11 Morgantown, WV
10/07/11 Lynchburg, VA
10/08/11 Greensburg, PA
10/09/11 Reading, PA
10/13/11 Lansing, MI
10/14/11 Ft. Wayne, IN
10/15/11 Elida, OH
10/16/11 Grove City, OH
10/27/11 Salina, KS
10/28/11 Rapid City, SD
10/29/11 Billings, MT
10/30/11 Idaho Falls, ID
11/03/11 Tri Cities (Kennewick), WA
11/04/11 Tualatin (Portland), OR
11/05/11 Redmond, WA
11/06/11 Abbotsford, BC
11/08/11 Spokane, WA
11/10/11 Salt Lake City, UT
11/11/11 Albuquerque, NM
11/12/11 Roswell, NM
11/17/11 McAllen, TX
11/18/11 Austin, TX
11/19/11 Houston, TX
11/20/11 Lufkin, TX
For more info on Jeremy Camp, visit the JFH Artists Database.