Recording Artist Allan Scott Releases Blameless and Free on May 15, 2012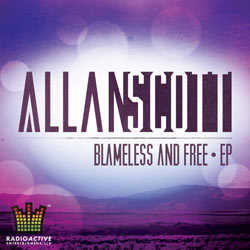 NEWS SOURCE: RadioActive Entertainment
April 30, 2012
State College, Pennsylvania... Allan Scott Band makes its label debut with their latest collection of songs on the Blameless and Free EP, available via digital music outlets on May 15. Full of memorable hooks and characterized by lyrical depth, the project resounds with the message of God's redemption and grace.
Written by Allan Scott, co-written and produced by award winning music producer/songwriter Scott Davis (Kutless, Rush of Fools, Jaci Velasquez, Sidewalk Prophets), and mixed by Allen Salmon (Building 429, Starfield, Anthem Lights), Blameless and Free draws on musical influences from European bands such as U2, Coldplay, and Keane. Lyrically, the album leads its listeners to know the full dimensions of what Jesus accomplished on the cross.
"We have a heart for worship. We wanted to write songs infused with the message of redemption and grace, songs that speak about God's ability and the completeness of what Jesus accomplished through his death and resurrection. It's a message that has affected us at the heart level, and it's our desire to see this truth flow through our music and into the lives of our listeners," Scott reports.
Allan Scott signed with RadioActive Entertainment in May 2011 when Scott Davis was attracted to both Allan's sound and message. "I really liked where he was headed in his heart," Davis said. "The music was very energetic and very raw."
"Perfect Love," the album's first single which hits national Christian radio stations on April 27th, focuses on the reality of Christ in us: how we possess the peace, self-control, and blamelessness of Christ because Christ lives inside us. Delivering depth in both substance and sound, "Perfect Love" hooks you with its passionate vocals and subtly edgy melody, drawing you beneath the surface with its powerful message. "God hasn't left us in a position of lack; He has given us himself," Scott says about the single's central theme.
To support the album's release, Allan will be embarking on a radio tour this spring, details of which will be highlighted on the artist's website: www.allanscottmusic.com.
About Allan Scott
Allan Scott is a songwriter and worship leader hailing from State College, Pennsylvania. Allan's music and message of God's redemptive grace is driven by his own tumultuous background. A drug abuser at an early age, Allan had been in rehab twice and jail once before coming to know the saving power of Jesus in 2001. As described in his testimony which was featured on CBN's "The 700 Club," this encounter with Christ is still radically changing his life. Visit www.allanscottmusic.com for more information.
About RadioActive Entertainment, LLC
Founded by acclaimed music producer/songwriter Scott "Scotty D" Davis and Co-Founder, marketing strategist Marc A. Wolfe, RadioActive Entertainment, LLC is a Nashville based production company and record label for both contemporary christian bands and solo artists. Scott Davis's production and songwriting credits include the likes of Kutless, Rush of Fools, Tenth Avenue North and Sidewalk Prophets. The company's newly formed label consists of Pennsylvania based Allan Scott and Texas native Camaryn Rogers. Visit www.radioactiveentertainment.com for more news.