The Sunrise Enlists Guest Performances by Phil Keaggy and Joe Vitale on Sophomore Album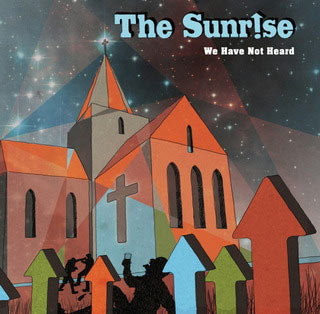 NEWS SOURCE: Nashville Publicity
June 13, 2012
(CLEVELAND, Ohio) -- The Sunrise is proud to announce the release of their second album, We Have Not Heard, featuring guest appearances from legendary guitarist Phil Keaggy and Crosby Stills Nash & Young drummer Joe Vitale. Self-proclaimed "Jesus People," James and Rebecca Mileti may singlehandedly be reviving the Jesus Music genre with their latest release from indie label The Winchester Records.
The Sunrise has a sound that has been compared to 'a Christian Wilco' and the White Stripes by Jesusfreakhideout.com, while Goldmine Magazine compared their songwriting to '70's acts like Paul McCartney, Seals & Crofts, Don McLean and Todd Rundgren. But what sets The Sunrise apart is the vertical lyrics that leave no room for confusion when it comes to the band's focus, mission and purpose.
"I remember the way albums by Keith Green, Love Song and 2nd Chapter of Acts made me feel," notes James. "I want to recreate that feeling of worship and conviction in a musical form that serious music fans will enjoy. We've put together top notch musicians, interesting arrangements and thought provoking lyrics, like Christian musicians used to regularly do, to spur the listener into action for Jesus!"
The Mileti's enlisted virtuoso guitarist Phil Keaggy for three tracks on We Have Not Heard ("Judgement Day," "Like The Sunrise" and the title track), while Crosby Stills Nash & Young drummer Joe Vitale pops up on the album's title track as well.
And the band is quickly gaining fans in both Christian and mainstream circles, despite the overtly evangelical lyrics. The Sunrise has managed to attract the attention of iconic artists like Keaggy and Vitale, and members of acts like Ambrosia and Frank Zappa Band with its unique homage to the Christian music of yesterday. According to Rock & Roll Hall of Fame Inductee Chris Hillman of The Byrds: "The joy of music lives in our hearts and souls, one of many gifts bestowed by our Lord and so beautifully conveyed by The Sunrise band."
For more information on The Sunrise, visit the official website at www.thesunrisemusic.com.
# # #