Murray Hill Theatre Commemorates 17th Anniversary With 2-Day Fest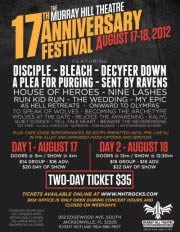 NEWS SOURCE: Murray Hill Theatre
June 14, 2012
This year, Murray Hill Theatre, one of Jacksonville, Florida's longest running live music venues, is commemorating their 17 years of operation by holding a 2-day festival style event in August featuring some of music's biggest names: Disciple, Bleach, A Plea For Purging, Sent By Ravens, House Of Heroes, Nine Lashes, My Epic, Run Kid Run, The Wedding, As Hell Retreats, Onward To Olympas, To Speak Of Wolves, Becoming The Archetype, Wolves At The Gate and several local bands; plus several acoustic singer/songwriters on the Café stage.
The festivities are scheduled for August 17 & 18, 2012 at the Murray Hill Theatre, located at 932 Edgewood Ave South, Jacksonville, Florida, 32205. Doors on August 17th open at 3:00pm and 11:00 am on the 18th. More info available on the Facebook event page: https://www.facebook.com/events/210644389057192/ and advanced tickets are available for purchase online on Murray Hill Theatre's website: www.mhtrocks.com.
About Murray Hill Theatre
MHT is the nation's premier Christian rock venue featuring a state of the art sound and light system, and Café. We are an alcohol-free, drug-free, smoke-free, all-ages nightclub that features live music with a positive message. MHT uses music and the arts to present things of faith in a positive light. As an alternative to typical bars and nightclubs, we give people a safe nightspot to enjoy live entertainment.
Every weekend MHT provides live entertainment with the goal of reaching out to those who have no understanding of the good news of Jesus as well as strengthening and encouraging those who know Him and desire to deepen their walk with Him.
Murray Hill Theatre is an independent, 501(c)3 non-profit charitable organization that is not affiliated with any church or denomination.