TENTH AVENUE NORTH SUPPORTS AUG. 21 RELEASE,
THE STRUGGLE, WITH BIGGEST HEADLINING TOUR TO DATE
"The Struggle" Fall Tour Visits 35 Cities
Features Audrey Assad and Rend Collective Experiment

Debut Single From The Struggle, "Losing," Receives 73 Adds Its Debut Week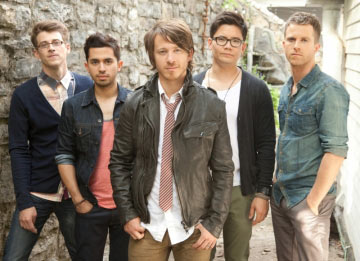 Tenth Avenue North (L-R): Jason Jamison, Ruben Juarez, Mike Donehey, Jeff Owen, Brendon Shirley
Photo by: Parker Young
NEWS SOURCE: Provident Music Group
June 19, 2012
(Nashville, Tenn.) June 19, 2012-Acclaimed band Tenth Avenue North announces "The Struggle" fall tour, its biggest headlining tour to date, visiting more than 35 cities from mid-September though late November. The tour, featuring guest artists Audrey Assad and Rend Collective Experiment, will support Tenth Avenue North's Aug. 21 studio release, The Struggle, whose lead single "Losing" debuted with an incredible 73 adds out-of-the-box that included the KLove, WAY-FM and Air1 networks.
Kicking off Sept. 13 in Sewell, New Jersey (Philadelphia area), "The Struggle" fall tour will hit major markets including New York, Baltimore, Washington, D.C., Pittsburgh, Indianapolis, Cincinnati, Detroit, Chicago, Minneapolis, Denver, Salt Lake City, Seattle, Phoenix, San Antonio, and Houston, among others. Singer-songwriter Audrey Assad and Kingsway artist Rend Collective Experiment will join Tenth Avenue North, who will perform new music from its latest project as well as fan favorites.
The tour is named for Tenth Avenue North's third label project, The Struggle, available for pre-order now, with a street date of Aug. 21. Produced by six-time SESAC Christian Songwriter of the Year, and two-time GRAMMY nominee, Jason Ingram (Chris Tomlin, Sanctus Real), The Struggle is a bold, creative leap forward for the band, reflecting influences ranging from fan insight to the addition of two band members to a new recording process.
Travis Culver, music director and afternoon personality at KTSY-FM in Caldwell, Idaho, an early supporter of the single, comments, "From the very first listen to 'Losing' I remember thinking to myself 'who is this? What a cool song!' But it's more than just a great song, it's a great song with a deep and important message - to be shown grace means we must also show others grace, even if it means we feel like we're losing."
Keith Stevens, program director at KTIS-FM in St. Paul, Minn., agrees, "'Losing' is a winner with KTIS! A terrific summer vibe for the Twin Cities with a refreshing message about forgiveness that we all need to hear."
The band has always done something special for its fans during each tour and this run isn't any different. Tenth Avenue North fans were given the opportunity to buy a limited number of "Fan Presale Tickets" the week prior to the national on-sale date through a special first-come-first-served, online offer. In a majority of the markets, those tickets sold out within the first few days, creating a wave of excitement for the tour.
A complete tour itinerary follows this release. For more information on "The Struggle" fall tour and CD, visit: www.TenthAvenueNorth.com / www.thestruggletour.com / http://is.gd/gWeGRt
About Tenth Avenue North:
Tenth Avenue North -comprising members Mike Donehey (lead vocals/acoustic guitar), Jason Jamison (drummer), Jeff Owen (electric guitar/background vocals), Ruben Juarez (bass) and Brendon Shirley (keys) -first impacted the music community as the best-selling and most played new Christian artist of 2008. In 2009, the group scored No. 1 on Billboard's Hot Christian Songs Artist Chart with "By Your Side," which reached No. 2 on the Billboard Hot Christian Songs chart and No. 3 overall for the decade. Such acclaim earned Tenth Avenue North the new Artist of the Year title at the Gospel Music Association's 40th Annual Dove Awards. Consequently, its debut album, Over and Underneath (May 2008), sold more than 100,000 copies in less than seven months and ranked among Billboard's Top 10 Christian Albums of 2009. Currently, the project has surpassed 420,000 sales while the band's combined album sales total more than 700,000.
Tenth Avenue North saw its sophomore record, The Light Meets The Dark (May 2010), debut at No. 1 on the Nielsen Christian SoundScan chart and No. 15 on the Billboard 200 with first week scans of 21,583. The project secured the No.1 Christian Album chart position at both iTunes and AmazonMP3, reaching Top 5 on iTunes' Overall chart. In 2010, Tenth Avenue North also received a Dove Award nomination for Group of the Year and claimed the coveted Song of the Year honor for "By Your Side."
Additionally, the 2009-2010 season marked guest spots on the "Winter Jam" tour, Casting Crowns' "Until the Whole World Hears" tour, a very active summer festival schedule, and Tenth Avenue North's fall 2010 "The Light Meets the Dark" tour. The latter played to 67,000 + fans, selling out more than half its hard ticket dates and generating sponsorships for 1,700 children within Compassion International programs.
Since its last release, Tenth Avenue North Live: Inside and In Between (March 2011), a live CD/DVD experience, Tenth Avenue North has continued to move through constant streams of feature spots and major tours, most recently wrapping label mate Third Day's fall 2010/spring 2011 "Make Your Move" tour and the fall 2011 "Rock & Worship Roadshow." In 2011 alone, the band performed for audiences in excess of 500,000. Its memorable song "You Are More" was the No. 1 Song of the Year on Billboard's Christian Audience Chart.
Earlier this year, Tenth Avenue North's "By Your Side" achieved digital Gold status, according to the RIAA, signifying 500,000 singles sold. As Billboard Magazine assesses, "To say this band is going to be the 'next big thing' feels like an understatement."
About Audrey Assad:
28-year-old, Nashville-based singer-songwriter Audrey Assad propelled to the forefront of Christian music with her debut album on Sparrow Records titled The House You're Building. Produced by Marshall Altman (Brooke Fraser, Natasha Bedingfield, William Fitzsimmons, Marc Broussard), the record released in the summer of 2010 to much acclaim. Assad's fresh sound was named among the best of 2010 from Relevant Magazine, Rhapsody.com, Gospel Music Channel online and more and was profiled on CNN Online. In addition, The House You're Building was named Amazon.com's "Best Christian Music of 2010" and iTunes ® Christian & Gospel "Breakthrough Album of the Year." Recently married, Audrey found her songs expressing the joys and struggles of fighting for lasting love. She draws her inspiration from this introspection, as well as classic literature and songwriters like Paul Simon and James Taylor. Her collaborations with everyone from Chris Tomlin to Jars of Clay have marked her celebrated songwriting and vocal talent. Assad released an exclusive iTunes ® Live from SoHo album in August. She released her sophomore album, Heart, on February 14, 2012, also produced by Altman. http://www.audreyassad.com
About Rend Collective:
Internationally acclaimed Rend Collective Experiment released its sophomore album, Homemade Worship By Handmade People, earlier this year amidst five-star reviews. The album was recorded and produced by Rend Collective in Irish church halls and homes in the band's organic, collective style and fusing a depth of sung theology and fresh melodies that reflect themes of redemption, devotion and celebration. A movement of 20-somethings collectively wondering how to make sense of the conundrum of life, God and community, Rend Collective began in Ireland and spread across Europe before hitting the Americas. For more information on the band, go to http://www.rendcollectiveexperiment.com.
"The Struggle" 2012 Fall Tour Dates
*Dates and cities subject to change without notice
9/13 - Sewell, N.J.
9/14 - Middletown, N.J.
9/15 - Marriottsville, Md.
9/16 - Woodbridge, Va.
9/21 - Burlington, N.C.
9/22 - Gaffney, S.C.
9/23 - Cordele, Ga.
9/27 - Beaver Falls, PA
9/28 - Middleburg Heights, Ohio
9/29 - Whitestown, Ind.
9/30 - Cincinnati, Ohio
10/4 - Plymouth, Mich.
10/5 - Holland, Mich.
10/6 - Palos Height, Ill.
10/7 - Maple Grove, Minn.
10/17 - Wheat Ridge, Colo.
10/18 - Layton, Utah
10/19 - Nampa, Idaho
10/20 - Redmond, Wash.
10/21 - Tualatin, Oreg.
10/23 - Santa Rosa, Calif.
10/24 - Sacramento, Calif.
10/25 - Santa Ana, Calif.
10/26 - Redlands, Calif.
10/27 - Phoenix, Ariz.
10/28 - Albuquerque, N.M.
11/1 - San Antonio, Texas
11/2 - Houston, Texas
11/4 - Abilene, Texas
11/8 - Lenexa, Kan.
11/9 - Bellevue, Neb.
11/10 - Davenport, Iowa
11/15 - Jacksonville, Fla.
11/16 - Boca Raton, Fla.
###
For more info on Tenth Avenue North visit the JFH Artists Database.