POP CULTURE, MEDIA, THEOLOGY AND...A UKELELE?

PHIL VISCHER AND SKYE JETHANI TAKE A
UNIQUE APPROACH TO CHRISTIAN MEDIA WITH
THE PHIL VISCHER PODCAST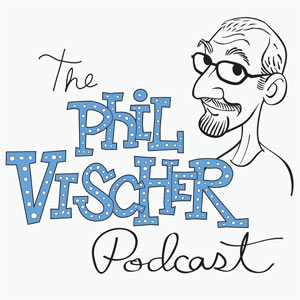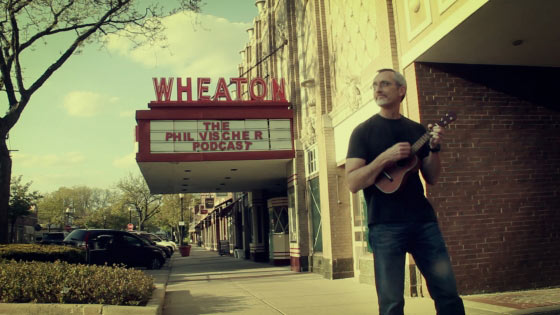 NEWS SOURCE: Mixtus Media
July 5, 2012
(NASHVILLE, TN) July 5, 2012 -- Best known for creating VeggieTales ® and the Buck Denver Asks...What's In The Bible DVD series, Phil Vischer is taking on a fast paced and often witty conversation regarding pop culture, media, theology, and living a thoughtful Christian life through his new venture, The Phil Vischer Podcast. Joined by co-host Skye Jethani (author and senior editor for Christianity Today's Leadership Journal) The Phil Vischer Podcast is a weekly conversation that features special guests from time to time, in-depth yet often humorous conversations, and an occasional appearance by Vischer's ukelele.
"There are many topics worth discussing that just aren't getting discussed in Christian media today," shares Vischer. "It's time to dive into these issues with a Christian perspective AND a sense of humor. A podcast is a great way to do this."
"We want to create culturally generated conversations like friends would have around the dinner table where you may discuss a variety of topics," Jethani adds. "We believe you should take God seriously, your faith seriously but not yourselves. That's where we get in trouble. So laughing is an important element of the show. What Phil and I are drawn to are conversations that most Christians are afraid of. We want to take stories that create fear in Christians, like social and theological issues, and talk about why they shouldn't be afraid. We don't need to be driven by fear. There is a way to engage these topics and still honor God and love our neighbor. There is another way to live."
Featuring noted guests like New York Times bestselling author Eric Metaxas (Bonhoeffer: Pastor, Martyr, Prophet, Spy) and Os Guinness (author, social critic, and Senior Fellow of the EastWest Institute in New York) Vischer and Jethani approach their podcast with questions that spark their own inquiry.
"When I hear a story on the news - whether it's about Lady Gaga, snake-handling Christians, or the origins of the universe, there are questions that come to mind," says Vischer. "What's interesting, disturbing, or even amusing about this story? How does it affect me as a thoughtful Christian? For both Skye and I, our approach to these topics - and the podcast itself - is driven by our own curiosity."
To subscribe to The Phil Vischer Podcast, please visit their iTunes page.
For more information about The Phil Vischer Podcast, please visit: http://www.philvischer.com
PHIL VISCHER:
Phil Vischer made his first animated film when he was nine years old; by the age of fourteen, he was convinced he would be a filmmaker when he grew up. After a brief stint at a Bible college, Phil struck out on his own, looking for a way to integrate his faith with his filmmaking.
Today, more than 60 million VeggieTales ® videos have been purchased and Phil's faith-filled stories can be found in one-third of all American homes with young children. Although Phil's original company, Big Idea Productions, collapsed in bankruptcy in 2003, Phil continues voicing VeggieTales ® characters.
Phil also is actively developing new ways to integrate faith and storytelling through his new creative shop, Jellyfish Labs. Phil captured the breathtaking rise - and heartbreaking fall - of Big Idea Productions in the book Me, Myself & Bob, which was published by Thomas Nelson. He is also the author of the popular children's books Sidney and Norman and 47 Beavers on the Big Blue Sea.
Phil's latest project is a 13-DVD series called Buck Denver Asks...What's In The Bible? that will take families all the way through the Bible - Genesis to Revelation. He also started JellyTelly, an interactive, online "mini-network" for children.
SKYE JETHANI:
Skye Jethani is an author, editor, speaker, consultant and pastor. He occupies numerous roles at Christianity Today, a leading communications ministry launched by Billy Graham in 1956. Since 2004 Skye has served on the editorial team of Leadership Journal and is currently the group's Senior Editor. He is also the Senior Producer of This Is Our City, a multi-year, multi-city project telling the stories of Christians working for the flourishing of their communities. In addition, Skye serves as the Creative Assistant to the President of Christianity Today where he contributes to strategic planning for the global communications ministry.
Skye has written two books. The Divine Commodity: Discovering a Faith Beyond Consumer Christianity, was released in 2009. His second book, WITH: Reimagining the Way You Relate to God, was published in 2011. He is currently working on his next book, Tomorrowland.
# # # #