RAZZBARRY SIGNS ACOUSTIC DUO TEMPLE VEIL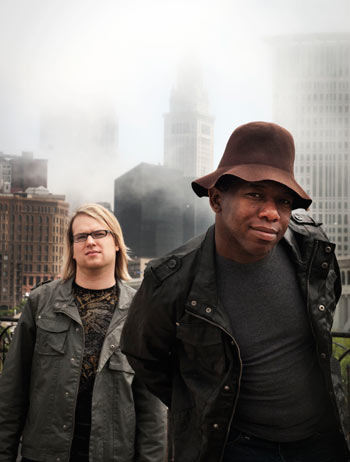 NEWS SOURCE: Razzbarry Records
July 15, 2012
(Jacksonville FL) - July 15, 2012 - Razzbarry Records is proud to announce the signing of TEMPLE VEIL, an acoustic guitar and violin duo based in Tampa Bay, FL. The duo is DeRock (Violin/Vocals) and Brysson (Acoustic Guitar), both former members of the Christian hard rock outfit Post Mortum.
The personalities of these two are as unique as their childhoods. DeRock would best be described as man of action. Thriving in group settings, he can always be found where the action is. On the contrary, Brysson, a laid-back individual, is much more likely to be found working in seclusion or engaged in deep one-on-one conversation. Watching football and movies is a top source of entertainment for DeRock, while Brysson enjoys outdoor activities in the likes of hiking and fishing. Yet, they have established a deep rapport.
In addition to their love of fried okra and their matching red briefcases, there is one thing that unites these two individuals above and beyond all differences, something that supersedes all else in their lives: That is their love for God, people, and music; and their passion, purpose, and calling to bring all these together. Though influences of their diverse backgrounds may be inescapable, DeRock and Brysson have deserted their past, leaving everything to unify the immeasurable passion of their hearts.
"We find Temple Veil's music to be uplifting and encouraging, as well as a completely original sound for the Christian market and beyond! But what impresses us most is their heart for worship and vision for the church of today." - Razzbarry Founder, Barry Blaze
With non-stop touring the past two years across the USA and Canada, playing over 320 shows performing and leading worship, Temple Veil recently took time in Nashville to begin working on new music, writing with such notables as Aaron Rice (Toby Mac, Mandisa, Stephanie Smith), Brian White (Avalon, Karyn Williams, Trace Adkins, Rodney Atkins), Chad Roland (Bryan White, Mackenzie Morgan, Crawford and James), and Krissy Nordhoff (2012 Dove Award winner for the worship song YOUR GREAT NAME).
With all rock and roll personas aside, no glamour or flair, Temple Veil is stripped down, acoustic, raw, and real. Just as the temple veil was torn upon Christ's death in the Bible, granting all men access into the Holy of Holies, DeRock and Brysson have unmasked their own lives, opening themselves to the world through Temple Veil.
ABOUT TEMPLE VEIL
Temple Veil (Tampa Bay, FL) is an acoustic worship band. These former members of the Christian hard rock band Post Mortum, DeRock (Vocals, Violin) and Brysson (Guitar), tour continuously, performing and leading worship with over 320 shows the past two years. Their single, "Party Song," was recently featured in the Christian film The Message.
ABOUT RAZZBARRY RECORDS
Razzbarry Records (Jacksonville, Florida) is an independent management company founded by Barry Blaze in 2007. Their current roster includes The Great Transparency, Temple Veil, Code of Ethics, and Blaze's solo worship venture as Barry Blaze.
For more information about TEMPLE VEIL or a show near you visit www.razzbarry.com, www.templeveil.com, www.twitter.com/templeveil, or www.facebook.com/templeveil
UPCOMING TOUR DATES
Jul 14 South Bay Church Riverview, FL
Jul 15 South Bay Church Riverview, FL
Jul 18 Restoration Church Naples, FL
Jul 19 New Life Church Marathon, FL
Jul 21 Impact Community Church Key West, FL
Jul 22 Glad Tidings Community Church Key West, FL
Jul 29 Barwick Road Baptist Church Delray Beach, FL
Aug 04 Awesome God Festival Harmony, NC
Aug 05 Calvary Chapel of Greene Ruckersville, VA
Aug 10 Fellowship Church Middletown, CT
Aug 12 Calvary Bible Baptist Church Whitefield, ME
Aug 19 Griswold Street Baptist Church Port Huron, MI
Aug 26 Central Baptist Church White Hall, AR
Aug 30 UNL Union Lincoln, NE
Sep 16 Canyon Ferry Road Baptist Church East Helena, MT
Sep 27 College Park Community Church North Bend, OR
Sep 30 Central Valley Church Shasta Lake, CA
Oct 07 First Baptist Church Winnemucca Winnemucca, NV
Oct 14 Calvary Chapel Salt Lake City, UT
Nov 04 Good News Church Tupelo, MS