Heath McNease To Self-Release "The Weight of Glory" August 14th
New project consists of songs inspired by the works of C.S. Lewis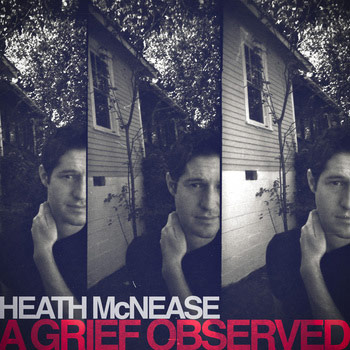 NEWS SOURCE: Heath McNease / JFH
August 2, 2012
Heath McNease is one of the busiest artists in the independent music circle and the hip hop / singer-songwriter is ready to unleash another new project on willing listeners. He just released a new album titled Thrift Store Jesus on February 28, and will now release The Weight of Glory - Songs Inspired by the Works of C.S. Lewis on August 14th! Heath has also made a brand new song available as a free download which you can get here at Jesusfreakhideout.com or from his Bandcamp page.
Check out Heath's announcement of the project in his own words below...
Hello to all of my amazing friends, fans, and listeners! First off...I just wanted to thank everyone for the support they showed with my release of "Thrift Store Jesus." I simply couldn't have made that album happen without you.

I'm sending this email to you to let you know that i have a BRAND NEW album coming out in 2 short weeks! It's called "The Weight of Glory - Songs Inspired by the Works of C.S. Lewis" and it drops for free on Tuesday, August 14th.

The books of C.S. Lewis have influenced my life in a way that would be impossible to simply speak about. So I made an album where each song is about one of his books. This is a deeply personal and incredibly exciting record, and I'm so stoked to get to share it with you guys! So please set your calendars for Tuesday, August 14th! There are various levels of donation on my bandcamp page just like last time, so if you care to support...please don't hesitate to do so.

Here is a free download of the first song from the album. It's called "A Grief Observed." http://heathmcnease.bandcamp.com/track/a-grief-observed Please listen, download, and share!

And here is a video link where I talk about the purpose behind the project. http://www.youtube.com/watch?v=qJMdSN7mg78

Guys...you've been so great and so supportive, and I could never thank you enough. I sincerely hope this project blesses you as it blessed me when I was making it. Please share these songs with the world. Music is such a tough gig for the indie artist if he/she doesn't have great word of mouth as the foundation of their promotion. So please share. And you can always contact me at
@theheathmcnasty on twitter
http://facebook.com/heathmcnease
http://heathmcneasemusic.com
http://heathmcnease.bandcamp.com
For more info on Heath McNease visit the JFH Artists Database.