THE MODERN POST Charts Twice on Billboard
Kensrue-led band hits #10 on Top Heatseekers Albums chart with new EP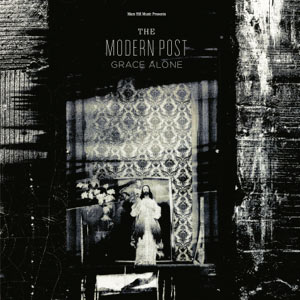 NEWS SOURCE: Biscuit PR
August 23, 2012
Seattle, WA - Grace Alone, a new EP by The Modern Post and released by the Mars Hill Music label, hit not one, but two Billboard charts this week, claiming the #10 spot on the Top Heatseekers Albums chart and #17 on the Top Christian Albums chart-all with no formal promotion or distribution. The Modern Post, a worship band at Mars Hill Church Orange County, is fronted by Dustin Kensrue on guitar and vocals, with brothers Lee and Phil Neujahr on drums and bass respectively, and Jonny Sandu on synths.
The church, one of the first in the country to start distributing sermons online free of charge, is no stranger to the DIY internet approach, but this album launch has reached a new milestone for the newly formed Mars Hill Music label, which was just founded in the last year. The albums are all sold on Bandcamp and the iTunes store, independently uploaded. Physical copies are also sold in local church bookstores, however those sales aren't tracked, and are not reflected in the chart position.
With a crowded marketplace in both the indie and Christian music scene, why are people picking up this EP in particular? Because few people are making music that hits at the intersection of those two audiences, says Network Music Manager Jonathan Dunn. "I think there is a market for gospel- and Jesus-centered music done in a modern sound that is largely untapped," says Dunn, who formerly was the A&R director at Tooth & Nail/Solid State Records before coming to Mars Hill last year.
The theology is inextricable to the music, says band leader Dustin Kensrue, a deacon and elder candidate at the Downtown Bellevue church, where he started leading worship this summer. "There's a lot of worship music that just focuses on being 'uplifing' -but that ignores whole parts of the Bible, especially the laments in books like Psalms. Our goal with this EP, which is based out of Ephesians, is to reflect all of the gospel. The gospel is always uplifing, but there are human experiences and truths that are not, and so the bad news is important to have context for the good news."
The current trend is encouraging for the young label. Dunn reports they recently finished a full-lenth recording for Citizens (a band out of the U-District church), off the heels of their EP Already/Not Yet, which came out earlier this year. Currently, five more projects are slated for the 2013 release schedule.
All nine of Mars Hill Music's current releases can be found on Bandcamp and at MarsHill.com/music. For more on the vision for the Mars Hill Music label, you can watch this interview with Pastor Mark and Jon Dunn. For more from Dustin talking about what the EP title "Grace Alone" means, check out this video.