RAYLYNN RECORDS UNVEILS POP ARTIST KYLE SHERMAN FOR ALBUM DEBUT HEAR ME ON OCTOBER 9, 2012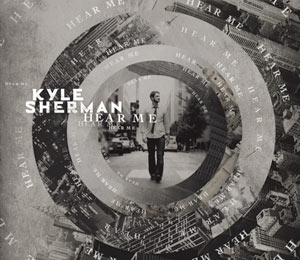 NEWS SOURCE: Rogers & Cowan
September 13, 2012
Los Angeles, Calif. (September 13, 2012) -Owners of the Texas Rangers, Bob and Janice Simpson unleash their latest venture RayLynn Records, a new Christian music label for emerging performers. On October 9, 2012, the label will unveil its first project Hear Me, from flagship artist Kyle Sherman.
After years of being a worship leader, Sherman was discovered by the Simpson's while singing at his home church in Ft. Worth, TX. Three years later Sherman joined forces with veteran producer and country singer-songwriter Mark Collie (Martina McBride, Tim McGraw, Garth Brooks) resulting in a project that is an eclectic and authentic mix of rootsy, southern soul.
"It's crazy how God works," says Sherman. "Five years ago, I pushed pretty hard to do my own thing as a singer/songwriter, but every well I approached would dry up. It clearly wasn't the right time."
Music listeners have been introduced to Sherman through his new radio single, "Come to Me," which is continuing to impact AC Radio stations across the country. Additionally, the debut album features captivating anthems including "The Greatest Tear" and "Hallelujah." Sherman draws inspiration from heavy-hitters like David Crowder Band, Needtobreathe, and Eric Clapton while still taking on a style that is uniquely his own.
RayLynn Records aims to serve as a launch pad for breakthrough artists and seeks to share the Gospel through music and the artists they represent.
"From day one we recognized Kyle's incredible talent as a worship leader at our church," says Bob Simpson, co-founder of RayLynn Records. "However, what started as a belief in our ability to back Kyle's musical endeavors financially, turned into a flourishing relationship where we had the opportunity to become a part of his projects. It has been such an honor for my wife and I to create RayLynn records and to collaborate with Kyle on songs like 'Come to Me' which will help further God's word."
For more information on Kyle Sherman and RayLynn records please visit www.raylynnrecords.com and www.kyleshermanmusic.com.
###
Track Listing for Hear Me:
1. Hear Me
2. Come To Me
3. Fountains
4. He Prayed For Me
5. All Things New (Hallelujah)
6. Heaven
7. Build It On The Rock
8. One True Friend
9. New Life
10. You Are The Only One
11. The Greatest Tear
12. Healing Coming Down