GRAMMY®-NOMINATED JEREMY CAMP HONORED FOR HIS 32 NO. 1 RADIO SINGLES AT CMB MOMENTUM
NEW RADIO SINGLE "RECKLESS" DEBUTING FROM UPCOMING 2013 RELEASE

CAMP WILL RELEASE FULL-LENGTH CHRISTMAS PROJECT ON SEPTEMBER 25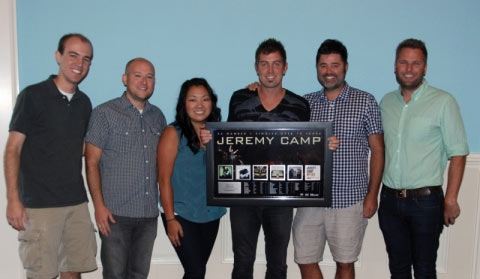 Photo L to R: Charles Van Dyke (Director of National Promotions), Tyson Paoletti (BEC Recordings' General Manager), Lauren Heerlein (Manager of National Promotions), Jeremy Camp, Brandon Ebel (Tooth & Nail Records/BEC Recordings' President), Conor Farley (Director of A&R) Photo Credit: Tina Cruz | Hi-Res Photo Available Upon Request
NEWS SOURCE: Merge PR
September 14, 2012
SEATTLE, Wa -September 14, 2012 -GRAMMY-nominated and BEC Recordings artist Jeremy Camp was recently honored for his 32 No.1 radio singles since his debut 10 years ago. Over the last decade, Camp has spent 175 weeks at No. 1 across the formats CHR, AC, Inspo, National Christian Audience and Rock. Last week at the CMB Momentum conference in Orlando, Camp was presented with a plaque commemorating his achievement from Tooth & Nail / BEC Recordings' President Brandon Ebel.
"I'm so honored to see how the Lord has used the songs on radio to impact lives," shared Camp of his career milestone. "I'm grateful for all of the radio programmers, on-air personalities and the BEC radio team for all that they have done to share these songs with the listeners. I don't know what the future holds, but my prayer is that the Lord will use my life to further His Kingdom."
Camp also performed the debut radio single "Reckless" from his upcoming 2013 studio album. The single was released last week in MPE to AC, CHR and Inspo radio, and it will be going for adds on October 5. This will mark his seventh studio album with BEC Recordings.
On September 25, Camp will be releasing his first full-length Christmas project titled Christmas: God With Us. The album is produced by Brown Bannister and Ben Shive along with Camp. Camp's Christmas album is filled with holiday classics as well as the original title track "God With Us." Fans will hear favorites such as "Jingle Bell Rock," "Joy To The World," and "Mary Did You Know."
Camp will be touring this holiday season as a part of THE STORY tour featuring a full choir and orchestra along with Casting Crowns' Mark Hall, Natalie Grant, Matthew West, Nichole Nordeman and Selah. This tour is a musical journey from Genesis to Revelation and is based off of the special project Camp was a part of that released in 2011. Camp sang "Paul (Move in Me) on THE STORY CD. THE STORY tour will begin in November and conclude in December.
About Jeremy Camp:
Over his stellar 10 year career, BEC Recordings' artist Camp has established himself with these landmark accolades: over three million albums sold, Four RIAA Gold-selling studio albums including his debut album; One RIAA Multi-Platinum long-form video; 32 No. 1 Radio Hits across all formats; GRAMMY® nominated project for his album Speaking Louder Than Before; Billboard's No. 3 Christian Artist of the Decade including five songs in the Top 50 Billboard Christian Songs of the Decade; Four ASCAP Songwriter of the Year awards; ASCAP Song of the Year award; Five Dove awards including two-time Male Vocalist of the Year. Jeremy is a Compassion International artist.
- ### -
For more info on Jeremy Camp visit the JFH Artists Database.