AUDIO ADRENALINE PREMIERES "KINGS & QUEENS"
MUSIC VIDEO ON GODTUBE FOR RADIO DEBUT SINGLE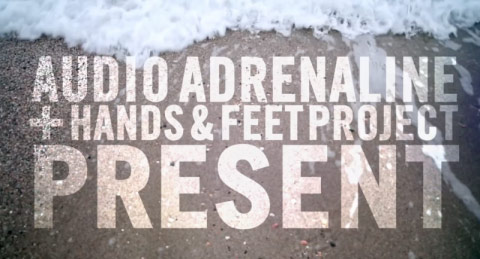 NEWS SOURCE: Merge PR
October 9, 2012
NASHVILLE, Tenn. - October 09, 2012 - Audio Adrenaline is thrilled to finally share their debut single from their forthcoming 2013 release with the premiere of the music video "Kings & Queens." The music video is debuting exclusively today at GodTube. This music video was taped in Jacmel, Haiti at the Hands & Feet Project Children's Village, showcasing the beautiful children of Haiti. Click here to view "Kings & Queens."
"It's just an incredible song about this idea of when we love the least of these, God wraps these little orphans in his majesty and they can become kings and queens," shares Mark Stuart of the song. "It gives you that idea that these are God's favorites, these little kids that have been forgotten. There's going to be a special place in heaven one day because of what they've been through here. It's just a triumphant, majestic song that just connects so deeply with Hands & Feet and the message of Audio A right now."
This music video debut follows in the footsteps of the announcement of the re-formed Audio Adrenaline with former dcTalk member and industry mainstay Kevin Max as lead vocalist, CCM vets Dave Ghazarian (Superchick) on guitar, Jared Byers (Bleach) on drums, and singer-songwriter Jason Walker playing on keys along with original member Will McGinnis on bass. With the same heart, passion and infectious musical prowess they developed as a band in the 1990's, multi-GRAMMY® award-winning Audio Adrenaline is indeed back and has put together a new lineup of like-minded musicians with the same common goal; to be the voice for orphans in Haiti and around the world.
The Know Hope Foundation, supporters of Audio Adrenaline and Hands & Feet Project, as well as record label Fair Trade Services, have joined them in this renewed mission to fund and market a new record from which net proceeds will go to Hands & Feet Project to continue growth and support of the nearly eight-year-old charity. Stay tuned for more information on the March 2013 release from Audio Adrenaline.
ABOUT HANDS & FEET PROJECT
In 2004, the members of Audio Adrenaline founded the Hands & Feet Project. Inspired by fan reaction to the band's song "Hands and Feet," HAF is a non-profit organization dedicated to providing long-term, family-style care for orphaned and abandoned children with the love of Christ. They strive to raise a generation of orphaned children who will grow up to reach their God- given potential, while empowering first world citizens to partner with them in service at home and abroad.
The organization broke ground on their first Children's village in Cyvadier, a small town on the Southern coast near Jacmel, and began their journey of serving the forgotten children of the impoverished Caribbean nation. Currently tending to over 70 children in Cyvadier, a second village opened in Grand Goave in 2008 and is caring for 30 children. handsandfeetproject.org.
###
For more info on Audio Adrenaline visit the JFH Artists Database.