iShineLIVE!'s Feb-Mar Tour Launches Nationwide February 15, 2013
LIVE! Tour to Feature Teen Artists Rachel Chan, Mission Six,
The Rubyz, Spencer Kane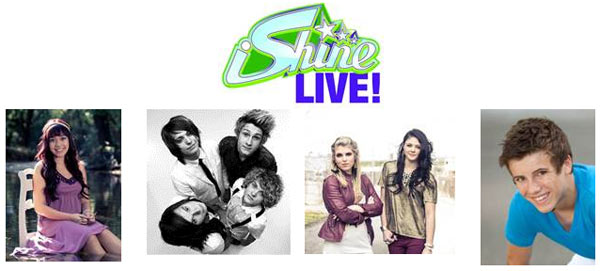 NEWS SOURCE: Hoganson Media
January 17, 2013
FRANKLIN, TN (January 17, 2013) - iShineLIVE!, a unique faith-based concert tour designed specifically for kids under the age of 14 and their families, presents its high energy Feb/Mar tour. Officially launching February 15, 2013 in Nashville, TN, the show will run in cities nationwide, including major markets like Dallas, Indianapolis, Kansas City, Miami, Tulsa and more. Similar to Disney®, iShine®, a division of Bema Media, LLC, is a kids' media group, but iShine is the only one that produces Christian content by Christian teens for children under the age of 14. Featuring a talented line up of teen artists, the tour includes in:ciite media recording artist/guest speaker Rachel Chan, who is the daughter of New York Times best-selling author Francis Chan (Crazy Love, Forgotten God), as well as The Rubyz and Mission Six from Radio Disney, plus new artist Spencer Kane.
Designed to reach the "tween" audience (young people ages 7-13), iShineLIVE! incorporates the overall purpose and ministry of the iShine organization, which is to help pre-teens and their families to illuminate their world and find their value, identity and purpose (VIP) in Christ. Inspired by the popular Saturday morning TBN series, iShine KNECT, the No. 1 Christian tween TV program in the world now heading into its 4th season, iShine LIVE! brings you the stars of the show to a town near you for a high energy, two-hour music and ministry event. iShineLIVE! includes hit music, interactive video, dynamic speakers, worship and more fun for kids and their parents. For additional details, visit www.ishinelive.com. (See itinerary that follows.)
"These live shows," says iShine founder and Chief Creative Officer Robert Beeson, "are specifically designed to engage kids and encourage parents to effectively reach pre-teens ('tweens') in a world where kids consume approximately 60 hours of media a week on average. With all of these multi-media choices that are spinning families and kids out of balance, iShine is doing its part to provide the life-changing tools, events and destinations for young people to plug in to their lives, to community, and, most importantly, to Christ."
Rachel Chan adds, "As a teen who shares the day-to-day struggles of kids everywhere, I am humbled to be given this incredible opportunity to be a voice of my generation-and want to encourage and inspire others through music and my personal testimony in hopes of inciting this young generation to share their faith and understand what it means to live for Christ each day."
Sponsored by Food for the Hungry (http://fh.org ) and Awana International (http://awana.org/), the "iShineLIVE! Tour" itinerary follows with more cities to be added soon. (All dates subject to change):
Date City/State Venue
February 15 Nashville, TN Christ Church
February 17 Carmel, IN Northview Church
February 23 Olathe KS Olathe Bible Church
March 2 Allen, TX Cottonwood Baptist Church
March 3 Tulsa, OK Faith Church
March 8 Sarasota, FL First Sarasota
March 9 Miami, FL New Testament Baptist Church
March 15 Vandalia, OH Living Word Church
ABOUT THE iSHINE MUSIC TOUR ARTISTS
Rachel Chan-Born and raised in Simi Valley, CA, singer-songwriter Rachel Chan (17) is the oldest child of world-renowned, New York Times best-selling author and speaker Francis Chan. Rachel's debut musical release, GO, in partnership with in:ciite media, is now available at www.ishinelive.com. iShine is also partnering with Rachel and in:ciite for Season 4 of iShine KNECT TV and the national iShineLIVE! tour. For more information, visit www.inciite.com or www.RachelChanMusic.com.
The Rubyz-Formed in 2008 and featured on Radio Disney, The Rubyz have consistently maintained their focus - ministering to tweens about the value and beauty they possess from their heavenly father. These girls also proudly stand for modesty in young women. Alexis Slifer (19) and Olivia Huesmann (17) co-wrote all the songs on the duo's latest project, Reflection. Infectious, fun and uplifting, their music has been heard around the country on the iShineLIVE! tour, Christ in Youth's Believe tour and their own live appearances. The Rubyz have also been featured as cast and performers on iShineKNECT viewed by hundreds of thousands of kids every week on TBN.
Mission Six-Since releasing its debut album, Superhero, in 2008, Mission Six, hailing from Evansville, IN, has performed hundreds of concerts, been featured on international television, garnered airplay on Radio Disney, and received comparisons to Relient K and the Jonas Brothers. Comprised of Noah (17, vocals), Michael (17, bass), David (17, drums), and Anthony (18, guitars), the members of Mission Six have released their third record in four years, become mainstays on the iShineLIVE! national tour and are actors as their regular stint on the hit show, KNECT TV, influencing millions of pre-teen and teen fans around the world for Jesus. For more information, visit http://www.missionsixband.com/.
Spencer Kane-Spencer is a 16-year-old teen artist and actor who has garnered national media attention for his song, "One of the Kind," which is a stand against bullying. Featured on his upcoming EP, One of THE Kind, available February 1 on iTunes, the song and companion video (www.youtube.com/watch?v=2YtA4QIhPr0) are continuing to gain momentum. Spencer recently signed a performance contract with iShine (Bema Media LLC), has a recurring role on the TBN Network sitcom "iShine Knect" (as himself) and will be a featured artist on iShine compilation CDs and DVDs, as well as a featured artist on the iShine national tour each Spring and Fall beginning in 2013.
ABOUT iSHINE
iShine is a Christian media group founded in 2006 and dedicated to ministering to "tweens" and their families. iShine reaches today's "tweens" through Biblically-based live concert events (iShineLIVE!), unique television programming seen weekly on TBN (iShine KNECT) with over one million views per week, iShine artist releases to CD and DVD, interactive websites and an entire line of books and Bibles all specifically designed to be relevant to this vital audience. For more information, visit iShine online at http://www.ishinelive.com and http://www.ishineministries.com.
# # #