THE ALMOST
RETURN WITH
'FEAR INSIDE OUR BONES'
OUT APRIL 9 ON TOOTH & NAIL/EMI/UNIVERSAL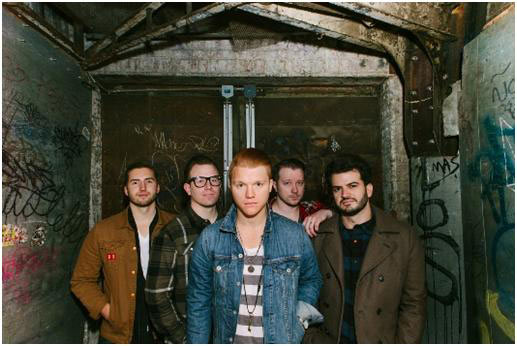 THE ALMOST, Left to right: Jon Thompson, Joe Musten, Aaron Gillespie, Dusty Redmon and Jay Vilardi
NEWS SOURCE: MSO PR
January 23, 2013
THE ALMOST--the acclaimed rock group fronted by lead vocalist/guitarist AARON GILLESPIE--will return April 9 with their third album FEAR INSIDE OUR BONES for Tooth & Nail/EMI/Universal. The album's preview track is "Ghost," which echoes with unbridled blues intensity before converging on a divinely heavy refrain. Listen to the song here: http://smarturl.it/ghosttube.
THE ALMOST are in the midst of a cross-country tour previewing the new songs for their rising fan base nationwide. In between headlining shows, the band will team with Finch for their "What It Is To Burn" tour this spring, while AARON and JAY VILARDI lead guitarist for THE ALMOST will also join the To Write Love On Her Arms tour for a handful of acoustic performances. See all current dates listed below.
To cut FEAR INSIDE OUR BONES, THE ALMOST retreated to Nashville's Omni Studios with producer Marshall Altman (Tom Morello, Ingrid Michaelson, William Fitzsimmons). All the songs were recorded together in a single room completely live. "It wasn't a piecemeal process as the majority of modern records are," explains GILLESPIE. "The album was born at that moment from our collective blood, sweat and tears." In those five days, the musicians tapped into elegantly visceral energy built from a blues-rock vibe that they modernized. Other album highlights include the relentless rocker "Fight Song," the powerful and complicated anthem "I Won't Let Go," and "I'm Down" which streams ahead like a Southern freight train before the singer soulfully proclaims in the chorus, "Don't count me out."
Across the entire album, GILLESPIE continues to wear his heart on his sleeve. He doesn't hold anything back within the lyrics or music. Amidst all of the thundering rhythms and massive riffs, THE ALMOST's honesty re-sounds the loudest. "There's hope," GILLESPIE concludes. "People are free to feel the way they feel and go through what they are going through. Music is the great communicator. This is my soundtrack, heartbeat and who I want to be. I hope everyone feels like this record belongs to them." THE ALMOST have come a long way since the release of their 2007 debut Southern Weather (Tooth & Nail/Universal). Taking a break from the gold-selling Underoath, the project allowed GILLESPIE to explore other musical avenues, playing every instrument and singing. However, everything truly came to life on their sophomore 2009's Monster, Monster. The line-up--AARON GILLESPIE (lead vocalist/lyrics/guitar), JAY VILARDI (guitars), DUSTY REDMON (guitars), JON THOMPSON (bass), JOE MUSTEN (drums)--had solidified and they played to rabid crowds around the world. Expect more dates and radio news for 2013 and beyond to be announced soon via http://thealmost.com.
www.thealmost.com
www.toothandnail.com
https://www.facebook.com/thealmost
https://twitter.com/TheAlmost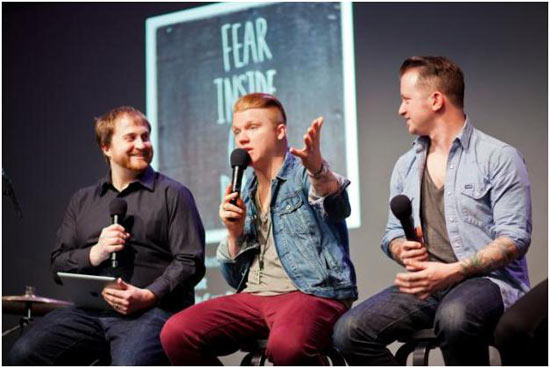 THE ALMOST stop by the Apple store in SoHo on Saturday, January 19 for a moderated discussion with Kory Grow (SPIN, Rolling Stone/Revolver), a live fan Q&A and an acoustic in-store set. Left to right: writer/moderator Kory Grow, Aaron Gillespie and Dusty Redmon of THE ALMOST.
Catch THE ALMOST on tour in the following cities:
DATE CITY VENUE
THE ALMOST headlining shows:
Wed 1/23 Huntington, WV Big Sandy Super Center Grand Ballroom
Thu 1/24 Dayton, OH The Attic Club
Fri 1/25 St. Louis, MO Firebird
TWLOHA "Heavy and Light Tour" **Aaron and Jay acoustic**
Fri 2/1 Salt Lake City, UT The Complex
Sat 2/2 Denver, CO Gothic Theatre
Mon 2/4 Houston, TX House of Blues
Tue 2/5 Dallas, TX House of Blues
Wed 2/6 New Orleans, LA House of Blues
Fri 2/8 Nashville, TN Cannery Ballroom
Sat 2/9 Detroit, MI Saint Andrews Hall
Sun 2/10 Chicago, IL House of Blues
w/ Finch "What It Is To Burn" Tour
Thu 3/7 Chicago, IL Metro
Fri 3/8 Detroit, MI St. Andrews Hall
Sat 3/9 Toronto, ON Sound Academy
Mon 3/11 Pittsburgh, PA Mr. Small's
Tue 3/12 New York, NY Irving Plaza
Thu 3/14 Silver Springs, MD The Fillmore
Fri 3/15 Philadelphia, PA Electric Factory
Sat 3/16 Boston, MA Royale Boston
About THE ALMOST:
The acclaimed rock group THE ALMOST is fronted by Aaron Gillespie, founding member of Grammy-nominated Christian metal band Underoath, who have sold over 1.5 million records. THE ALMOST released their debut album Southern Weather in 2007 on Tooth & Nail/Virgin. Southern Weather debuted on the Billboard Top 200 chart at #39 with 29,000 copies sold in its first week and spawned their first single "Say This Sooner" which hit Top Ten at Alternative Radio and became the first of 10 Top Ten singles at Christian Rock Radio. In 2009, the group delivered Monster, Monster which Alternative Press hailed "a time-release pain killer: Once the emotionally charged rock gets into your system, its' good for a long-lasting buzz" (November 2009). After touring with Paramore, The Starting Line, The Used and a trek on the Vans Warped Tour the group performed on Jimmy Kimmel Live! and have gone on to sell over 300,000 albums. The Almost have come a long way since the release of their debut, with the lineup--Gillespie, Jay Vilardi [guitars], Dusty Redmon [guitars], Jon Thompson [bass], and Joe Musten [drums]--solidified, in 2012 they retreated to Nashville's Omni Studios with producer Marshall Altman (Tom Morello, Ingrid Michaelson, William Fitzsimmons). In five days, the musicians tapped into elegantly visceral energy built from a modernized blues-rock vibe and created FEAR INSIDE OUR BONES. Relentless and compelling, FEAR INSIDE OUR BONES was recorded completely live and is due out April 9, 2013 on Tooth & Nail/Universal.
###
For more info on The Almost visit the JFH Artists Database.