FIRST iWORSHIP NOW/NEXT DOUBLE-CD IN NEARLY 10 YEARS RELEASES MARCH 5
Multi-Million Selling iWorship Brand Highlights "Now/Next" Anthems for the Church, Features
Israel & New Breed, Lincoln Brewster, Paul Baloche, Tim Hughes, Paul Wilbur, Brenton Brown,
New Life Worship, Kari Jobe, Planetshakers, Rend Collective Experiment, Daniel Bashta, More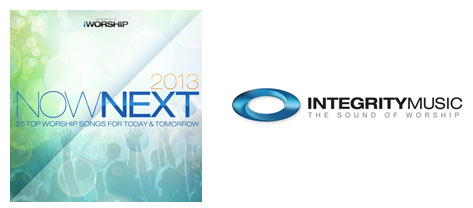 NEWS SOURCE: Hoganson Media
February 19, 2013
The new installment of Integrity Music's annual iWorship collection, iWorship Now/Next, is a two disc, 28-song set that releases March 5 and features the most popular songs being sung in the Church now, plus the songs that are destined to be the next anthems sung by the faithful around the world. The first "Now/Next" recording from iWorship since 2004, the project features "Our God," "How He Loves," "Your Love Never Fails," "Jesus At The Center,' "10,000 Reasons" (2013 GRAMMY Award winner) and more of today's most loved anthems. The project also features the next batch of songs expected to widely impact the Church, including "The Same Love," "Bless The Lord," "Build Your Kingdom Here," "Praise The Invisible," "Nothing Is Impossible" and others.
Sung by many of the best-loved artist worshippers today, including Israel & New Breed, Lincoln Brewster, Paul Baloche, Tim Hughes, Paul Wilbur, Brenton Brown, New Life Worship, Gateway Worship/Kari Jobe, Planetshakers, Rend Collective Experiment, Daniel Bashta, Ben Cantelon, All Sons & Daughters and more, see the full iWorship Now/Next track and artist listing below.
"iWorship has been a vital tool for Integrity Music to emphasize songs the Church is embracing now. But, more importantly, it gives a platform to songs that indicators show are going to be the 'next' favorite songs that the local church is singing," says Craig Dunnagan, VP, Music Publishing and Ministry Alliances. "Through inspiring visuals, printed music and audio recordings, iWorship is an established brand bringing powerful worship songs to worshippers and worship leaders around the world."
Releasing simultaneously with the new double-CD will be an exclusive iWorship Now/Next iTunes LP that offers all the music plus all the song charts, 12 videos (a mix of live worship and lyric videos) and a free "Service Starter" resource video, which are song-based mini-movies combining scripture, music and graphics for use in church services.
The full iWorship Now/Next double-CD track listing follows:
Disc 1 (Now)
Our God - Lincoln Brewster
How He Loves - John Mark McMillan
Your Love Never Fails - Chris McClarney
Happy Day - Tim Hughes
10,000 Reasons - Rend Collective Experiment
Great I Am - New Life Worship
Jesus At The Center (Studio Version) - Israel & New Breed
Healer - Kari Jobe
Everlasting God - Brenton Brown
Our God Saves - Paul Baloche
In Christ Alone / The Solid Rock - Travis Cottrell
Before The Throne of God Above - Various
Your Great Name - Paul Wilbur
Overcome - New Life Worship
Disc 2 (Next)
Bless The Lord - Jared Anderson
Nothing Is Impossible - Planetshakers
Sovereign Over Us - Aaron Keyes
God You Reign - Lincoln Brewster
The Same Love - Paul Baloche
Praise The Invisible - Daniel Bashta
Strong God - Desperation Band
Spirit Break Out - Worship Central
All He Says I Am - Gateway Worship
All The Poor And Powerless - All Sons & Daughters
O The Blood - Gateway Worship
Rushing Waters - Dustin Smith
Build Your Kingdom Here - Rend Collective Experiment
Love Came Down - Ben Cantelon
ABOUT iWORSHIP:
The iWorship series of recordings has sold well in excess of two million copies. These successful projects include iWorship Experience, @ Home, Kids and Christmas compilations. The iWorship Visual Performance Tracks and Song Videos continue to have an impact globally in churches, in homes, on military bases and everywhere where people desire to experience today's most powerful worship songs in sight and sound.