Grammy ®, Dove, BMI Award-Winner Percy Bady Tells Very Personal Story Of Resilience On New CD, Kingdom Inspirations CD, Available May 7
Bady's Single "I Won't Give Up" Featuring Canton Jones Gaining Momentum At Gospel Radio

New Docufilm Made For Television About The Making Of Kingdom Inspirations Set To Release This Spring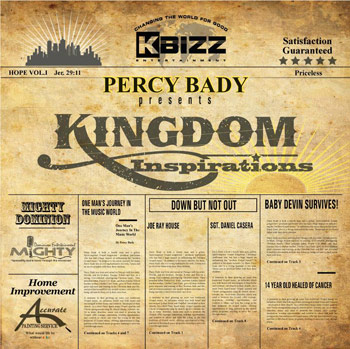 NEWS SOURCE: TKO Marketing
March 28, 2013
LOS ANGELES (March 28, 2013) - Grammy ®, Dove and BMI Award-winner, Percy Bady announced the release of the highly anticipated new project, Kingdom Inspirations. The CD is available online and in stores on May 7 and distributed in partnership by Maranatha! Music and Capitol CMG Distribution.
"The initial thought for this CD was make music that would be encouraging and inspiring to people," Bady said of Kingdom Inspirations. "I had a lot of things that happened during the making of the record which prolonged the process, and there are certain songs that wouldn't even have been birthed without the experiences that I had. More than 60% of the songs are from the experiences I had while making the record---everything from personal turmoil to challenges I've been faced with from a business standpoint and the economic downturn. All of it kind of contributed to where I was mentally, spiritually, emotionally and financially. I needed to have that connection directly to those experiences for those songs to be birthed."
One of those experiences shines through on the debut Gospel radio single "I Won't Give Up," featuring Canton Jones. The single speaks about strength and resilience during difficult times and is an anthem of Bady's. "I Won't Give Up" is impacting gospel radio and gaining momentum on the charts. Bady has been premiering the new track at Gospel events around the country including Philadelphia's Praise 103.9 Inspiration and Music Conference and the Worship And Praise Conference in Atlanta.
Other songs on the 12-track Kingdom Inspirations CD include "Painful But Necessary," "Still," and "Don't Stop Praising Him" and "Changing the World for Good," which offers encouragement for hardships we all face in this world, and "Delayed Not Denied," which is a reminder that we are on God's time.
Bady is a not only a talented vocalist, but he also utilized his gifts as a producer and songwriter on Kingdom Inspirations, spotlighting a side of the artist that was nurtured as a young child.
"I've always felt I'm here to do music," said Bady. "Ever since I played and could understand what my playing and what music did to an atmosphere, how it made people smile and laugh and sing along, I always knew what I wanted to do. I tried to evoke those same emotions on the writing and production of Kingdom Inspirations."
Bady continues to break new ground as a film producer when he releases the behind-the-scenes story of the making of Kingdom Inspirations. The one hour docufilm is set to release this spring on television.
"I felt that people would be encouraged to see how the Lord took me through the adversity I experienced while making this record. His love and faithfulness were just what I needed to hold on through the tough circumstances," commented Bady.
Bady currently serves as Creative Arts Director for New Life Covenant in Chicago and spearheads A&R for Maranatha! Gospel.
"It's important that you make sure that the music and singing really comes from your heart because I really believe what's from the heart reaches the heart," added Bady. "It has to be honest and it has to be transparent as well."
For more information about Percy Bady, visit:
www.Facebook.com/1badbady
www.twitter.com/badbadymusic
Bady is booked by Jodi Mainello at Live Oak Entertainment.
ABOUT PERCY BADY Bady, a talented musician, writer, arranger, artist, and producer, is undoubtedly one of the most well-known and well-respected names in Gospel and R&B music. His talent is coupled with prolific songwriting ability and is responsible for timeless #1 albums and hit singles effortlessly spanning genres in the secular and Christian arenas for over three decades. His body of work has garnered 26 Gold and Platinum albums. Bady has worked with notable names such as Smokie Norful, Kirk Franklin, Donald Lawrence, Dorinda Clark-Cole, Michelle Williams (Destiny's Child), Dionne Warwick, Michael McDonald, BeBe and CeCe Winans, Whitney Houston, Ronald Isley, Yolanda Adams, Donnie McClurkin, Fred Hammond, Marvin Sapp, Reverend Milton Brunson, The Thompson Community Singers, and R. Kelly.
ABOUT MARANATHA! GOSPEL: A division of Maranatha! Music, Maranatha! Gospel represents one of the label's fastest growing genres of music. Industry veteran, producer and songwriter, Percy Bady serves as the director of A&R for Maranatha! Gospel, which is known for best-selling albums such as Gospel Goes Classical and Top 25 Gospel series. For more information on Maranatha! Music, visit www.maranathamusic.com.
# # #