Under The Radar Presents First Annual Gourmet Music Event Escape To The Lake
July 4-7, 2013 In Williams Bay, WI
Event To Feature Performances And Sessions With Critically-Acclaimed
Songwriters Such As The Farewell Drifters, The Vespers, Randy Stonehill,
Eric Peters, Andy Gullahorn, Jill Phillips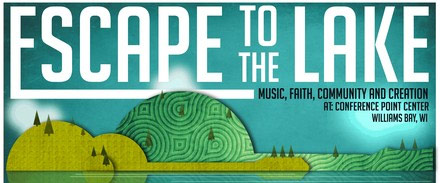 NEWS SOURCE: Bozeman Media
April 3, 2013
Chicago, IL (April 3, 2013) ---- Under The Radar (UTR) has announced their first annual Escape to the Lake music event at Conference Point Center on scenic Geneva Lake, 300 Conference Point Road, Williams Bay, WI, July 4-7, 2013.
The event will feature 10 performing songwriters, 4 speakers, including a sneak peek of clips from an upcoming movie about the late Rich Mullins and a Q&A with his brother, Dave Mullins. Some of the featured songwriters include; The Farewell Drifters, The Vespers, Andy Gullahorn, Christa Wells, Randy Stonehill, and Jill Phillips. (Complete listing is at the end of this press release). Registration is open now at www.escapetothelake.net and ticket prices are $230.00 for adults (13+), $120.00 for children, $190.00 for college students, and will include 3-nights indoor lodging, all meals during the event, and access to all sessions and concerts. Concert only tickets are also available and are $35.00 for one night or $60.00 for a 2-night pass. There is also an Early Bird Prize Drawing for a 7th generation 16GB iPod Nano programmed with all of the UTR shows for anyone registering by April 30th. The winner will be chosen May 1st.
Dave Trout, Senior Producer, UTR weekly radio show & podcast, is the creator of Escape to the Lake and talks about this new endeavor. "Launching this event is truly a dream come true. I am passionate about connecting listeners with artistically rich and faith-filled songwriters. What better way than going on vacation together? It's our hope that this retreat will become one of the premier indie music events in the country, and that people will enjoy creation, community, and world-class musicians. We are so glad to be partnering with Conference Point Center and we are working together on creating a memorable gathering for music lovers."
About Dave Trout
Trout has been in Christian radio for 18 years, and joined ReFrame Media (parent company of UTR) in 2007. He developed the concept for UTR that next year, and the syndicated radio show and podcast launched in November 2008. UTR currently airs on over 220 radio outlets and is downloaded by thousands as a weekly podcast. UTR is a different music program as it features Trout's passion for more artistic, creative, well-crafted music, and what he calls "the best songs you've never heard." At the same time, UTR began organizing or sponsoring over 120 artist concerts over the last 3 years to help introduce more people to the heart and music of Christian songwriters who are making art with excellence. UTR can be found at www.radarradio.net.
####
2013 Escape To The Lake Artists & Speakers:
The Farewell Drifters
The Vespers
Andy Gullahorn
Randy Stonehill
Jon Troast
Christa Wells
Eric Peters
Tim Coons
Jill Phillips
Nick Flora
Dave Trout
Jeff Klein
Dave Mullins
Christiaan Snedeker