LEGENDARY VOCALIST JOHN SCHLITT JOINS ACLJ'S JAY SEKULOW AND BAND FOR 'TAXMAN'
Award-Winning Singer To Be Featured on Jay Sekulow Live!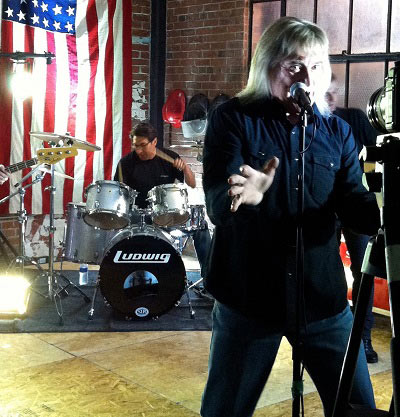 Photo caption: John Schlitt, right, and Jay Sekulow, left, perform "Taxman" for the video cameras.
(McCain & Co. Public Relations photo)
NEWS SOURCE: McCain & Co. PR
April 11, 2013
NASHVILLE, Tenn. (April 11, 2013) - Dove and Grammy Award winner John Schlitt recently met up for a jam session with a group of musician friends, including the American Center for Law and Justice's (ACLJ) chief counsel, Jay Sekulow, to record a version of "Taxman," by the Beatles in honor of the current tax season. The song will air on Sekulow's radio show, Jay Sekulow Live!, at 11 a.m. C.T. on April 13. To view the video on YouTube, click here.
"It's always fun to jam with friends, but it's very special when those friends are a part of an organization that is making a major impact on the world," Schlitt says. "Considering the season, 'Taxman' seemed the most appropriate song among the many that we had fun with. What started out as just friends getting together to jam turned into something that we thought was worth sharing with the Jay Sekulow Live! radio show and on YouTube for our many friends."
Schlitt has worked with Sekulow, who is a regular contributor on Fox News and C-SPAN, on several projects in the past, including shooting the video for "Faith & Freedom," a single from Schlitt's current CD, The Greater Cause. The video was featured at the 2012 Faith and Freedom Celebration, held in connection with the Republican National Convention last summer in Tampa, Fla. "I've been a lifelong fan of John Schlitt, and this was a special treat for me to have him be a part of this video; it was lots of fun," Sekulow says. "This recording came out of a jam session and we thought everyone would enjoy a light moment as they prepare their taxes."
In addition to Schlitt on vocals and Sekulow on drums, the band consisted of Marco Pangallo on guitar and background vocals, Joe Pangallo on guitar, Scott Kirkman on bass guitar, and William Haynes on background vocals.
For more information about Schlitt and The Greater Cause, visit johnwschlitt.com. For more information about Sekulow and Jay Sekulow Live!, visit aclj.org/radio-tv.
About John Schlitt:
With more than three decades worth of water under the musical bridge, John Schlitt has enjoyed a stellar career as a solo artist, as the lead singer for Grammy Award-winning Christian band Petra, one of the most successful Christian rock bands of all time, and as the former lead singer for popular '70s mainstream rock band Head East. He has been inducted into the Gospel Music Hall of Fame as the lead singer of Petra during the years when the band won 10 Dove Awards and four Grammy Awards. Schlitt was named the best rock singer in Christian music history by GospelMusicChannel.com. According to the website, Schlitt "remains one of the most distinctive and impactful men to ever stand behind a microphone." Schlitt was also named Male Vocalist of the Year in About.com's 2011 Readers' Poll in a category that included Chris Tomlin, Jeremy Camp, Brandon Heath and Bebo Norman.
Since Schlitt released his fourth solo CD, The Greater Cause, in May 2012, the legendary vocalist's busy schedule has included appearances on The Mike Huckabee Show, 700 Club Interactive and the Faith & Freedom Celebration-the faith-based kick-off to the Republican National Convention, as well as extensive international touring.
For more information on Schlitt, visit johnwschlitt.com or follow him on Twitter (@johnwschlitt) or Facebook (facebook.com/johnwschlitt).
ACLJ, Jay Sekulow Live! and ACLJ This Week:
Led by Chief Counsel Jay Sekulow, the American Center for Law and Justice (ACLJ) focuses on constitutional and human rights law worldwide. Based in Washington, D.C., with affiliated offices in Israel, Russia, Kenya, France, Pakistan and Zimbabwe, the ACLJ is pro-life and dedicated to the ideal that religious freedom and freedom of speech are inalienable, God-given rights for all people. The ACLJ engages legal, legislative, and cultural issues by implementing an effective strategy of advocacy, education, and litigation that includes representing clients before the Supreme Court of the United States and international tribunals around the globe.
Sekulow's radio show, Jay Sekulow Live!, and the weekly TV show, ACLJ This Week, are nationally syndicated and focus on legal, legislative, and national security battles as they are happening in the U.S. and around the world. To find local stations airing the shows, visit aclj.org/radio-tv.
For more information about ACLJ, visit aclj.org. For more information about Jay Sekulow Live! and ACLJ This Week, visit aclj.org/radio-tv.
For more info on John Schlitt visit the JFH Artists Database.