ARTISTS UNITE FOR #SONGSFORWEST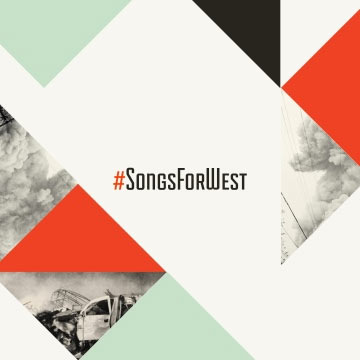 NEWS SOURCE: Turning Point PR
April 25, 2013
HOUSTON-#SongsForWest, 45 selections from a diverse lineup of acclaimed singer/songwriters, is now available for free download via Noisetrade, with tips benefitting the Baylor University West Relief Fund. Organized by recording artists Robbie Seay and Luke Brawner following the April 17 explosion in West, Texas, #SongsForWest features contributions from Chris August, Shane & Shane, All Sons & Daughters, Derek Webb, Sandra McCracken, Andrew Osenga, Charlie Hall, Shaun Groves, Andrew Ripp, Matthew Mayfield and the Blue Cut Robbery, Poor Rich Folk (with Dan Haseltine), Seay, and Brawner, among many others.
Acknowledging Baylor University's proximity to West, the project includes songs from Baylor graduates Seay, Groves, Jillian Edwards and Laura Cooksey. In addition, #SongsForWest features such exclusive performances as an acoustic rendition of Robbie Seay Band's new radio single, "Raise My Voice," and a new instrumental recorded by Andrew Osenga entitled "West, Texas."
"Like most folks, I watched the news of the explosion in West and felt helpless," said Seay. "I'm grateful for my friend Luke who encouraged me and a lot of other musicians to offer the music we already have, put it all together and give it away in exchange for donations to West relief efforts."
"I love Texas and spent many years in Waco where I attended Baylor University, just down the road from West," continued Seay. "I have visited West dozens of times, most often to eat the legendary kolaches at the Czech Stop. I love the people of central Texas and am thrilled to see these musicians jump at the chance to give their music away in exchange for donations to help provide assistance for West."
"The vision for #SongsForWest came early the morning following the explosion," said Brawner. "The project has come together in a whirlwind, thanks to so many artists who wanted to make a difference, as well as those in the industry, such as Chelsea Drimmel and the team at BE Music & Entertainment, who desired to help. It's been amazing to watch so many folks unite and offer their support for West."
To download selections from #SongsForWest, visit www.songsforwest.com or www.noisetrade.com. For additional information, visit www.robbieseayband.com or www.baylor.edu.