Free Album Download Released Featuring Artists Participating In Escape To The Lake
Includes world premiere songs by Andy Gullahorn and Nick Flora, plus tracks by The Vespers, Randy Stonehill, Jill Phillips, The Farewell Drifters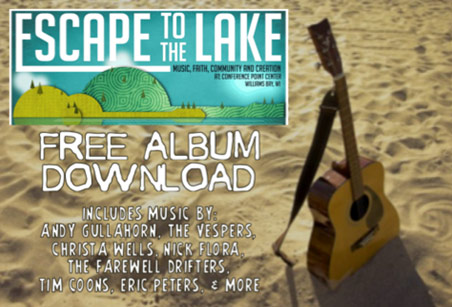 NEWS SOURCE: re:frame Media
June 7, 2013
Chicago, IL (June 5, 2013) - Under The Radar (UTR) is presenting the first annual Escape To The Lake music event on the shores of Geneva Lake in Wisconsin, July 4-7, 2013. The 11 world-class indie artists participating in this gourmet music getaway have donated songs for the Escape To The Lake Album, which is being offered as a free download on Bandcamp (http://escapetothelake.bandcamp.com).
The album features world premiere songs by Andy Gullahorn and Nick Flora, who are releasing their next studio projects in August 2013. Other notable tracks include "Voices" by Eric Peters - which was named by UTR as one of the "Top Gourmet Songs of 2012," "Better Now" by The Vespers - which is the opening track of their critically acclaimed album The Fourth Wall, and "Spirit Walk" by Randy Stonehill - the title cut of his 24th career album.
The free download is being offered to raise awareness of the inaugural Escape To The Lake gathering. This unique gourmet music getaway (July 4-7 in Wisconsin) will offer lakefront concerts, VIP access to the artists, intimate Q&A sessions, unplugged performances, a sneak peak of clips from "Ragamuffin" - an upcoming film on the life of Rich Mullins, campfires, a private beach, recreational activities, & 4th of July fireworks. More details and registration info can be found at www.escapetothelake.net.
Track Listing for the Escape To The Lake Album
1. Jill Phillips - In This Hour - 3:56
2. Nicole Witt & Christa Wells - Coming Into The Light - 3:11
3. Tim Coons - Sing Your Song/ Do Lord Remember - 3:55
4. Eric Peters - Voices - 5:06
5. The Vespers - Better Now - 3:39
6. The Farewell Drifters - Common Ties - 3:01
7. Nick Flora - Good Enough - 4:01 (World Premiere)
8. Andy Gullahorn - The Same Song - 5:41 (World Premiere)
9. Jon Troast - Easier for Two - 3:29
10. Christa Wells - Slip Away - 4:10
11. Randy Stonehill - Spirit Walk - 4:58