DARA MACLEAN'S "WANTED" MUSIC VIDEO PREMIERES
ON MYSPACE TODAY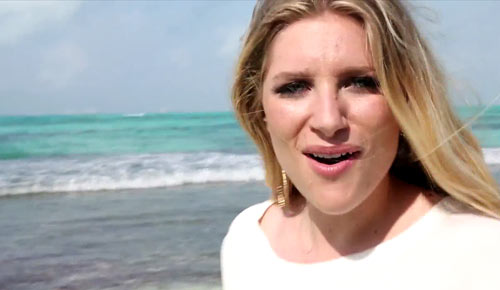 NEWS SOURCE: Word Records
June 24, 2013
Nashville, TN - (June 24, 2013) - Fervent Records' soulful recording artist Dara Maclean debuts the music video for her new single, "Wanted," today on Myspace (Link here). Directed by Heidi Groff and shot over two days on the small Mexican island of Isla Mujeres, the video showcases Maclean touring the streets of the city and spending time with the local children. "Wanted" is produced by Paul Mabury (All Sons & Daughters, Meredith Andrews, Hillsong) and written by Justin Ebach, Mabury and Maclean.
"'Wanted' is about a universal need, speaking to the child in all of us that is desperately longing just to hear somebody tell us we're wanted. Somebody to tell us that we're cherished and that we belong," explained Maclean. "To not be wanted based on your performance -- We all have those relationships in life where we are loved based on how good of a friend we are or how good of a daughter or son, sister or brother we are. It's conditional and it never seems to be enough. This song is calling out to the outcast and saying, 'You're not unlovable. You're never too far gone -- in your worst moment, in your loneliest moment, you are still wanted, just as much as the person that seemingly has it all together, is loved by everyone and looks to have this perfect life.' The baby that opens its eyes for the first time and the hardened criminal that gets sent to jail for the millionth time, does God want one more or less? We are all the same, we are all in need of Jesus and we are all desperately wanted by a Father that won't stop until He finds every child that is lost."
"Where can I go from Your Spirit? Or where can I flee from Your presence? If I ascend into heaven, You are there; If I make my bed in hell, behold, You are there. If I take the wings of the morning, And dwell in the uttermost parts of the sea, Even there Your hand shall lead me, And Your right hand shall hold me." (Psalms 139:7-10 New King James Version)
"I've been on the edge of my seat waiting to share with you my friends, the ones that have been such a support and on this journey with me, the heartbeat behind the song and ultimately, this record," continues Maclean. "My prayer is that every note reveals the heart of God the Father and that His Love does what it always does. It heals, restores and makes new again."
Powerful vocalist and songwriter Dara Maclean first sparked the music industry's interest with her 2011 debut, You Got My Attention. The album introduced a powerful new voice in Christian pop, steeped in Motown and soul and beaming a heart for the broken and struggling. The LP reached the Top 10 on Billboard's Christian Albums chart, and album tracks "Suitcases" and "Free" each hit the Top 20 on Billboard Hot Christian Songs chart. "Suitcases" appeared on the 2012 installment of WOW Hits, celebrating Christian radio's biggest songs, and You Got My Attention closer "Home" was included in The Bible: Music Inspired By The Epic Mini-Series, a companion to the smash History Channel series. The Texas-bred singer-songwriter earned a New Artist of the Year nomination in the 43rd Annual GMA Dove Awards, and spent nearly two years straight on the road with some of Christian music's biggest names, including Casting Crowns and Newsong, and on major tours including Winter Jam and the KLOVE Acoustic Christmas Tour. Maclean has earned high critical praise throughout, NewReleaseTuesday including her among its Top 10 New Female Christian Singers in 2012, noting that "Dara displays the strongest vocals I've heard in years." Maclean is also passionate about raising awareness and bringing an end to human trafficking and is an advocate for the International Justice Mission.
For additional information on Dara Maclean, please visit www.DaraMaclean.com.
Facebook: Facebook.com/DaraMaclean
Twitter: Twitter.com/DaraMaclean
YouTube: YouTube.com/DaraMaclean
About Word Entertainment
A leader in the music industry for over 60 years, Word Entertainment, a Warner/Curb company, is a unique, comprehensive entertainment company comprised of multi-faceted artist service departments including publishing, merchandising, booking, and online initiatives. Word Entertainment represents some of the top names and brands in music, including Meredith Andrews, Chris August, BarlowGirl, Francesca Battistelli, Big Daddy Weave, Jason Castro, Patrick Ryan Clark, Everfound, for KING & COUNTRY, Group 1 Crew, Love & The Outcome, Dara Maclean, Point Of Grace and Sidewalk Prophets and is home to 25 Entertainment, Word Distribution (representing Curb Records and Big Idea/VeggieTales among others), Word Print, Word Films, Word Music Publishing and Word Label Group's Word Records, Word Worship and Fervent Records.
# # #
For more info on Dara Maclean visit the JFH Artists Database.