FOR KING & COUNTRY PERFORMED BEFORE A SOLD-OUT CROWD AT
NEW LIFE 91.9 FM WRCM'S "FAITH, FAMILY AND FREEDOM CELEBRATION" AT
CHARLOTTE MOTOR SPEEDWAY ON SATURDAY NIGHT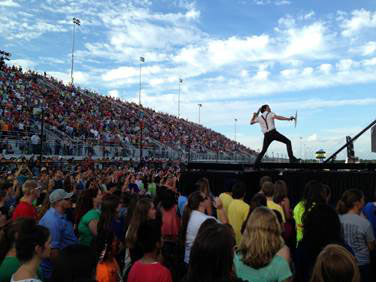 Pictured: for KING & COUNTRY's Joel performing at New Life 91.9 FM WRCM's "Faith, Family and Freedom Celebration" on June 22, 2013
NEWS SOURCE: Word Records
June 25, 2013
Nashville, TN - (June 25, 2013) - On Saturday night, for KING & COUNTRY took the stage at New Life 91.9 FM WRCM's "Faith, Family and Freedom Celebration" at Charlotte Motor Speedway in front of an audience of over 16,000 fans. The celebration also featured performances by Building 429, Mandisa, Sanctus Real and Plumb. In addition, this weekend the band's critically-acclaimed debut album, Crave, launched back into the Top 10 on the iTunes' Christian Albums chart over 70 weeks after its initial release.
"We were thrilled to have for KING & COUNTRY as a key part of our Faith, Family & Freedom Celebration Saturday," said Joe Paulo, Director of Broadcasting for New Life 91.9 WRCM. "Their energy and enthusiasm were contagious to the crowd and their music was incredible. They were a perfect fit for this event! Our social media outlets absolutely lit up with passionate comments about the band's performance that night and for days afterward. Most importantly, however, they effectively communicated the life-changing reality of Jesus Christ with the talents that He has given to them."
Joel of for KING & COUNTRY added, "To stand alongside 15,000 fans shouting songs of hope on zMAX Dragway Saturday felt like a piece of heaven coming to earth."
"Middle of Your Heart" is for KING & COUNTRY's third single from their debut album, Crave, which was named iTunes "Breakthrough Christian & Gospel Album of 2012." On June 1, the duo was named "Breakthrough Artist of the Year" at the first-ever K-LOVE Fan Awards. In addition, this past January, for KING & COUNTRY made their late night debut performing "The Proof of Your Love," Amazon.com's "Christian Music's Song of the Year," on "The Tonight Show with Jay Leno." In 2012, for KING & COUNTRY were named as one of Billboard's 17 acts to watch and were CCM's best-selling new artist. New Release Tuesday noted that Crave was "One of the Best Debut Projects in Years!" ET's "The Insider" said the duo, "make music that speaks directly to your heart" and have been "gaining popularity in the alt-rock genre." American Songwriter commented that "for KING & COUNTRY may just be Australia's answer to Coldplay."
About Word Entertainment
A leader in the music industry for over 60 years, Word Entertainment, a Warner/Curb company, is a unique, comprehensive entertainment company comprised of multi-faceted artist service departments including publishing, merchandising, booking, and online initiatives. Word Entertainment represents some of the top names and brands in music, including Meredith Andrews, Chris August, BarlowGirl, Francesca Battistelli, Big Daddy Weave, Jason Castro, Patrick Ryan Clark, Everfound, for KING & COUNTRY, Group 1 Crew, Love & The Outcome, Dara Maclean, Point Of Grace and Sidewalk Prophets and is home to 25 Entertainment, Word Distribution (representing Curb Records and Big Idea/VeggieTales among others), Word Print, Word Films, Word Music Publishing and Word Label Group's Word Records, Word Worship and Fervent Records.
For more information please visit, www.forKINGandCOUNTRY.com / facebook.com/forkingandcountry / Follow:@ 4kingandcountry
# # #
For more info on for KING & COUNTRY visit the JFH Artists Database.