BEC RECORDINGS' 7EVENTH TIME DOWN ANNOUNCES THEIR SOPHOMORE RELEASE ON SEPTEMBER 3, 2013

RADIO SINGLE AND TITLE TRACK "JUST SAY JESUS" CLIMBS CHARTS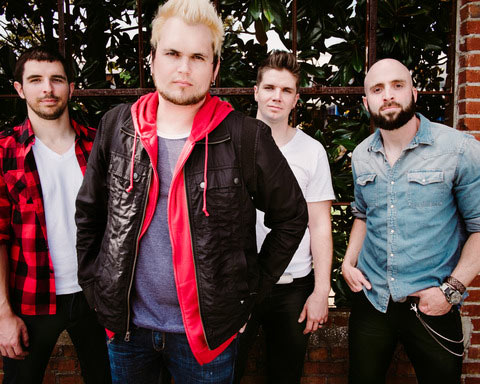 NEWS SOURCE: Merge PR
July 29, 2013
SEATTLE, WA -July 29, 2013-BEC Recordings announces the sophomore release,
Just Say Jesus
, from the Kentucky-based rockers 7eventh Time Down on September 3. This album is the follow-up to their label debut, Alive In You, which released in 2011.
Just Say Jesus
is preluded by the title track and radio single that is currently climbing the charts. The single is charting on the National Christian Audience chart with 1.9 million audience impressions as well as it debuted this week at AC Indicator and continues to move up on the Hot AC/ CHR chart. Fans can purchase the single on
iTunes
now.
Click here
for the album cover and tracklisting.
"This single is way bigger than we are as a band," offers lead singer Mikey Howard. "It's way bigger than we could've hoped for because God's using it." The single has spurred a constant stream of stories from fans that remind all four band members of the power of a song to impact lives. Their second full-length project finds the band sharing some narratives of their own on Just Say Jesus.
"There's a story told in each song," bass player Cliff Williams explains. "We write about living and what inspires us because Christians are real people. As believers, God will inspire you. It's going to be the biggest part of who you are. That doesn't mean at times you're not going to write a song that's reflective of who you used to be. We're just southern dudes who've got dirty pasts just like all the other people who have come to know God."
"There's a lot of hope in this record," guitarist Eric Van Zant adds. He's quick to acknowledge the power in the simplicity of the new album's title: "The name of Jesus, nothing trumps that. That's it. Nothing trumps the name of Jesus ever."
While every bit as loud and hook-laden as their 2011 debut, Just Say Jesus is a more aggressive, focused and cohesive effort. All four members co-wrote the majority of the 10 tracks, while also lyrically collaborating with respected songwriters Ian Eskelin, Jeff Pardo and Tony Wood. Eskelin (Stellar Kart, Hawk Nelson) produced two of the tracks, while Howard produced the additional eight-a daunting, yet rewarding task for the front man. Ironically, the majority of the album was cut in Howard's basement studio in Mount Vernon, Ky., the same basement of his childhood home where the band recorded their first song when they were young teens.
Fans can catch 7eventh Time Down on tour throughout the fall. See the dates below.
ABOUT 7EVENTH TIME DOWN:
The Kentucky-based foursome has already garnered an enthusiastic army after their 2011 debut, Alive in You, on BEC Recordings. 7eventh Time Down is composed of Mikey Howard (vocals), Cliff Williams (bass), Eric Van Zant (guitar) and Austin Miller (drums). For 7eventh Time Down, every song is an opportunity for ministry. The band has toured with a long list of impressive artists, including Newsboys, for King & Country, KJ-52, Manafest, Fireflight and Stellar Kart, among others, and was recently a featured artist on Air 1's popular "Club Awesome Tour." Logging nearly 100 shows a year, the band members are true road warriors, carrying full production for their live shows since their earliest days together, handling everything from sound and lighting to stage set-up themselves.
In an effort to expand their ministry beyond their music, the band partners with CURE International, a non-profit that operates hospitals and programs in 27 countries worldwide where patients receive surgical treatment and have the opportunity to hear the Gospel. During the "Club Awesome Tour" alone, more than 38 surgeries were funded.
Aug 3 Belfry KJ Pneumafest (with Matthew West)
Aug 10 Princeton, KY Caldwell County Butler Lawn (with for King and Country)
Aug 17 Edinburgh, IN First Assembly of God
Aug 24 Lynchburg VA Liberty University (with Red)
Aug 29 Mount Vernon, KY (Release Concert)
Aug 31 Marietta GA Celebrate Freedom (with Switchfoot, Third Day and more)
Sept 1 Kahoka, MO Clark County Middle School
Sept 2 Lebanon, OH Solid Rock Church
Sept 6 Donna TX The Lords Christian Center (with Abandon and Ryan Stevenson)
Sept 7 Alice TX City Hall Parking Lot (with Abandon and Ryan Stevenson)
Sept 8 Fredericksburg, TX Zion Music Festival (with Abandon and Ryan Stevenson)
Sept 13 Dumas, TX Templo Betel (with Abandon and Ryan Stevenson)
Sept 14 Fort Smith, AR Rock The River Festival (w/ Sanctus Real, KJ-52, Ryan Stevenson, Abandon)
Sept 15 Wichita, KS Family Church (with Abandon and Ryan Stevenson)
Sept 19 Rockport, ME (with Disciple)
Sept 20 North Masapequa NY (with Disciple)
Sept 21 MIddleburg, VA Awakening Fest (with TobyMac, Jeremy Camp, Disciple)
Sept 25 New Castle PA (with Disciple)
Oct 5 Palmyra, PA Gravel Hill United Methodist Church
Nov 1 Kodak, TN The Crossing Church
Nov 2 Sacramento, CA Trinity Life Center
Nov 3 South Bend, IN (Star 883 event)
For more info on 7eventh Time Down visit the JFH Artists Database.