Audio Adrenaline To Embark On Fall Leg Of The "Kings & Queens Tour"
Sponsored By Food For The Hungry, The Tour Will Also Feature Disciple, Stellar Kart & Ryan Stevenson

"Believer" Music Video Out Now, Single Continues To Grow At Radio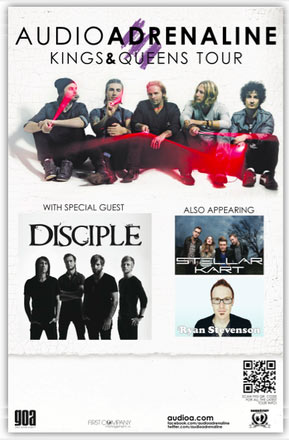 NEWS SOURCE: Merge PR
August 14, 2013
Nashville, Tenn - 14 August 2013 - Audio Adrenaline is ready to get back on the road to take on the fall leg of their "Kings & Queens Tour," hitting at least 30 cities throughout the nation. These fall dates are the extended run following up to the band's successful return to the touring landscape this past spring, coming on the heels of announcing their return last September. The tour, which will also feature Disciple, Stellar Kart, and Ryan Stevenson, is in support of Audio Adrenaline's Fair Trade Services March 2013 debut,
Kings & Queens
.
This fall the band will continue to convey the passionate message for their non-profit ministry, Hands & Feet Project. The Hands & Feet Project is dedicated to providing long-term, family-style care for orphaned and abandoned children in need of a home and family. Joining in to help support this mission is Food For the Hungry, a Christian organization serving the poor globally since 1971, who will sponsor the "Kings & Queens Tour."
"Food for the Hungry is thrilled to be partnering with Audio Adrenaline on the Kings and Queens Tour," shares Ben Greene, Senior Director at Food for the Hungry. "The FH staff has admired the wonderful work of Hands & Feet Project for several years and is privileged to have the opportunity to partner with all that they are accomplishing."
According to Mark Stuart, Executive Director and co-founder of Hands & Feet Project and founding Audio A member, "The relaunch of Audio Adrenaline and the message of 'Kings & Queens' has blessed the ministry of the Hands & Feet Project beyond measure. Now, with Food for the Hungry as the new Audio A tour partner, more of Haiti's needy children will be reached with the sustaining hope of Christ. We are so thankful for FH's partnership and their on-going commitment to provide help for those in need."
Although Audio Adrenaline has been appearing at various festivals throughout this summer sharing their music and ministry with thousands of fans, they are more than ready to kick off this leg of their tour, planning to deliver an exciting live show with the same heart and more energy than ever before. Concertgoers will be able to hear the band's latest singles, "Kings & Queens" and "Believer," as well as well-known previous Audio A hits.
Already more than 40 stations are playing the newest radio hit, "Believer," which can be heard on such stations including K-LOVE, SiriusXM, ReachFM, KLJY/St. Louis, KXOJ/Tulsa, KSGN/Riverside, and WBVM/Tampa. Don't miss the music video for "Believer" as well as the story behind the song, which can be viewed here. The most current tour dates for the "Kings & Queens Tour" are listed below, but be sure to visit these links below for the most updated information:
Kings & Queens Tour dates*:
OCTOBER
03 - Wilkes-Barre, PA
04 - Watertown, NY
05 - Rehoboth, MA
06 - Pittsfield, MA
10 - Greenville, SC
11 - North Charleston, SC
12 - Shallotte, NC
16 - Somerset, KY
17 - Lebanon, OH
18 - Cherryville, PA
19 - Woodstock, VA
20 - Nashville, TN
26 - Jamestown, ND
NOVEMBER
08 - Oceanside, CA
10 - Sparks, NV
12 - Salt Lake City, UT
13 - Grand Junction, CO
14 - Roswell, NM
15 - Parker, CO
16 - Pampa, TX
17 - Midland, TX
*Tour dates subject to change
ABOUT AUDIO ADRENALINE: Audio Adrenaline is back -- by popular demand and with a renewed mission. The faces may look a little different, but the heart and passion of this GRAMMY-winning band remains unchanged. With Kevin Max (of dcTalk and solo fame) at the mic and founding member Will McGinniss on bass, the Audio A lineup is rounded out by CCM vets Dave Ghazarian (Superchick), Jared Byers (Bleach), and singer-songwriter Jason Walker. Former front man and co-founder Mark Stuart remains very involved and contributed to many of the songs for their new album, Kings & Queens.
This talented group of like-minded musicians shares a common goal: to be the voice for orphans in Haiti and around the world. Their first single, "Kings & Queens," is an orphan anthem that celebrates the transformation God can bring about, and the album's remaining fresh rock tracks are just as powerful. Audio Adrenaline is creating music that will move you while making the world a better place for children in need. Thanks to the band, Know Hope and AA's label, Fair Trade Services, a portion of proceeds will directly benefit the work of the band's ministry, the Hands & Feet Project. For more information, please visit www.AudioA.com and www.handsandfeetproject.org.
ABOUT FOOD FOR THE HUNGRY: Food for the Hungry (FH) is a Christian organization serving the poor globally since 1971. We reflect the love of Christ in short-term emergency relief and long-term development. After natural disasters, FH responds to help shelter, feed and clothe survivors. Over time FH begins working towards long-term sustainable development, transforming impoverished communities into healthy, productive places for children to grow.
###
For more info on Audio Adrenaline visit the JFH Artists Database.