LARA LANDON LAUNCHES KICKSTARTER CAMPAIGN FOR NEW ALBUM, FREE, DUE TO RELEASE EARLY 2014
Landon Co-Writes With Jennie Lee Riddle, Michael Farren, Krissy Nordhoff, Elias Dummer, Otto Price, Sam Tinnesz, More for FREE

Noisetrade Offers Landon's Acclaimed 2012 Album "Overcome" As a Free Download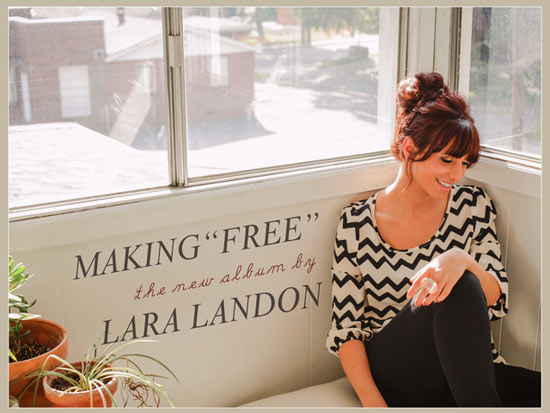 NEWS SOURCE: Hoganson Media
September 9, 2013
Following her self-produced, crowd-funded sophomore release
Overcome
that iTunes® called "One of the best Christian albums of 2012," Lara Landon announces a Kickstarter campaign for her third album, FREE, slated to release in early 2014. Launched last week and with 23 days left to go, Landon is already nearing her goal at
www.kickstarter.com/projects/laralandon/free-the-new-album-by-lara-landon
.
For the new album, Landon enlisted some of her favorite songwriters to co-write the songs that were welling up inside of her, including Jennie Lee Riddle ("Revelation Song"), Michael Farren (Pocket Full of Rocks, "Let It Rain"), Krissy Nordhoff ("Your Great Name"), Elias Dummer (The City Harmonic, "Manifesto"), Otto Price (DC Talk, Barlow Girl), Sam Tinnesz (Mike's Chair) and more.
"These people are amazing," says Landon. "I've been able to write these songs for FREE with people who have written some of my favorite songs. The resulting music that I envision for these songs will reference some of the great soulful singers of the 60's and 70's, like Marvin Gaye and Aretha Franklin, combined with the modern beats and energy of artists like Florence and The Machine and Ellie Goulding. We shall see what happens when I get in the studio!"
Inviting her fans to get involved in the process by pre-ordering the album through the Kickstarter campaign, Landon is also offering commensurate and exclusive gifts of appreciation for their donations. Incentive packages for fans who choose to help include an autographed CD and poster, a digital download of FREE one month before it becomes available anywhere else, "tickets" to an online live streamed concert where Landon will perform the new songs and answer questions, an immediate download of a live performance video, dinner with Landon, Landon's handmade "vintage" necklaces, an invite to be part of a twice monthly "book club" meeting with Landon via Skype, a 30-minute Skype music or writing lesson, a live performance for family, friends or church, and even inclusion of the donator's name in FREE's liner notes.
Landon is further offering her fans the opportunity to pick a cover song, which will be featured on FREE pending publishing clearance. "I'm begging you to choose one that goes with the theme, but a deal's a deal," says Landon on Kickstarter. "If you request 'Billy Jean,' I guess we will just go with it!"
Giving her fans an early sample of the new music, Landon debuts the lead single and video from FREE, "There Is Grace," as a streaming video beginning today and exclusively through NewReleaseTuesday.com. Featured playing piano in the video is Farren, who also co-wrote and produced the song.
Leading up to the Oct. 3 end of the Kickstarter campaign, Landon is further offering everyone the opportunity to download all the songs from her current album, Overcome. Beginning today and through the end of this month, the music will be available through Noisetrade at www.noisetrade.com/laralandon. A remarkable album, NewReleaseTuesday.com, like iTunes, named Overcome one of the best new albums of 2012, as Christianity Today says the album "shines musically" and demonstrates "grace and maturity beyond her 26 years." Crosswalk.com adds that Landon "has talent in spades" and that "Overcome is the tip of the iceberg for the talented young artist...there's no doubt her voice will be heard by more eager listeners tired of sugar-coated pop for years to come."
Recently named the director of music at Birmingham's House of Prayer, Landon shares, "Music is the vehicle that takes me places, lets me connect with people, teaches me things about myself, and I'm confident it's what I was created to do. Over the years, I've gone through so many changes, but right now I feel 'free.' My new songs and sound reflect that- they are much more soulful and upbeat than what I've done before. I'm also learning and growing so much by leading and overseeing worship music five days a week."
For more information on Lara Landon, her tour dates and links to charities she supports (New Reality International, Blood:Water Mission, Compassion International), go to www.laralandon.com.