CELEBRATING TEN YEARS OF SERVICE, SHOW HOPE LAUNCHES TWITTER MOVEMENT THIS THURSDAY, 10/10, TO HELP 10,000 ORPHANS

NEWS SOURCE: Merge PR
October 8, 2013
(Nashville, Tenn.) October 8, 2013-Show Hope™, the nonprofit orphan care and adoption aid ministry founded by GRAMMY® award-winning artist Steven Curtis Chapman and his wife Mary Beth, announces a brand new social media campaign to commemorate their ten years of service. This revolutionary campaign was created to bring awareness to their goal of reaching 10,000 sponsors to help 10,000 orphans over the next 10 years. On October 10 (10/10/13), Show Hope will launch the "Brown Bag for Hope" movement nationwide, encouraging individuals to take their own lunch to work or school each week and become monthly Show Hope sponsors with the cost savings.
On average, a homemade lunch saves the typical worker $9 per meal, as opposed to purchasing lunch at a restaurant. By participating in this once a week initiative for an entire month, approximately $36.00 per person can be allocated to help transform the life of an orphan through a Show Hope sponsorship. Twitter followers will be encouraged to tweet photos of their brown bag lunches by tagging #BrownBag4Hope. "While we have been able to help restore the hope of a family to thousands of orphans in distress all around the world, there are still so many children waiting and so many we could help if we had more sponsors," says Executive Director Scott Hasenbalg. "The '10,000 Campaign' and 'Brown Bag for Hope' initiative is just a small way people can help orphans in need of a home. Refraining from eating out once a week helps a child find a loving family. That's something we can all get behind."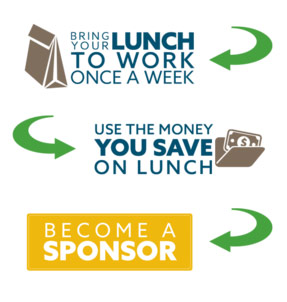 Each year, thousands of families who wish to give a waiting child a loving home are unable to do so due to the costs involved in the adoption process. Approximately 1,000 families apply annually to Show Hope for adoption assistance. These families have a hope and a desire welcome a child into their home, but they are unable to afford the high cost, which averages from $25,000 to $45,000 per adoption. Show Hope Adoption Aid grants have made it possible for more than 4,000 children to come into forever families through adoption.
In addition, Show Hope also helps provide acute medical care to orphans with special needs through their Special Care Centers. Sponsors also help support the care these children receive, and to date more than 1,000 orphans with special needs have received life-giving care through these centers. In celebrating 10 years of orphan care, Show Hope has helped transform the lives of thousands of orphans. With the continued initiatives, the organization hopes even more people will recognize the importance of providing a loving and caring family for orphans throughout the world who are still in need of a home.
Following the #BrownBag4Hope movement, Show Hope will be preparing for National Adoption Awareness Month in November, in an effort to raise awareness of the need for finding loving and permanent homes for waiting children all over the world.
To find out more about this campaign, please visit showhope.org/brownbag and by clicking on the image below.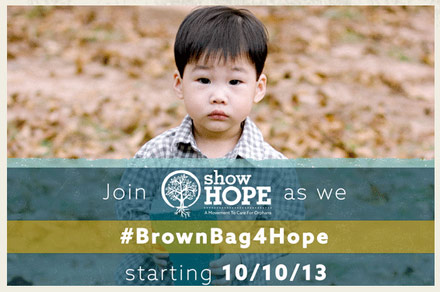 About Show Hope
Show Hope™, a nonprofit founded in 2003 by Steven Curtis Chapman and his wife Mary Beth, helps to restore the hope of a family to orphans around the world. From the thousands of adoption aid grants given, to providing medical care for more than one thousand orphans with special needs, to consecutive Red Bus Project college tours in the spring and fall, to hands-on trips offered to China and Haiti, to conferences and resources the equip foster and adoptive families, to a new artists and advocates program, Show Hope celebrates an incredible ten years in ministry in 2013 and looks ahead to an even brighter future. For more information, visit www.showhope.org. ShowHope.org