UP PRESENTS THE ORIGINAL CHRISTMAS MUSIC SPECIAL "K-LOVE MUSIC CITY CHRISTMAS" TONIGHT AT 8PM EST
HOSTED BY ACTRESS/AUTHOR CANDACE CAMERON BURE AND FEATURES PERFORMANCES AND INTERVIEWS WITH TOBYMAC, NEWSBOYS with FOR KING & COUNTRY, MANDISA, COLTON DIXON, KARI JOBE, MATTHEW WEST, BRANDON HEATH, CROWDER, BIG DADDY WEAVE AND TENTH AVENUE NORTH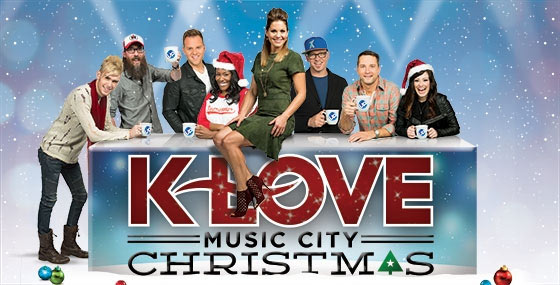 NEWS SOURCE: Merge PR
December 9, 2013
ATLANTA - December 9, 2013 - Tonight is the night that UP, "America's Christmas Channel," and national radio powerhouse K-LOVE premieres the original UP Christmas Special "K-LOVE Music City Christmas" (#KLOVEChristmas). Airing at 8pm EST, the special, which was taped before a live audience in Nashville, is hosted by actress/author Candace Cameron Bure (Finding Normal, "Full House") and will also be broadcast to K-LOVE listeners later this month.
The first-ever hour-long special includes performances of beloved Christmas standards and original songs by leading Christian music artists, including TobyMac, Newsboys with for KING & COUNTRY, Mandisa, Colton Dixon, Kari Jobe, Matthew West, Brandon Heath, Crowder, Big Daddy Weave and Tenth Avenue North, as well as heartfelt and lively holiday memories with the artists.
"K-LOVE Music City Christmas" features musical performances of classic holiday carols such as "O Holy Night" (Kari Jobe), "We Three Kings" (Tenth Avenue North) and "Go Tell It On The Mountain" (Crowder) with a duet performance of "Jingle Bell Rock" (Newsboys with for KING & COUNTRY). Fans will also hear original songs from TobyMac ("Christmas This Year"), Brandon Heath ("Just A Girl") and UP's Emmy®-nominated movie title song "The Heart of Christmas" from Matthew West. Plus, the special features "American Idol" alumni Mandisa ("It's Christmas") and Colton Dixon ("Jingle Bells").
"K-LOVE Music City Christmas" encore airings (all times ET):
12/9 8p (premiere)
12/9 11p
12/19 11p
12/20 8a
12/22 1:20am
12/30 7a
Follow all of the stars at: