GRAMMY-NOMINATED BUILDING 429 AND FAMILY FORCE 5
JOIN FORCES IN MORE THAN 35 CITIES THIS SPRING ON
'WE WON'T BE SHAKEN: THE TOUR'
Spring Tour Features Hawk Nelson
and Special Guests Satellites & Sirens and Lybecker

Tour Runs February Through May
TICKETS ON SALE NOW!

NEWS SOURCE: Southside Entertainment
February 11, 2014
NASHVILLE, Tenn. – Feb. 11, 2014 – GRAMMY®-nominated pop/rock act Building 429 and alt-rock fan favorite Family Force 5 are uniting for what's sure to be an explosive spring tour. "We Won't Be Shaken: The Tour," named after Building 429's lead single and multi-week No. 1 hit from their latest album, will also feature pop/rock trio Hawk Nelson, DREAM Records' Satellites & Sirens and newcomers Lybecker. Kicking off Feb. 21 in Beaver Falls, Penn., "We Won't Be Shaken: The Tour" will visit more than 35 markets this spring, bringing high-energy performances and a message of hope to every city.
Building 429 will be performing songs from their critically-acclaimed sixth studio effort, We Won't Be Shaken (Essential Records). The release marks the band's first No. 1 album and No. 1 debut atop Soundscan's Christian Albums chart. The title track became an instant smash, as listeners made it their personal anthem in 2013. The band will be sharing the album's message with audiences each night, encouraging them to stand firm in their convictions and to not allow fear to overshadow the big dreams God places in their hearts. We Won't Be Shaken was nominated for "Best Contemporary Christian Music Album" at the 56th annual GRAMMY Awards.
Family Force 5 will treat audiences to a high-octane performance as a result of the band's wildly creative concert experience. Fans will also be able to hear new frontman Jacob Olds, who transitioned from drums to lead vocals last fall following the departure of his brother, Soul Glow Activatur (Solomon Olds). The band's set will feature selections from last summer's 12-track electronic album Reanimated, as well as popular fist-pumping tracks from their colorful discography. The group will also be previewing new music from their highly-anticipated studio release slated to drop later this year.
As a one-of-a-kind treat for fans, select tour dates will take part in offering the "Revolution VIP Experience," which is a limited, intimate meet and greet with Building 429. The "Revolution VIP Experience" is an add-on offer for ticket-buyers at the point of purchase and will provide a tour laminate that will guarantee access to an exclusive meet and greet with Building 429 at any 2014 tour date. Concert goers will also have the option to participate in a special "Revolution After Party" following each show.
"We Won't Be Shaken: The Tour" is sponsored by Feed The Children (www.feedthechildren.org) and Liberty University (www.liberty.edu).
###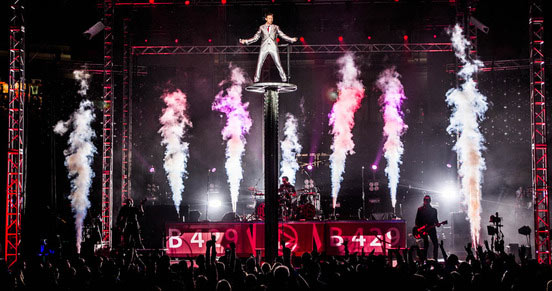 WE WON'T BE SHAKEN: THE TOUR - SPRING 2014
*Dates, markets and venues subject to change without notice.

February
February 21 – Beaver Falls, PA | Geneva College
February 22 – Charlotte, NC | Time Warner Cable Arena
February 23 – Bucyrus, OH | Bucyrus Nazarene Church
February 28 – Charleston, SC | Ashley River Baptist Church
March
March 8 – Pineville, LA | LA College Guinn Auditorium
March 9 – Boaz, AL | Explosion 2014
March 14 – Marshalltown, IA | FBC Marshalltown
March 16 – Marshal, MN | Marshall High School Gym
March 20 – Canton, OH | Malone University, Johnson Worship
March 21 – Spring Arbor, MI | Spring Arbor University
March 22 – Sault Sainte Marie, MI | Dream Makers Theater
March 23 – Charlevoix, MI | Charlevoix High School
March 27 – New Braunfels, TX | Tree of Life Church
March 28 – Houston, TX| Grace Community Church
March 29 – Abilene, TX | Abilene Civic Center
March 30 – Longview, TX | First Baptist Church Longview
April
April 2 – Aberdeen, SC | Aberdeen Civic Arena
April 3 – Dickinson, ND | Trinity High School Auditorium
April 4 – Mitchell, SD | Mitchell Wesleyan Church
April 5 – Sioux Falls, SD | The District
April 6 – Spencer, IA | Clay County Regional Events Center
April 10 – Knoxville, TN | Knoxville Christian Center
April 11 – Fayetteville, NC | Methodist University
April 12 – Morehead, KY | Morehead Conference Center
April 13 – Opp, AL | Channel Lee Stadium
April 25 – Lewisville, TX | First Baptist Church Lewisville
April 26 – Oklahoma City, OK | CLP Frontier City, LLC
April 27 – McCook, NE | McCook City Auditorium
May
May 1 – Bensalem, PA | Christian Life Center
May 2 – Mooresville, NC | Cove Church
May 4 – Wilmington, NC | Myrtle Grove Family Life Center
May 8 – Rochester, MN – Rochester Assembly of God
May 9 – Baxter, MN – Heritage Assembly of God
May 10 – Minneapolis, MN – North Central University
For the most up-to-date info on tour dates, visit www.Building429.com.
ABOUT BUILDING 429 Building 429, comprised of Jason Roy (vocals), Jesse Garcia (guitar), Michael Anderson (drums), and Aaron Branch (bass), released its new album, We Won't Be Shaken, June 4 and debuted at No.1 on Billboard's Christian Albums chart. The first single and title track is already a multi-week No. 1 hit on the Hot AC/CHR chart, No. 1 at AC Indicator, and has reached over 96-million accumulative impressions so far. For the second time in the band's career, Building 429 was honored with a BMI 2013 Song of the Year award for "Where I Belong." The group's fifth studio project, Listen to the Sound in 2011, debuted at the top of iTunes' Christian & Gospel Albums chart. The title track hit No. 1 on the CHR chart and Top 5 on Billboard's National Christian Audience Chart. Follow up single "Made For You" reached Top 5 on the Christian CHR charts, while the project's third single, "Where I Belong," set precedent as the longest-running No. 1 song on the Billboard Christian Audience chart at 15 consecutive weeks. "Where I Belong" was Billboard's 2012 Christian Song of the Year, Christian AC Song of the Year, Christian Songs Artist of the Year and Christian AC Songs Artist of the Year. Building 429 first broke through with its 2004 No. 1 hit "Glory Defined," which was named BMI's Christian Song of the Year in 2005. That same year, Building 429 was recognized as New Artist of the Year at the Gospel Music Association's Dove Awards. For more information on Building 429, visit www.Building429.com, www.facebook.com/building429 or www.twitter.com/building429.
ABOUT FAMILY FORCE 5 Crouton (Jacob Olds), Fatty (Joshua Olds), Nadaddy (Nathan Currin), Chap Stique (Derek Mount) and new addition Hollywood (Teddy Boldt) continue to evolve and create music that take their fans on a journey. This journey includes their energy-driving live show, which has become the most significant live experience of the 2012-13 festival season with Family Force 5's late night DJ sets and dance parties. Their music videos capture the live-show energy and have received more than 16 million YouTube views collectively between their most popular videos ("Cray Button," "Zombie," "Chainsaw," and "Dance or Die"). Family Force 5 has earned a loyal following culled from its endless touring, chart-topping albums, and strong success at radio. Singles "Superhero" and "Not Alone" enjoyed considerable time in 2013's CHR Top 10, while the video for "Wobble" reached No. 1 on mtv.com. The group's previous album, 08's Dance or Die, debuted at #30 on the Billboard Top 200 chart and at #8 on the Modern Rock chart with 13,000 copies sold in the first week. An Alternative Press magazine cover story followed and the group co-headlined the completely sold-out "Alternative Press Fall Tour" with 3OH!3 and The Maine. For more info, visit www.familyforce5.com.
ABOUT HAWK NELSON This powerhouse, pop rock band – Jonathan Steingard (vocals, guitar), Daniel Biro (bass), and Justin Benner (drums) – has won the hearts of thousands since its debut release in 2004. Hawk Nelson has released six studio projects (Letters to the President, Smile It's the End of the World, Hawk Nelson is My Friend, Live Life Loud, Crazy Love, and Made). Over the years, Hawk Nelson has been awarded numerous Canadian GMA awards, GMA Dove Award nominations as well as a JUNO nomination. In April 2013, Hawk Nelson released Made, which debuted at No. 2 on the iTunes Christian & Gospel chart as well as in the Top 100 overall albums. The debut single from Made, "Words," featuring Bart Millard, also went No. 1 at Christian radio. This album debuted the new Hawk Nelson front man with longtime band guitarist Jon Steingard transitioning into the role. Hawk Nelson has also had much commercial success with their songs being featured on networks like NBC, WB, MTV and Nickelodeon. They've had their songs used in "Sunday Night Football" commercials, Nike NFL Rewind, and First Lady Michelle Obama's Big Day Out promotion in 2011. For more info, visit www.hawknelson.com.
ABOUT SATELLITES & SIRENS With a fresh sound, featuring synth lines that dance over driving beats and soaring vocals, two-time Dove Award Nominees Satellites & Sirens continue to win new fans at an alarming rate. Their energetic live show, critically acclaimed records and down-to-earth demeanor makes them an easy band for any music fan to support. For more info, visit www.satellitesandsirens.com.
ABOUT LYBECKER There's something about Lybecker that makes you not want to stop listening. It could be the fact that Dewey's voice sounds like a cross between Fergie and Jesus. And when Dan plays the bass some people swear he takes on the shape of a unicorn. Chris used to work at a college as a janitor and solve equations professors would leave on their black boards. But it's probably just that when you're around the band, everything is good. People seem to love Lybecker not only because they have a great sound, but because they are great guys. Their music sounds like Third eye Blind hit Switchfoot with a guitar and went to jail where they were cell mates with Shane & Shane and played basketball with David Crowder Band. For more info, visit www.lybeckermusic.com
# # #
For more info on Building 429 visit the JFH Artists Database.
For more info on Family Force 5 visit the JFH Artists Database.
For more info on Hawk Nelson visit the JFH Artists Database.
For more info on Satellites & Sirens visit the JFH Artists Database.