Rapper/Youth Pastor Brinson to Release Innovative "Youth Resource Kit"
on March 25th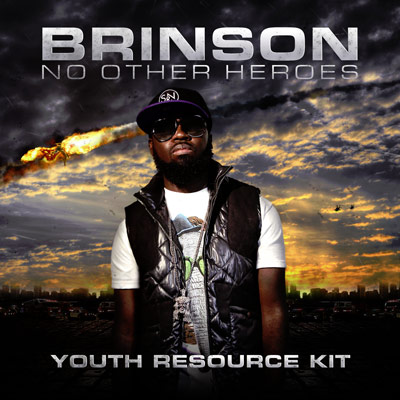 NEWS SOURCE: Save The City Records
March 5, 2014
Seattle, Washington (March 5, 2014) - Save the City Records is partnering with Godchaserz Entertainment to bring you rapper Brinson's "No Other Heroes - Youth Resource Kit" that will be available at Christian retail stores on March 25th. Brinson is a hard touring Christian hip hop artist out of the southeast U.S. and is widely known as the rapper with a golden heart and crazy stage presence. Brinson is also known for eye-catching music videos, and in the new Youth Resource Kit, Brinson takes things further by teaching several "behind the music" video Bible lessons, paired with the content of his latest music CD "No Other Heroes." This audio CD + video DVD combo is a perfect "just add people" package for a small group or youth group. Youth Pastors and leaders can have their groups listen to the music, play the video Bible teaching, and even go through bonus printed teaching curriculum. All of the materials and video lessons are based around the theme that there is no other hero except Jesus. The package also includes additional unreleased audio tracks on the included "Deluxe" audio CD, such as "What I'm Livin' For" a collaboration with Dove Award winning artist/producer Je'kob.
About Brinson:
Brinson recently accepted a position of Youth Pastor at the pioneering Crossover Church in Tampa, Florida. Crossover Church has been "ground zero" for the burgeoning urban Christian music scene and the first church to use hip hop music as an integral part of its church services and culture. Brinson has a decade of ministry experience, is an ordained minister, and he studied at the renowned Music Business Program at Belmont University in Nashville, TN. Brinson's Godchaserz label has released over 20 Christ-centered hip hop albums by a roster of artists designed to inspire, uplift, and entertain. The works of Brinson and his GCE family have been covered by various media outlets including ESPN.com, NPR, MTV, S.O.U.L. Magazine, DaSouth.com, The Houston Chronicle, The Wade-O Radio Show, Rapzilla.com, and JamTheHype.com.
Keep up with all the latest news on Brinson...
Web: http://www.savethecityrecords.com/artist/brinson
Facebook: https://www.facebook.com/pages/Brinson/29771736867
Twitter: http://twitter.com/brinson_omg
About Save The City Records
In 1997, Derek Hoiem had a vision to assist musicians in local churches, and having been a software designer for Microsoft, he knew that the digital wave would bring massive change to the music industry. After investigating music business models, he found that record labels were necessary but needed to change by adopting the indie wave. After recording and working with indie artists for about 5 years, in 2008, Hoiem launched Save the City Records as a national brand. After garnering critical acclaim on iTunes and media outlets, Save the City Records landed a distribution deal with Provident Distribution. Over the last several years, the company has picked up more artists who have been featured on iTunes, played on national radio, ranked on the Billboard charts, and featured at national music festivals.
###